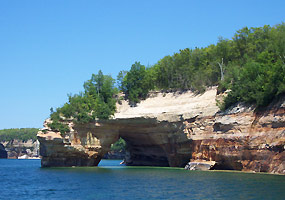 Pictured Rocks
Colorful and bold, the Pictured Rocks tower 50 to 200 feet directly from Lake Superior. These sandstone cliffs of ochre, tan, and brown - sandwiched with layers of white, green, orange, and black - stretch for about 15 miles along the lake from Sand Point on the west to just after Spray Falls on the east.

The name "Pictured Rocks" comes from the streaks of mineral stain that decorate the face of the weather-sculpted cliffs. Stunning colors occur when groundwater oozes out of cracks and trickles down the rock face. Iron (red and orange), copper (blue and green), manganese (brown and black), and limonite (white) are among the most common color-producing minerals.

Miners Castle provides a wonderful vista of the Pictured Rocks cliffs, particularly from the lower overlook. A long stretch of cliffs can also be viewed from the west end of Miners Beach. At Sand Point, the cliffs are off in the distance.

The North Country National Scenic Trail extends the length of the lakeshore, providing beautiful views along the trail for both backpackers and day hikers. For safety's safe - please stay away from the cliff edge!

A National Park Service authorized concessioner operates a non-stop boat tour of the Pictured Rocks cliffs. The cruises leave from Munising (late May to mid October) for a water view of the Pictured Rocks.