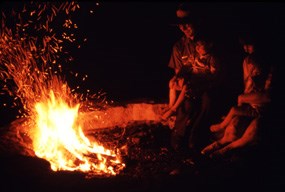 Pictured Rocks National Lakeshore recognizes the tradition of enjoying a fire while camping in the great outdoors. Many of us recall memorable times enjoyed around a campfire with friends or family. But we are also reminded that times have changed.
Some places - such as two of the lakeshore's backcountry campgrounds - do not have enough down and dead wood to support the tradition of a fire. Invasive species that live in trees and firewood are a great concern to park managers, and specific regulations have been developed to protect the natural heritage of the lakeshore.
And each day we hear more about the impact of climate change on our earth and that combustion of fuels - including firewood - leads to increased carbon dioxide levels in the atmosphere.