Firewood and Campfires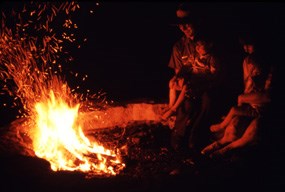 Pictured Rocks National Lakeshore recognizes the tradition of enjoying a fire while camping in the great outdoors. Many of us recall memorable times enjoyed around a campfire with friends or family. But we are also reminded that times have changed.
Some places - such as our three drive-in campgrounds and some backcountry campgrounds - do not have enough down and dead wood to support the tradition of a fire.
If you're staying in our drive-in campgrounds, you must purchase wood

locally

and bring it to your campsite.
Do not bring wood to the park from other areas. Invasive species that live in or on trees and firewood are a threat to the park's ecosystems.
And each day we hear more about the impact of climate change on our earth and that combustion of fuels - including firewood - leads to increased carbon dioxide levels in the atmosphere.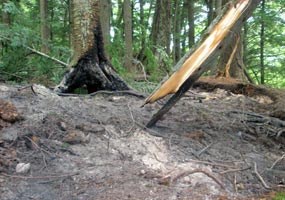 Campfire Etiquette
Keep your fire in the fire ring provided. If there is no fire ring, fires are prohibited.
In certain backcountry campsites, you may collect wood. Use only down on the ground dead wood. NO cutting standing live or dead trees. No cutting/removing limbs from live or dead standing trees.
No collecting of wood in the drive-in campgrounds.
Purchase wood locally. Ash firewood is prohibited.*
Driftwood may be collected for fire use as long as it is not removed from the park.
Keep your fire small.
Never leave a fire burning when you leave the site. Dowse it completely with water.
Report illegal fires to a park employee.
Metal campfire rings with grill grates are available at each campsite in the park's drive-in campgrounds. Backcountry campgrounds (except Mosquito River and Chapel Beach) have a campfire ring to be shared among the campers. Firewood is scarce; we suggest you use a small backpacking stove.
Standing grills are available at picnic areas such as at Sable Falls and Miners Castle. Privately owned grills may be used in parking lots and on beaches as long as no fire or burning material touches the ground.
Please help us reduce the impacts of fire on the park. if you must have a fire, be sure to keep it small and use down and dead wood only (NO cutting standing live or dead trees. No cutting/removing limbs from live or dead standing trees.). And be sure that a fire is permitted in the area you are enjoying.
* Emerald Ash Borer and Campfire Wood
To prevent the potential spread of emerald ash borer, ash firewood is banned in Pictured Rocks National Lakeshore. Ash firewood is a carrier for the emerald ash borer, a small exotic insect that has infested ash trees in many parts of the country.
The introduction of exotic,
non-native species
- both terrestrial and aquatic - is one of the greatest threats to the ecological integrity of the national lakeshore. In combating this pest species and others, we ask the public to join us in helping to preserve and protect the natural systems in the park for this and future generations.
Important Warning - Falling Trees and Branches
Beech Bark Disease
has spread throughout the national lakeshore, resulting in many dead and dying beech trees. Be aware of these trees and the potential for falling branches and trees.
This disease is initiated by a non-native insect accidentally introduced into the United States. Secondary attack by both native and non-native fungi further stresses American beech trees and causes an unusually large number of weakened and dead beech trees. The insect and fungus pose no direct threat to humans. There is no practical control method in large natural forests.
The National Park Service is making every effort to identify and remove dying and dead trees from developed areas as quickly as possible. However, all park visitors - but particularly hikers and overnight backcountry campers - should be alert for trees that are weakened, have large dead limbs or are completely dead, especially in windy conditions.
Be alert. Look up. Choose your campsite carefully.
Last updated: November 29, 2022