| | |
| --- | --- |
| National Parks Portfolio | |

National Monuments
---
COLONIAL NATIONAL MONUMENT
THREE areas of prime historic importance are included in the Colonial National Monument, in Virginia. One is Jamestown Island, where the first permanent English settlement in America was made in 1607. Representative Government in America was organized here. Here, too, was the scene of the first American legislative assembly, and of the first trial by jury in this country.
Williamsburg, the second of the monument areas, was the seat of government of Colonial Virginia for almost a century, during the period of greatest colonial development. In this old town the first public school in America was established. Its William and Mary College, a prominent educational force in modern life, was one of the first American educational institutions. Recognizing the importance of Williamsburg, both from a cultural and an educational standpoint, John D. Rockefeller, jr., is now engaged in restoring the ancient city to its colonial appearance.
Yorktown, the third main area of the monument, was the scene of the culminating battle of the Revolution. It was here with the surrender of Lord Cornwallis on October 19, 1781, that the Colonial period ended. Yorktown has gone down in history as the spot on which the English principle of liberty was vindicated for all time.
The task of restoring these areas to their original appearance is a unique and fascinating one. The historic old church at Jamestown has been restored by the Association for the Preservation of Virginia Antiquities. In the ruined building and the surrounding churchyard are many old memorial tablets which stimulate the imagination and link with vividness the past and the present.
A parkway connecting these three historic areas is also included in the national monument. In places it follows stretches of the James and York Rivers, which in colonial days were important lanes of communication.
Such extensive restoration work as has taken place in the Williamsburg area requires millions of bricks. This need created a problem which aroused much public interest. The bricks in the early houses naturally were made by hand. They were slightly larger than those used in present-day architecture. The use of commercial bricks would have spoiled the attractiveness of the restored houses. So, with much difficulty, a man in North Carolina, who had a force of colored laborers skilled in the art of old-time brickmaking by hand, was located and brought to Williamsburg, where the necessary bricks were made on the ground, of native clay.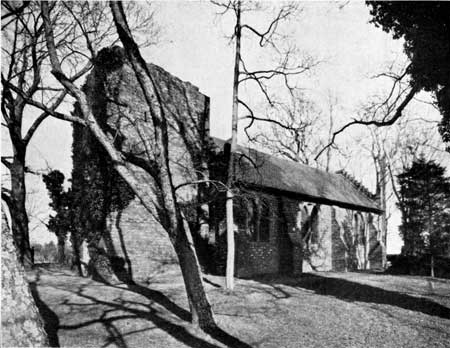 OLD CHURCH AT JAMESTOWN PRESERVED THROUGH THE SPLENDID WORK OF THE ASSOCIATION FOR THE PRESERVATION OF VIRGINIA ANTIQUITIES
Photograph by The Norfolk-Portsmouth Advertising Board