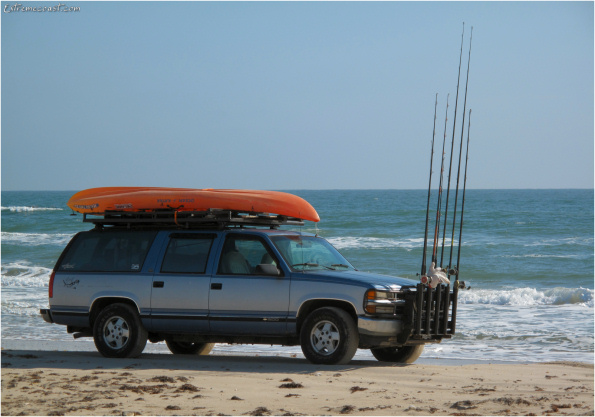 Many people come to the National Seashore to escape the pressures of urban life and to experience the beauty of nature in isolation. The best way to do this is to travel down-island into the park's most remote areas, which are usually only accessible with a 4-wheel drive vehicle. Before you explore the island in search of its wonderful mysteries and the awesome solitude it provides, please read the helpful tips that are written below.
Only one portion of the park's beach is closed to driving, and that is Closed Beach. Malaquite Beach, which is in front of the Malaquite Visitor Center, is part of Closed Beach. To get to the portion of the park where you can drive on the beach and down to the remote parts of the island, continue on the main park paved road (Park Road 22) past Malaquite Visitor Center until the pavement ends. South Beach begins where the main park paved road ends. From that point, the park has 60 miles of beach open to driving. South Beach (and driving) ends at the Port Mansfield Channel, a man-made waterway cut through the island. It is not possible to drive all the way down to South Padre Island due to this waterway. You must turn around at that point and drive 60 miles back north to reach the park paved road.
Remember that Texas beaches are public highways and all traffic laws apply, including seat belt regulations. All vehicles traveling on Padre Island National Seashore must be street legal and licensed. Please note that, with rare exception, Texas will not license all-terrain-vehicles (ATVs) for use on highways. The National Seashore has one of the few exceptions, because it uses ATVs to patrol for nesting sea turtles in the park.
The driving conditions at the beach are constantly changing due to the currents, winds, and tides. Call our Beach & Weather Conditions Hotline at (361)949-8175 for updated driving and weather conditions. Or call the Malaquite Visitor Center at (361)949-8069 for more information.
Changing conditions and marine debris washed ashore by the currents can sometimes make for hazardous driving. Click on the following link to learn some simple driving tips and regulations in order to best prepare for your trip down island.