Fishing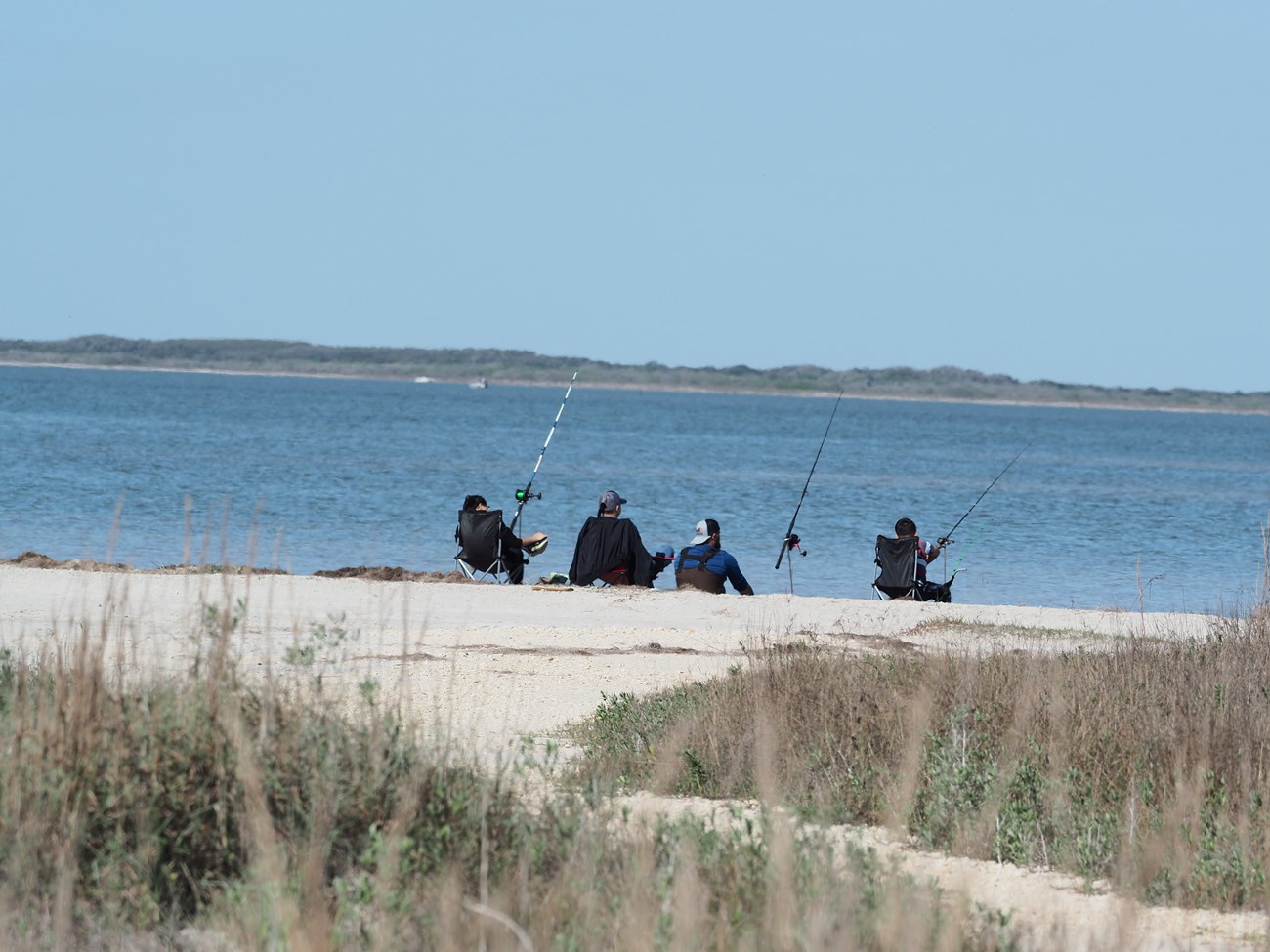 What comes to mind when you think about fishing? Patience, relaxation, challenge, and memories are a few words often associated with fishing. You will find all that and a sense of stewardship, conservation, and preservation on this page. We want you to have an enjoyable time during your visit, and for those who come after you to fish. Take some time to explore, learn what the park has to offer and learn your responsibilities before casting a line into the water.
Padre Island National Seashore allows fishing as a means of providing for public enjoyment, and customary and traditional use, and regulates fishing to ensure that it is managed in a manner that avoids unacceptable impacts to park resources.
Licenses
A valid Texas fishing license package (license and endorsement) is required to fish in the park although exceptions may apply, and fees vary. Children under 17 years of age do not require a license. Visitors fishing within Padre Island National Seashore must follow the fishing license requirements in accordance with the laws and regulations of the Texas Parks and Wildlife Department. Fishing licenses are not available for purchase inside of the national seashore.
Fishing Regulations
Unless otherwise provided for, fishing regulations apply to all finfish found in both fresh and saltwater, and mollusks and crustaceans found in saltwater (shellfish).   Other taxa, including amphibians, and freshwater mollusks and crustaceans (e.g. waterdogs, crayfish) are not considered "fish" for the purpose of NPS fishing regulations and are addressed by NPS regulations governing "wildlife" (36CFR2.2). 
These fishing regulations apply, regardless of land ownership, on all lands and waters within the park that are under the legislative jurisdiction of the United States.
Fishing shall be in accordance with the laws and regulations of the State of Texas (36CFR2.3(a)) except as provided below. Where there is a conflict between a state regulation and a federal (NPS) regulation, the state regulation is superseded by the federal regulation. 
For state fishing regulations please visit the Texas Parks and Wildlife Department website.
For more information on how NPS fishing regulations work, go to the regulations page on the NPS Fish and Fishing website.
Except as provided below, fishing shall be in accordance with the laws and regulations of the State of Texas (36CFR2.3(a)). For state fishing regulations go to the website.
Commercial fishing, except where specifically authorized by Federal statutory law.

Fishing by the use of drugs, poisons, explosives, or electricity.

Digging for bait, except in privately owned lands.

Failing to return carefully and immediately to the water from which it was taken a fish that does not meet size or species restrictions or that the person chooses not to keep. Fish so released shall not be included in the catch or possession limit: Provided, that at the time of catching the person did not possess the legal limit of fish.

Fishing from motor road bridges, from or within 200 feet of a public raft or float designated for water sports, or within the limits of locations designated as swimming beaches, surfing areas, or public boat docks, except in designated areas.

Introducing wildlife, fish or plants, including their reproductive bodies, into a park area ecosystem. This includes the discarding and/or dumping of bait and bait buckets.

The use or possession of fish, wildlife or plants for ceremonial or religious purposes, except where specifically authorized by Federal statutory law, or treaty rights.
Except as otherwise designated, fishing with a net, spear, or weapon in the salt waters of park areas shall be in accordance with State law.
Fishing is prohibited in Gulf waters in front of the Malaquite Beach Visitor Center Pavilion for the following area: 100-yards north and 100-yards south of the boardwalk entry to the beach.

Commercially caught fish legally caught in State waters may not be transported through the waters or land within the boundary of Padre Island National Seashore. The possession of fish stocks exceeding recreational limits by commercially licensed fishermen within the park is prohibited.

Sail-lines are permitted in compliance with state regulations on any day of the week only from official sunset to sunrise.

The number of fishing poles is limited to 6 per person. All fishing poles and lines will be maintained at the surf's edge.

The use of seine nets, trot lines, and jug lines are prohibited in the park. A cast net (not exceeding 14 feet in diameter) or dip net (not exceeding 3 feet in diameter) may be used to take non-game fish for bait purposes only. Finger-sized mullet, anchovies, pinfish (pigg perch), croakers, menhaden, and other baitfish are permitted for use as bait. Gigging is allowed for non-game and non-protected game fish (ie: flounder, black drum, whiting, sheepshead) submerged attracting lights or lights attached to the end of the spears are allowed.

The use of compressed gas-powered Bait Launchers (or cannons) and all other similar devices are prohibited.

No dead fish or parts thereof may be left on any shore, beach, dock, or cleaning table. Fish waste left over from cleaning must be deposited in gulf waters or in the Laguna Madre or buried on the gulf beach. Burial of fish waste is permitted for a maximum of one cubic foot per individual per day. The uppermost portion of buried fish waste must be covered with at least six inches of sand. Burial of fish waste must be landward of the high tide line and shoreward of the vegetated dunes. Holes created must be re-filled to the ground surface level. Permits for fishing tournaments may have additional criteria for disposing of fish remains due to the number of participants.

Fish may be cleaned and filleted before transportation to their final destination in accordance with the provisions of Texas State law.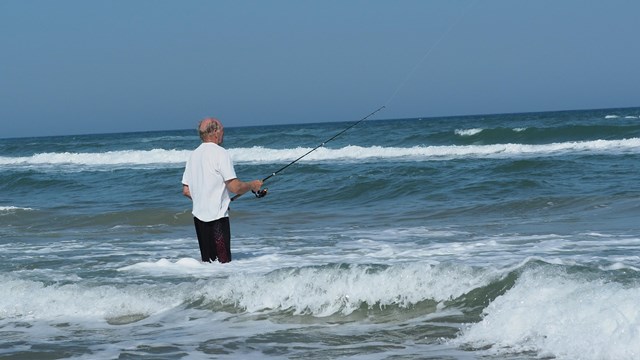 Weekly Fishing Reports
Read weekly fishing reports from around the region, provided by Texas Parks & Wildlife.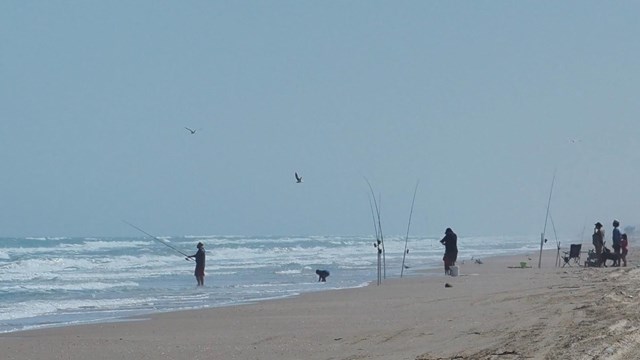 Fishing Guides
Find local fishing guide services authorized to guide by the National Park Service.
Fish Consumption Advisories in National Park Waters
The Environmental Protection Agency, states, territories, and tribes provide advice on fish and shellfish caught in the waters in their jurisdiction to help people make informed decisions about eating fish. Advisories are recommendations to limit your consumption of, or avoid eating entirely, certain species of fish or shellfish from specific bodies of water due to chemical or biological contamination.

Fish is part of a healthy balanced diet, but eating wild fish and shellfish caught in park waters is not risk free. Parks are "islands", but the much larger "ocean" that surrounds them affects the natural resources inside a park. Other aquatic toxins are the result of natural biological processes. Also, chemical contaminants that originate outside of park boundaries can come into parks.

Mercury is an example of a toxin originating outside a park that can find its way into a park. Mercury exists naturally in some rocks, including coal. When power plants burn coal, mercury can travel in the air long distances before falling to the ground, usually in low concentrations. Once on the ground, microorganisms can change this elemental mercury to methyl mercury. This type of mercury can build up in animal tissues, and it can increase in concentration to harmful levels. This high concentration can occur in large predatory fish - those often pursued and eaten by anglers. Studies have shown that fish in some National Park System waters have mercury levels that may be a concern to people who regularly eat a lot of fish.
Area of Concern 

Chemical of Concern 

Advisories

All Texas Coastal Waters 

mercury 

Blue marlin of any length should not be consumed.

For blackfin tuna, little tunny, crevalle jack, swordfish, wahoo and all species of sharks: 

Adult men and women who are past childbearing age should limit consumption to two, 8-ounce meals per month.

Children under 12 and women of childbearing age should not consume these species. 

For king mackerel: 

For specimens less than 35 inches in total length, adult men and women who are past childbearing age should limit consumption to one 8-ounce meal per week. 

For fish more than 35 inches, adult men and women past childbearing age should limit consumption to two, 8-ounce meals per month. 

Children under 12 and women of childbearing age should not consume any king mackerel from Texas coastal waters.
To learn more about this topic, the National Park Service maintains information about Fish Consumption Advisories and Mercury and Toxins in Nature.
Aquatic Invasive Species
Imagine your favorite fishing spot and the wonderful memories. Things may look fine but underneath the surface there is a serious threat. Everything you remembered is now cemented together in a sharp, smelly mess. Invaders have wiped out the fish species you used to catch.

Aquatic invasive species are not native to an ecosystem. Their introduction causes, or is likely to cause, harm to the economy, the environment, or to human health. Aquatic invasive species are a growing risk to parks and their values. In the United States alone, there are more than 250 non-native aquatic species.

For many centuries, humans have contributed to spreading non-native species around the globe. You can make a difference. To learn more about Aquatic Invasive Species in the National Park Service, visit the Fish & Fishing website.
How You Can Help – Stop Aquatic Hitchhikers
Zebra Mussel Alert: To prevent the spread of zebra mussels, Texas law requires draining of water from boats and onboard receptacles when leaving or approaching public fresh waters. Learn more about Aquatic Insasive Species in the state of Texas.
Fishing Throughout the National Park Service
We invite you to visit the Fish and Fishing website for more information about fish and fishing in the National Park Service. You will learn about conservation, different fish species, and parks that offer fishing.
Last updated: May 6, 2023