Sportfishing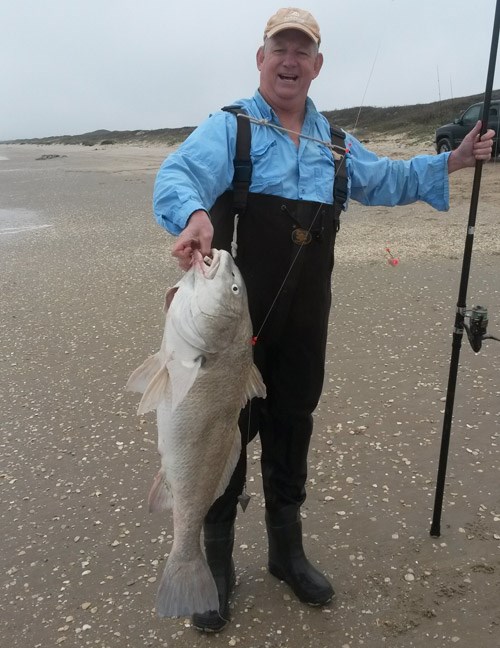 Fishing has been one of the biggest attractions to Padre Island, long before its designation as a national seashore. Visitors may fish along the entire length of the Gulf of Mexico beach, in the Laguna Madre, and at Yarborough Pass and Bird Island Basin. To fish anywhere within the park requires a valid Texas fishing license and a saltwater stamp, which are only sold outside of the park at any local gas station or tackle shop.
Wherever you choose to fish, please stay safe and fish so that your fishing lines and other equipment do not pose a risk to the safety of other visitors. Please be alert to the presence of people and vehicles on the beach or in the water, and remember to park on the beach where you will not block traffic.
All Texas fishing laws apply at the National Seashore. For detailed information on saltwater regulations and bag limits in Texas, follow this link to the Texas Parks and Wildlife Department's website.
If you are interested in providing specific visitor services in the park, you are required to have a Commercial Use Authorization. Please follow the link or call the Ranger Activities Assistant's Office at 361.949.9238 for an application.
For more information on fishing, contact the Malaquite Visitor Center at 361.949.8068. You may also check out the conditions at Malaquite Beach by viewing our webcam here and also check the weather.
Bait Launchers:
Question: Am I allowed to use a compressed gas powered bait launcher within Padre Island National Seashore?
Answer: According to 36 Code of Federal Regulations, such a device is considered a weapon. Federal regulations limit the use of weapons in the National Seashore. The use of a weapon within the Seashore is prohibited unless the time and location of its use is specifically designated. Pending such designation by the park Superintendent, the use of these devices is prohibited.
Question: Can an exception be made for someone with a disability which prevents their ability to cast?
Answer: The use of a weapon to aide in casting due to a disability is prohibited. People frequently surf fish at the National Seashore without distance casting;many use short rods and fish between the first and second sandbar and/or the second and third sandbar. There are also local options that negate the need to distance cast at Bob Hall Pier at Padre Balli Park, Packery Channel (North and South Jetties), and many places along the Laguna Madre.
There are several organizations that have information for fisherman with disabilities:
Disabled Sports USA -http://www.disabledsportsusa.org/fishing
Adaptive Outdoorsmen -http://www.adaptiveoutdoorsman.com/handicapfishing.html
Fishing Has No Boundaries, Inc. -http://www.fhnbinc.org/
Last updated: June 22, 2018