Laws & Policies
What You Need to Know
To learn about the park's rules and regulations, read the Superintendent's Compendium.
This enabling legislation stipulated that the original grantors of the property retain all rights to minerals within what became the National Seashore. Therefore, the mineral estate underlying the park is either owned privately or by the State of Texas. The National Park Service is legally required to allow access to the minerals while applying stringent requirements and ensuring adherence to federal and state regulations, policies, and guidelines.
Click here for: The Oil and Gas Story
Click here for: The Oil and Gas Program at Padre Island National Seashore
Click here for: The 9b Regulations
New Firearms Law
As of February 22, 2010, a new federal law allows people who can legally possess firearms under applicable federal, state, and local laws, to legally possess firearms in this park. It is the responsibility of visitors to understand and comply with all applicable state, local, and federal firearms laws before entering this park. Please visit our state's various websites for more information:
TX State Home Page
TX State Statutes
Federal law also prohibits firearms in certain facilities in this park. Those places are marked with signs at all public entrances.
Fishing- Bait Launchers
According to 36 Code of Federal Regulations, compressed gas-powered bail launchers are considered weapons. Federal regulations limit the use of weapons in the National Seashore. The use of a weapon within the Seashore is prohibited unless the time and location of its use is specifically designated. Pending such designation by the park Superintendent, the use of these devices is prohibited.
The use of a weapon to aide in casting due to a disability is prohibited. People frequently surf fish at the National Seashore without distance casting; many use short rods and fish between the first and second sandbar and/or the second and third sandbar. There are also local options that negate the need to distance cast at Bob Hall Pier at Padre Balli Park, Packery Channel (North and South Jetties), and many places along the Laguna Madre.
There are several organizations that have information for fisherman with disabilities:
Disabled Sports USA -http://www.disabledsportsusa.org/fishing
Adaptive Outdoorsmen -http://www.adaptiveoutdoorsman.com/handicapfishing.html
Fishing Has No Boundaries, Inc. -http://www.fhnbinc.org/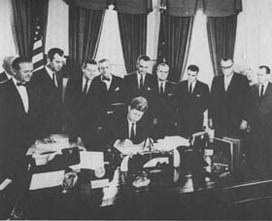 The park's Founding Legislation is a federal law, drawn up by Congress and signed by the President, which forms the foundation for all the rules, regulations, laws, and policies of the park. The National Seashore's founding legislation was signed by President John F. Kennedy on September 28, 1962.

Want to find out more about the laws that regulate national parks? Title 36 of the Code of Federal Regulation (CFR) is a comprehensive listing of the rules in national parks. Here you will find out about the laws that are used to protect park resources.


Last updated: September 13, 2019