Safety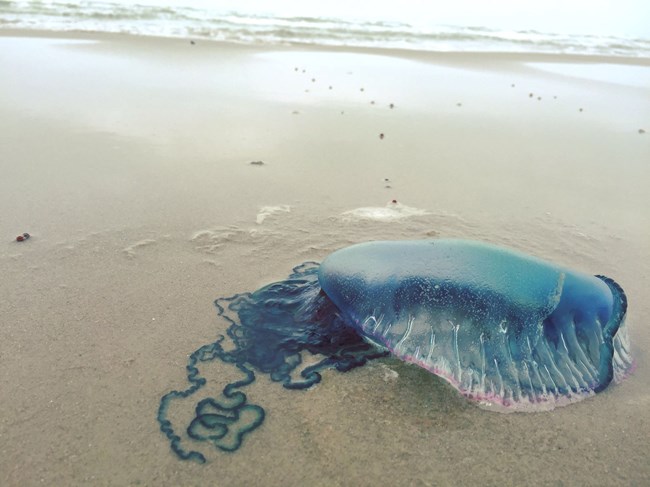 IN CASE OF EMERGENCY, DIAL 911
Park rangers are available during normal working hours to provide assistance.
If you have a medical emergency during your visit, contact a park ranger immediately or go to the Malaquite Visitor Center.
The closest hospital is Bay Area-Corpus Christi Medical Center, located at the corner of South Padre Drive and Rodd Field Road in Corpus Christi (7101 S. Padre Island Dr., Corpus Christi, TX 78412). This facility is located 24 miles from the visitor center.

For more information on park rules and regulations, read the information below and/or read the 2018 Superintendent's Compendium.
Fishing- Bait Launchers
According to 36 Code of Federal Regulations, compressed gas-powered bail launchers are considered weapons. Federal regulations limit the use of weapons in the National Seashore. The use of a weapon within the Seashore is prohibited unless the time and location of its use is specifically designated. Pending such designation by the park Superintendent, the use of these devices is prohibited.
The use of a weapon to aide in casting due to a disability is prohibited. People frequently surf fish at the National Seashore without distance casting; many use short rods and fish between the first and second sandbar and/or the second and third sandbar. There are also local options that negate the need to distance cast at Bob Hall Pier at Padre Balli Park, Packery Channel (North and South Jetties), and many places along the Laguna Madre.
There are several organizations that have information for fisherman with disabilities:
Beach Driving
Beaches are Texas public highways.
You are entering the beach at your own risk. Padre Island National Seashore is not responsible for injury to visitors or damage to vehicles while driving down island.
-The National Park Service does not tow non-government vehicles.The cost for a private wrecker to come down island can be several hundred to several thousand dollars.
-Northbound vehicles have the right of way.
-Do not drive behind the dunes or over areas of beach covered in vegetation.Damage of any kind to natural resources is strictly prohibited.
-Watch for pedestrians, especially near tents and parked vehicles and particularly at night. Always SLOW DOWN and proceed with caution when driving around parked cars and camps.
-DO NOT BLOCK TRAFFIC when you park.If you park on the driving road, people will be forced to drive in the soft sand, which increases the likelihood that their vehicles will get stuck.
-Contraband, including illegal drugs, and other dangerous items (e.g., unexploded ordnance, hazardous waste, chemicals) found in the park are illegal to possess and must be reported to a park ranger as soon as possible.
-The following speed limits are established on South Beach:
From mile marker 0 to mile marker 2.5: 15 MPH year-round
From mile marker 2.5 to Mansfield Channel:
From the day after Labor Day through the last day of February: 25 MPH
From March 1st to Labor Day: 15 MPH
-During the sea turtle nesting season of April to August, be alert for nesting sea turtles crawling across the beach during the day and night.If you see a nester, do not disturb the turtle. Mark the nest with debris from the beach. Report the sighting to the nearest park ranger as soon as possible or call the park's sea turtle biologist at (361)949-8173 ext. 226.
-For emergencies, call 911.Climb a dune to get better cell phone service.
Obstacles and Hazards When Beach Driving
Obstacles & Hazards
-Trees & other large debris can be washed into the roadway by the high tide
-Large barrels washed onto the beach may contain hazardous waste
-Tides can create sharp drop-offs in the roadway
-Sharp objects (e.g. nails, fish spines, medical waste) may be on the beach
-Sea turtles & other wildlife may be found on the beach & in the roadway
-Children & other visitors may run into the roadway from parked vehicles or camping sites on the beach
Travel Safely
-Watch for children & other visitors in the roadway &on the beach
-Follow the speed limit & scan the roadway carefully for obstacles &hazards
-Report hazardous materials & contraband to a park ranger as soon as possible
-Look for sea turtles, birds & other wildlife that may be nesting or resting in the roadway &on the beach
-Do not disturb nesting sea turtles –mark the nest & report it to a park ranger as soon as possible (361-949-8173 x226)
Risks & Supplies/Preparations for Driving Down Island
Bodily injury:
-Complete first aid kit
-Meat tenderizer & vinegar for jellyfish stings
-Doctor prescribed medications (including inhalers & Epi-pens)
Vehicle stuck in soft sand, mud, shelly sand, or sea weed:
-Tow ties
-Wood planks
-Shovel
-Five-gallon bucket
-Flat tire
-Spare tire (make sure it is full of air)
-Jack &other tire-changing equipment
Keys locked in car:
-Spare key kept on your person
-Water logged vehicle
-Do not drive or park below water line
-Dead vehicle battery
-Jumper cables
Found contraband (hazardous waste, illegal drugs, unexploded ordnance, etc.)
-Do not pick it up (it is illegal to possess & may be dangerous)
-Report it to a park ranger as soon as possible
Firearms
As of February 22, 2010, a new federal law allows people who can legally possess firearms under applicable federal, state, and local laws, to legally possess firearms in this park. It is the responsibility of visitors to understand and comply with all applicable state, local, and federal firearms laws before entering this park.
Boating
Jet skis, air boats and kite surfing are prohibited.
For the safety of all visitors, boaters launching from Bird Island Basin must avoid the NO BOATS buoy line west of the boat ramp near the windsurfing area.
Alcoholic Beverages
Alcoholic beverages may be consumed at the park; however, open containers are not allowed in moving vehicles. Be safe. If you drink, don't drive. Visitors found to be driving under the influence are prosecuted to the fullest extent of the law.
Swimming
There is no lifeguard at Padre Island National Seashore- swimming is at your own risk! Use caution when swimming and never swim alone. Strong currents flowing parallel to the beach, tides flowing to and from the beach and sudden drop-offs in the surf can be dangerous for swimmers and waders alike.
If caught in a rip current, do not panic. Swim parallel to the beach until you are free from the flow, then swim to shore. Do not attempt to swim to shore against the flow! Even the strongest swimmers will be quickly exhausted and are at extreme risk of drowning.
Come Prepared
No food, firewood, or fishing licenses are sold in the park, and the park does not have a gas station. The nearest amenities from the park entrance station are about 12 miles away, so please come prepared. The park also does not have a post office or sell stamps, and cannot mail items for visitors.
Fireworks
Fireworks are prohibited.
Wildlife
Jellyfish: Jellyfish and jellyfish-like organisms are found on the beach throughout the year. Some jellyfish can give a painful sting if contacted, and the sting is usually accompanied by redness and some swelling of the affected skin area. If stung, seek first aid at the Malaquite Visitor Center.
Rattlesnakes: Two species of rattlesnakes live in the dunes, grasslands and mudflats. Visitors should avoid walking in these areas.
Stingrays: Stingrays have a barb that they use to defend themselves. If stepped on, a stingray can inflict a painful wound with its barb. To avoid this, shuffle your feet while walking in the water. Seek medical attention immediately if you are struck by a stingray barb.
Coyotes: Coyotes live on the island and have been known to prey on pets, including small dogs. Keep a close eye on your pets when visiting the National Seashore and keep pets leashed (no longer than 6 feet in length) at ALL TIMES.
Hazardous Materials
A variety of hazardous materials periodically wash ashore. If you come upon hazardous materials, note the location and alert a park ranger.
Mosquitoes
Because a large part of the island is marsh there can be incredible numbers of mosquitoes at times. However, the normal offshore wind is strong enough to keep most flying insects off the beaches. This is one reason we encourage people not to go into the grasslands or off the beach. It can be extremely uncomfortable. If you plan on walking the Grasslands Nature Trail during the summer, be certain to apply plenty of insect repellant.
The Zika virus is a viral disease transmitted to people by infected mosquitoes (Aedes species, a non-native species introduced by humans). Being in a warm climate which can support year-round mosquito populations, Padre Island National Seashore is considered to be a potentially at-risk area for Zika virus. To learn more about Zika Virus, please click here.


Last updated: December 9, 2018