News Release
Two men jailed for looting Civil War artifacts from federal lands
Date: August 5, 2015
Contact: Investigative Services Branch, (202) 379-4761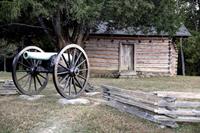 Two men jailed for looting Civil War artifacts from federal lands
As a result of a complex three-year joint investigation by an ISB Special Agent and the Tennessee Valley Authority (TVA), two men will serve time in federal prison for the egregious looting of Civil War artifacts from public lands.
The investigation began in 2010, focusing on violations of the Archeological Resources Protection Act (ARPA) that occurred in Georgia, Alabama, and Tennessee. The ISB Special Agent and TVA revealed a complex conspiracy of more than 20 people to loot artifacts from federal lands and traffic them in interstate commerce.
Artifacts were taken from National Park System sites including Chickamauga, Chattanooga, and Shiloh national military parks, as well as from TVA sites. The damage to the government is in excess of $500,000.
Five of the main conspirators were indicted by a grand jury in 2014; all five entered into plea agreements.
The two men sentenced by a federal judge in August will serve 30 months in prison. Kenneth Stephen Fagin, Jr. and Terry Bruce Tate will then serve an additional 12 months supervised release. Tate must pay more than $21,000 in restitution to TVA, and Fagin must pay over $22,000 in restitution to the National Park Service and TVA.
Two other defendants pleaded guilty in June to misdemeanor ARPA violations in connection with a larger conspiracy. William "Butch" Shirley and Mike Tarpley were each sentenced in federal court to two years' probation and ordered to pay $12,821 in restitution.
This investigation is exemplary of the extended duration and joint-agency nature of cases investigated by ISB.
ISB is on the web at www.nps.gov/isb 
What We Do | Tip Line | News | Jobs | Internships and Details | Contact Us
Last updated: December 2, 2015