Job Opportunities with ISB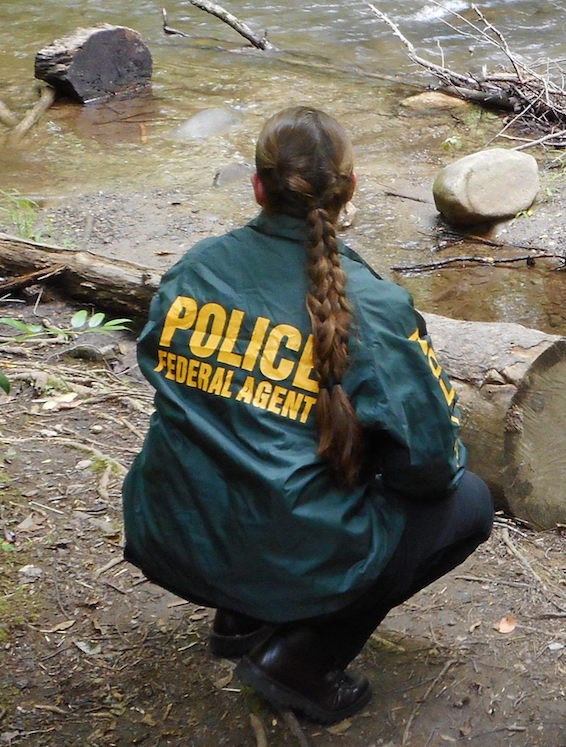 Thank you for your interest in a career with the Investigative Services Branch

Check www.usajobs.gov for current job opportunities with ISB — filter by series, then by Department of the Interior under Department & Agency.
For special agent job announcements, filter by

Series 1811 (Criminal Investigator)

. The sample announcement below (scroll down) may help you prepare for a future opportunity with the Investigative Services Branch.

For intelligence analysis job announcements, filter by Series 1801 (General Inspection, Investigation, Enforcement, and Compliance)

For victim support specialist and program support specialist job announcements, filter by Series 0301 (Miscellaneous Administration and Program)

US Park Rangers and ISB Special Agents often work with both fixed wing and rotor aircraft - some rangers and agents are even pilots. Discover information about aviation jobs with the National Park Service. Operations and locations are explained in further detail on "Aircraft Pilot Positions with the National Park Service."

More to discover:

Current and future student employees of the National Park Service may find a wealth of helpful information at the NPS Student Employees social media page. This network is a student-focused Employee Resource Group that aims to foster idea sharing and professional development for current and future students employed by the National Park Service. Comprised of student employees, hiring officials, and other advocates from across the Unified DOI Regions, the network acts as a liaison between hiring officials, human resources, and students, to facilitate discussion about challenges specific to student employees and to seek innovative solutions where possible. They work to make the National Park Service a healthier and more fulfilling place for students to find their careers.

Sample vacancy announcement, series 1811, special agent (criminal investigator) with the NPS Investigative Services Branch:
Note: Past and future vacancy announcements may vary from this sample.
- SAMPLE - SAMPLE - SAMPLE - SAMPLE - SAMPLE -

Job Title: GS-1811 Criminal Investigator
Department: Department Of The Interior
Agency: National Park Service
Job Announcement Number: [N/A]
JOB SUMMARY:
Number of Vacancies: [NONE] at this time. This announcement may be used to fill additional similar vacancies nationwide.
The National Park Service (NPS) is one of the most visible and most beloved of all Federal agencies. We care for and conserve special places saved by the American people so that all may experience our heritage. From the Statue of Liberty to the geysers of Yellowstone, to the vistas of the Grand Canyon and the volcanoes of Hawai'i, the National Park Service is part of the fabric of American life. You can be part of this exciting and important mission.
This position is a Criminal Investigator (Special Agent) with the incumbent reporting to an Assistant Special Agent in Charge (ASAC) for the Investigative Services Branch (ISB). As part of the NPS Visitor and Resource Protection Directorate, ISB resides within the Division of Law Enforcement, Security and Emergency Services (LESES). This division provides policy formulation, oversight, support services, guidance, and leadership to assist park managers and law enforcement staff in accomplishing NPS visitor protection goals and objectives.
ISB Special Agents provide critical investigative and other law enforcement support to park and regional law enforcement programs with a Core Mission to provide immediate and long-term protection of park resources, visitors, assets, employees and residents. This is accomplished through detection, investigation, apprehension, and successful prosecution of persons who violate the laws of the United States of America while within, or while affecting, the National Park System. Investigations involve the full range of law enforcement activities, such as conducting cover operations and surveillance, interrogating suspects, seizure of contraband, securing and serving warrants, transporting prisoners, and collecting and preserving evidence.
LAUTENBERG AMENDMENT: Any person who has been convicted of a misdemeanor crime of domestic violence cannot lawfully possess a firearm or ammunition. Candidates who have been convicted of a misdemeanor crime of domestic violence are not eligible for this position. Candidates under consideration will be required to certify whether they have ever been convicted of such an offense. False or fraudulent information provided by candidates is criminally punishable by fine or imprisonment.
TRAVEL REQUIRED: This position may require extensive travel, often with short notice. Travel may include Temporary Duty assignments of up to 120 days at NPS areas throughout the United States of America
RELOCATION AUTHORIZED: PCS (Permanent Change of Station) allowance To Be Determined
KEY REQUIREMENTS:
Must obtain and maintain a National Park Service Law Enforcement Commission

Subject to background investigation and favorable adjudication - must be able to obtain and maintain Top Secret clearance

Must have prior experience in a primary law enforcement position

Must be able to legally possess, carry, and maintain firearm proficiency

Must have and maintain a valid driver's license

Must pass a pre-employment medical examination

Subject to pre-employment and random drug testing

Must sign a Mobility Agreement

Follow Physical Efficiency Battery (PEB) guidelines

Must submit your complete application and all supporting documents
DUTIES: As a Special Agent you will:
Work in cooperation with other federal and state agencies, the parks and other National Park Service entities in enforcing laws.

Coordinate, cooperate and enlist the assistance and support of federal, state and local law enforcement officers and coordinate investigative efforts with them.

Determine and direct the most effective manner for developing and executing an investigation.

Continually evaluate each investigation and determine at what stage to initiate major actions, purchase of evidence, conducting searches and seizures, expansion or curtailment of cases and apprehension and arrests of persons suspected of violating the provisions of the law.

Prepare investigative reports presenting necessary aspects of the investigation in sufficient detail with proper emphasis and highest degree of accuracy in support of prosecution.

Analyze intelligence and use link analysis to determine relationships of individuals and organization of criminal enterprises.

In coordination with regional office and park staffs, consult with U.S. Attorneys during development of investigations and all aspects of preparation for trial.

Testify in federal and state criminal or civil proceedings.
QUALIFICATIONS REQUIRED:
All qualifications and time in grade requirements must be met by the closing date of a vacancy announcement.
To qualify at the GS-11, applicants must have 1 year of specialized experience at the GL-9/GS-9 level in the federal service. Specialized experience is that which has equipped the applicant with the particular knowledge, skills and abilities to perform successfully the duties of this position. This experience must have involved the performance of law enforcement duties including experience investigating, apprehending, arresting and detaining individuals related to alleged violations of federal or state laws; testifying in federal or state court; securing search and arrest warrants through process of affidavit; collecting evidence in compliance with applicable laws and procedures; developing intelligence data on individuals and organizations known or suspected of criminal activity; and performing undercover assignments.
OR
You must have a Ph.D. or doctoral degree in a field related to law enforcement, or successfully completed three (3) full years of progressively higher level graduate education leading to such a degree in a field related to law enforcement.
OR
A combination of specialized experience as described and graduate education as described that when combined equal 100% of the total requirement. Only graduate education in excess of the first two years may be used in this calculation.
To qualify for the GS-12 grade level you must have at least one year (12 months) of full-time specialized experience at the GS-11 grade level in the federal service. Specialized experience at the GS-11 level includes: Planning and conducting complex and sensitive investigations; researching evidence or clues; conducting surveillance operations; participating in raids and/or seizures; interviewing and interrogating arrested suspects; and consulting with U.S. Attorneys.
Prior experience in a primary law enforcement position is highly desired.
You must clearly describe your experience within your resume. Do not assume that we will infer experience that is not specifically listed.
Requirements:
This position is covered by the Law Enforcement Retirement System and the incumbent is eligible for Law Enforcement Availability Pay (LEAP). This position requires that criminal investigators work, or be available to work, substantial amounts of unscheduled duty based on the needs of the service. This position is designated as a primary law enforcement position for the purpose of retirement. The maximum age for initial entry into this position is 36. If you are 37 or older, or will shortly reach your 37th birthday and have previously served in a federal civilian law enforcement position, you may be exempt from this age restriction. A background security investigation will be required for all employees who do not have a current one on file. Appointment will be subject to applicant's successful completion of background security investigation, including drug screening, and favorable adjudication. Appointment will be subject to the applicant meeting the medical standards qualifications. Applicants must participate in ongoing fitness training. Failure to successfully meet these requirements will be grounds for termination. As a condition of employment, Criminal Investigators sign a Mobility Agreement acknowledging that duty location is determined by the needs of the NPS; therefore may be reassigned to different geographic locations throughout their tenure. This position authorizes the selectee to carry a firearm. You must be able to legally possess firearms under the terms of the Gun Control Act of 1968. In accordance with the Executive Order for a Drug-Free Federal Workplace, applicants selected for this position are required to submit to a drug screening and receive a negative drug test result prior to appointment. In addition, this position is a drug-testing designated position, subject to random testing for illegal drug use. You will be required to complete a Confidential Financial Disclosure Report initially and annually thereafter.
HOW YOU WILL BE EVALUATED:
Once the application process is complete, a review of your application will be made to ensure you meet the job requirements. To determine if you are qualified for this job, a review of your application and supporting documentation will be made and compared against your responses to the occupational questionnaire. The score is a measure of the degree to which your background matches the knowledge, skills and abilities required of this position. If, after reviewing your resume and or supporting documentation, a determinations is made that you have inflated your qualifications and/or experience, your score can and will be adjusted to more accurately reflect your abilities.
Please follow all instructions carefully. Errors or omissions may affect your rating.
BENEFITS:
The Federal government offers a comprehensive benefits package; you may explore the major benefits offered to most Federal employees.
OTHER INFORMATION:
Promotion Potential: When promotion potential is shown, the agency is not making a commitment and is not obligated to provide future promotions to you if you are selected. Future promotions will be dependent on your ability to perform the duties at a higher level, the continuing need for an employee assigned to the higher level, and administrative approval.
REQUIRED DOCUMENTS: To apply for this position, you must provide a complete Application Package which includes:
Your Résumé

A complete Occupational Questionnaire

Additional Required Documents as stated in vacancy announcement
HOW TO APPLY: A complete application package must be received by the 11:59 PM (EST) on the closing date of a vacancy announcement.
Click Apply Online to create a USAJobs account or log in to your existing account. Follow the prompts to select your USAJobs resume and/or other supporting documents and complete the occupational questionnaire.
Click Submit My Answers to submit your application package. It is your responsibility to ensure your responses and appropriate documentation is submitted prior to the closing date.

To verify your application package is complete, log into your USAJobs account, select the Application Status link, and then select More Information for this position. The Details page will display the status of your application, the documentation received and processed, and any correspondence the agency has sent related to this application. Your uploaded documents may take several hours to clear the virus scan process.

To return to your saved application at a later date, log into your USAJobs account and click Update Application in the vacancy announcement. You must re-select your resume and/or other documents from your USAJobs account or your application will be incomplete.
NEXT STEPS: Once the online questionnaire is received you will receive an acknowledgement email that your submission was successful. Based upon your score, you may be referred to the hiring official. If you name is referred to the hiring official, you may be contacted directly by that office for a possible interview. You will receive notice once this process is completed (generally 4-6 weeks).
Last updated: December 12, 2022