South Coast Route - Olympic Wilderness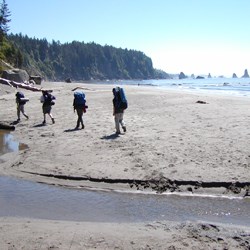 Notices
Trail Description
Camping
Trail Conditions
Special Concerns
Safety
Notices:
---
As of May 2013, all food, garbage, and scented items must be stored—overnight and when unattended—in park-approved

Bear Canisters

along the entire Olympic National Park Wilderness Coast. Buckets or other hard-sided containers are no longer permitted.

Pets, use of weapons, and wheeled devices are prohibited on coastal beaches and trails.

There are several points at the south end of this route that require a very low tide to pass.

See the trail guide below and a topographical map for details.
Description
---
Ecosystem type: Coastal forest and ccean beach
Trail tread types: Maintained
General elevation trend: Flat with steep overland trails and ladders.
River crossings: Goodman and Mosquito Creeks can be difficult or impossible to ford during periods of heavy rain or high tides. Falls Creek can be from ankle to waist deep, Goodman Creek should be forded at low tide and can be from knee deep to 6-8 feet deep and is often unfordable in winter or during heavy rains. Mosquito Creek should be forded at low tide and is usually knee to waist deep if crossed where it meets with the surf.
Unique features: Ocean views, sea stacks, opportunities to view bald eagles and seals. From Third Beach to just south of Toleak Point are beautiful sand beaches. Bird life is common on sea stacks. Grey whale migration occurs in March/April and October.
Level of difficulty: Moderate to difficult
Distance: 17 miles from Third Beach Trailhead to Oil City Trailhead.
Elevation change: 1,900 feet gain—sea level to 320 feet
Best Season: May through October
Trail Guide
---
Coastal Hiking
Hiking the Olympic Coast is unique in that the routes for the most part follow the natural land features found along the shore. Overland trails aid hikers in navigating sections of the coast that are not feasible or safe to hike at shore level. Certain sections of coastal routes are also only passable at mid-to-low tides; these sections should be identified and planned out prior to a trip. Be advised that during certain tidal cycles the Diamond Rock tidal restrictions approximately 1.5 miles north of Oil City will not become passable for entire days on end. The terrain along the coast is variable and a number of conditions under foot will be encountered including but not limited to - fine sand beaches, pebbly/rocky beaches, slippery moss/algae covered boulders, driftwood logs, rocky headlands, rope & ladder assisted overland trails, forested and brushy overland trails and sections of well-maintained trails.

Third Beach Trailhead ⇒ Third Beach
~1.4 miles
The trail begins by meandering through coastal forest until reaching the 200' decent down to the beach. Driftwood logs often have to be negotiated in order to reach the sand. Distant views of Giants Graveyard offer a striking backdrop to the south. Neither Teawhit Head or Taylor Point can be rounded at shore level. A privy is located up a short side trail on the south side of the creek.

Third Beach ⇒ Scott Creek
~2.6 miles
Continue south along Third Beach. Erosion of the coastal bluff has pushed debris down onto the beach and can be a barrier that must be negotiated during high tides. Taylor Point is impassable at sea level and must be bypassed via an overland trail. The overland trail takes off from the southern end of Third Beach and uses a series of low angle ladders and ropes to aid hikers up the slippery slope. The trail remains in the forest for the next 1.25 miles before another rope and ladder lead back down to a small, rocky cove which maybe be under water with a tide greater than 4.5' (a short, steep and loose overland trail provides access around this short point). Traverse the pebbly beach to Scott's Bluff, where another short rope assisted overland trail goes up and around the small rocky point to Scott Creek. Three small campsites are situated above the beach amongst the driftwood logs. No privy is currently available at Scott Creek and finding a suitable area to dig a cat hole in this area can be difficult.

Scott Creek ⇒ Toleak Point
~2.4 miles
This section of the coastal route stays at sea level the entire way out to Toleak Point. A tidal restriction is located south of Scott Creek and is passable with a tidal level of 4' or lower and extends around the arching beach leading to Strawberry Point. Giants Graveyard, a large collection of sea stacks and islands, is situated just offshore and provides excellent habitat for resident seals and coastal seabirds. A prominent campsite resides at Strawberry Point and from this point on extending all the way around Toleak Point many well-established social trails and campsites are found situated amongst the forests edge just in from the beach. A privy is located in the forest on the north side of Toleak Point. Jackson Creek enters the ocean just south of Toleak Point and is the areas closest reliable water source.

Toleak Point ⇒ Mosquito Creek
~4.6 miles
A mile of sandy beach is encountered south of Toleak Point before a 1.5 mile overland trail enters the forest to avoid the impassable cliffs and mount of Goodman Creek. Falls Creek and Goodman Creek come in succession and are both fords. Higher tides may push ocean water up into Falls Creek at the crossing and make the ford thigh-to-waist deep during these times. Goodman Creek is usually ankle-to-knee deep under normal conditions. Once back on the sand south of Goodman Creek at mid-to-low tide a lovely 2.2 mile stretch of beach walking leads to Mosquito Creek. Mosquito Creek is another ford and the crossing should be done at mid-to-low tide. Four main campsites and a privy are situated within close proximity of one another a short distance up the overland trail on the bluff heading south from Mosquito Creek. There is limited camping on the shoreline near Mosquito Creek, especially during higher tides.

Mosquito Creek ⇒ Oil City Trailhead
~6.1 miles
The 3.5 mile overland trail from Mosquito Creek to Jefferson Cove is the longest overland trail on the coast and avoids the impassable bluffs and cliffs found at beach level south of Mosquito Creek. The trail through dense coastal forest is often overgrown and muddy. The weathered stairs and ladder leading down to Jefferson Cove can be slippery with unstable footing and caution should be used. Just south of Jefferson Cove is the Diamond Rock tidal restriction. This tricky spot requires a tide of 2' or lower and passes around a prominent rocky point with cliffs entering the water. As previously mentioned, during certain tidal cycles this tidal restriction will not be passable for consecutive days on end. It is imperative to check a tide chart and plan your trip accordingly before attempting to enter or exit from Oil City. The mouth of the Hoh River is reached after 2 miles south of Jefferson Cove. The Hoh River cannot be forded and the south side of the river is Hoh Tribal Land. Campsites exist in the driftwood logs above the beach and a trail takes off along the river leading .6 miles to the Oil City Trailhead.
Camping
---
Permits/Reservations: For more information on how to obtain permits visit this the Wilderness Backpacking Reservation page.
Group Size Restrictions: Groups are limited to no more than 12 people. Associated groups of more than 12 must camp and travel at least 1 mile apart and may not combine at any time into a group of more than 12.
Food Storage Method: As of May 2013, all food, garbage, and scented items must be stored—overnight and when unattended—in park-approved Bear Canisters along the entire Olympic National Park Wilderness Coast. Buckets or other hard-sided containers are no longer permitted.
Campsites: Primary destinations are Third Beach, Scott's Creek, Toleak Point, and Mosquito Creek. These camp areas can be full or very busy in summer.
Toilet Facilities: Pit toilets are available at Third Beach, Toleak Point, and Mosquito Creek. In other areas bury waste 6-8" deep and 200 feet from campsites and water sources.
Water Sources: See topographic map for permanent streams. Most coastal water sources have a tea-stained appearance. The light tan color originates from tannin leached from leaves. Cryptosporidium and giardia exist in coastal lakes, streams, and rivers. Always filter or boil water. Iodine is ineffective against cryptosporidium.
Stock: Prohibited on all park beaches and beach trails.
Special Concerns
---
Leave No Trace: Leave No Trace of your stay to protect vegetation and prevent further camping regulations. Camp in established sites or on sand to prevent damage to vegetation.

Campfires: To protect coastal forests, please burn only driftwood and build fires on the beach, not in forested campsites.

Wildlife Precautions: Due the ingenuity of raccoons and other wildlife in obtaining human food, as of May 2013, all food, garbage, and scented items must be stored—overnight and when unattended—in park-approved Bear Canisters along the entire Olympic National Park Wilderness Coast. Buckets or other hard-sided containers are no longer permitted.
Safety
When traveling along the coast, know the tides. Bring a topographic map and a tide chart to plan your route.
Be prepared to hike over some headland trails during high tides. Some headlands cannot be rounded during the lowest of tides. Some headlands require a low tide to round. When camping on the beach, camp above the high tide water line.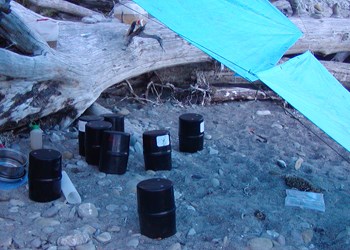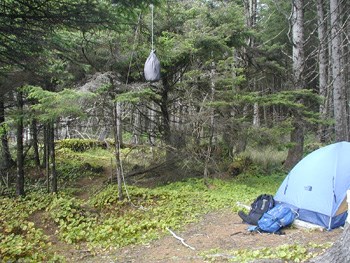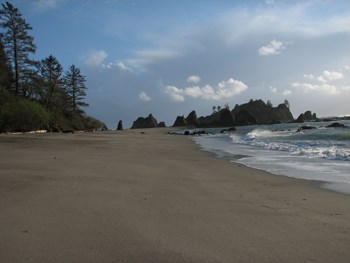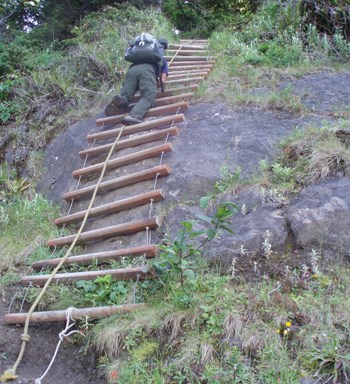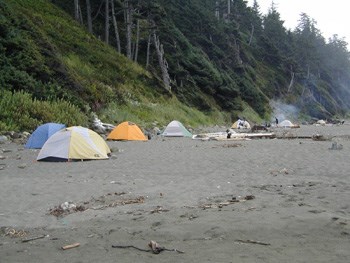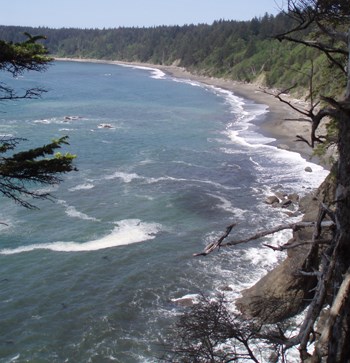 Last updated: August 7, 2020