Olympic National Park - Wilderness Food Storage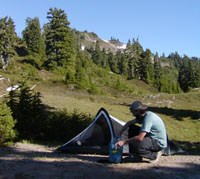 Please do your part to protect park wildlife and yourself by properly securing your food.
Bears and other wildlife can be active 24 hours a day, year round, parkwide. Because of this, all food and scented items must be secured at all times. Following these and other Leave No Trace guidelines help protect people and animals.
All food, trash, toiletries, and scented items such as: toothpaste, deodorant, sunscreen, hand sanitizer, chapstick, etc. must be stored either:
In bear canisters
On park bear wires, where provided
12 feet high and 10 feet out from the nearest tree trunk, where allowed
Bear canisters are required in the following areas of the park:
Enchanted Valley
Sol Duc River/High Divide/7 Lakes Basin Loop including all camps adjacent to and enclosed by the Deer Lake Trail, High Divide Trail, and Sol Duc River Trail (High Divide Loop), and adjacent camps along the Mink Lake Trail, East High Divide Trail, and Cat Basin area.
Royal Basin area - including Royal Lake and Upper Royal Basin
All other areas where food cannot be hung at least 12 feet high and 10 feet out from the nearest tree trunk, including the Bailey Range and other high elevation areas where trees are not suitable for hanging food.
The entire Wilderness Coast.
We highly encourage wilderness users to provide their own bear canisters, though, bear canisters are available for loan from Wilderness Information Centers during business hours. While we do have a large supply of canisters, we occasionally run out over exceptionally busy weekends. We do not reserve canisters in advance.
The first thing you should do when you arrive at your camping area is secure your food, garbage, and any other scented items. This includes canned food and dehydrated food.
Bear canisters are required for some areas and are recommended for all hikes. Hanging food with rope is not a guaranteed method of securing food. Bears can break your rope or break the branch your rope is over, no matter how you hang it.
Never store food in your tent or backpack! Tents, backpacks and other gear have been destroyed by bears because food has been stored in them. Avoid cooking or eating in tents. Do not leave food, garbage, or any scented items unattended for any amount of time unless they are secure in a bear canister or on a bear wire.
If a bear comes into your camp do not give up your food. Bang pots and pans and make noise to discourage further exploration.
Wash dirty dishes immediately. Strain food particles and dispose of waste water at least 200 feet from a campsite or water source to prevent attracting wildlife.
Do not dispose of food waste in the wilderness. Pack out all uneaten food and food particles. Treat food wrappers and other garbage the same as food. Keep a clean camp.
Avoid odor-tainting your backpack. Carry food and garbage in plastic bags. Avoid cooking greasy or odorous foods.
If your food is not properly stored, it may be confiscated and a $50 fine may be issued to protect visitors, property, and bears.
With a little planning, it is amazing how much food you can fit into a bear can. For more information check out How to Pack a Bear Canister.
Olympic National Park may change this list at any time to ensure the protection of wildlife and visitors.
Approved Bear Canisters:
Approved Backpacks
Wise Backpack by Craftsman Tech Composites (hard-sided backpack)
Approved Panniers
Not Permitted: Ursacks have not been allowed for use in Olympic National Park as a bear canister replacement even though some models were approved July 31st, 2014 for Grizzly Bears by the IGBC. They make a great addition to standard food hanging practices.
Less stress, increased peace of mind
More time at camp relaxing instead of trying to find just the right trees to hang properly
Guaranteed food supply if bears or other animals visit your camp
No aborted trips because bears ate your food
More freedom to camp in areas away from bear wires
They make a nice stool to sit on
Keeps delicate foods from getting squished in your pack
Are you tired of spending hours hanging your food or walking to and from bear wires? Try a bear canister!

These containers are lightweight, cylindrical canisters specifically designed to be animal proof. Bear canisters are the best method for securing food, garbage, and other scented items from bears and other wildlife. They are user-friendly, fit in most backpacks, and help keep fragile foods like crackers and bread from getting squished or broken. Always carry a bear resistant food container when camping in the subalpine zone above 4,500 feet in elevation or in other areas where trees are not large enough to hang your food.Here are the bear cans we use: BearVault, Garcia Machine.
Bear canisters are available for loan at the Wilderness Information Centers (Current Hours):
Port Angeles WIC: 3002 Mount Angeles Road, Port Angeles, WA 98362
Quinault Rain Forest Ranger Station: 913 North Shore Road, Amanda Park, WA 98526
Bear canisters may be available to rent or purchase at the following locations:
Email us if you would like to be included
In some areas, "bear wires" have been installed for hanging food between trees. These wires are usually located in centralized areas for several sites to share. Most wires are equipped with one or more cables for attaching and raising food bags off the ground, but in some cases an additional rope is needed.

Instructions for use of Bear Wire system: Secure food in a bag with a looped handle. Unfasten lower clip at base of tree. Lower the wire (like a flagpole) until upper clip is within clipping distance of food bag. Fasten clip onto food bag handle. Raise food bag by pulling wire. Refasten lower clip to ring attached at base of tree.

Multiple bags can be placed on each clip. If bear wires are not available, food should be stored in a bear resistant food container.
Hurricane Ridge Area: Grand Lake, Moose Lake, Gladys Lake.
Elwha Area: Boulder Creek, Appleton Pass, Humes Ranch, Lillian River Camp, Mary Falls, Elkhorn, Elkhorn Horse Camp, Hayes River Camp, Camp Wilder, Chicago Camp.
Sol Duc/Seven Lakes Basin Area: Bear cans are required.
Hoh River Area: Mt. Tom Creek, Happy Four, Olympus Guard Station, Lewis Meadow, Elk Lake, Glacier Meadows, C.B. Flats, Hoh Lake.
Quinault Area: O'Neil Creek, Pyrites Creek, Wolf Bar, Low Divide, Three Lakes.  Bear cans are required at Enchanted Valley.
Staircase Area: Spike Camp, Big Log, Nine Stream, Home Sweet Home, Flapjack Lakes.
Dosewallips Area: Big Timber, Diamond Meadows, Honeymoon Meadows, Jct. with LaCrosse Pass Trail, Lake Constance, Camp Siberia.
Duckabush: Upper Duckabush Camp
Hamma Hamma Area: Upper Lena Lake
Coastal Areas: Bear cans are required
Tie one end of your rope to the base of the first tree and throw your rope over a branch about 15 to 20 feet off the ground.
Throw the other end of the rope over a branch (15 feet to 20 feet high) on another tree that is at least 20 feet away.
After attaching your food bag to the rope and securing one end to the tree, pull the line taut.
Secure the other end of the rope to the base of the tree.
Carry at least 75 to 100 feet of rope for "bear hangs"

Stock
Stock users should be prepared to secure their own as well as any stock feed from bears and other wildlife. All food, garbage, and any other scented items such as toothpaste, deodorant, sunscreen, etc. should be stored in bear proof containers or panniers. Animal feed must also be secured from wildlife.
If your food is not being stored in bear resistant panniers, it must be hung from park bear wires or hung at least 12 feet high and 10 feet out from the nearest tree trunk.
The Wilderness Information Center (WIC) in Port Angeles now has 2 bear resistant panniers available for loan.


Last updated: August 10, 2023