Olympic National Park - Wilderness Food Storage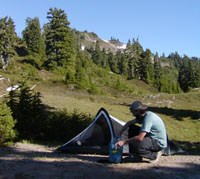 Please do your part to protect park wildlife and yourself by properly securing your food.
Bears and other wildlife can be active 24 hours a day, year round, and at any location from the coast to the peaks of Mt. Olympus. Have all food and scented items secured at all times. Following these and other Leave No Trace guidelines help to protect people and animals.
All food, garbage, and scented items toiletries such as: toothpaste, deodorant, sunscreen, hand sanitizer, chapstick, etc. must be stored either

In bear canisters
On park bear wires where provided
12 feet high and 10 feet out from the nearest tree trunk

Bear canisters are required in the following areas of the park:

Enchanted Valley
Sol Duc River/High Divide/7 Lakes Basin Loop including all camps adjacent to and enclosed by the Deer Lake Trail, High Divide Trail, and Sol Duc River Trail (High Divide Loop), and adjacent camps along the Mink Lake Trail, East High Divide Trail, and Cat Basin area.
Royal Basin area - including Royal Lake and Upper Royal Basin
All other areas where food cannot be hung at least 12 feet high and 10 feet out from the nearest tree trunk, including the Bailey Range and other high elevation areas where trees are not suitable for hanging food.
The entire Wilderness Coast.
Bear canisters are typically available for loan from the Port Angeles, Quinault, and Hoodsport Wilderness Information Centers. We do not guarantee the availability of bear canisters and occasionally run out over busy weekends. We do not reserve canisters in advance even for parties with backpacking reservations. Consider renting or purchasing your own bear canisters to ensure that you have them when needed.
Park bear canisters are available for loan with a purchase of a wilderness permit.

Stock
Stock users should be prepared to secure their own as well as any stock feed from bears and other wildlife. All food, garbage, and any other scented items such as toothpaste, deodorant, sunscreen, etc. should be stored in bear proof containers or panniers. Animal feed must also be secured from wildlife.
If your food is not being stored in bear resistant panniers, it must be hung from park bear wires or hung at least 12 feet high and 10 feet out from the nearest tree trunk.
The Wilderness Information Center (WIC) in Port Angeles now has 2 bear resistant panniers available for loan.
Their acute sense of smell can lead bears to unclean camps. If bears become accustomed to human food, they may become dangerous and aggressive. To protect visitors and property, park management may close an area to visitors or a park biologist may have to destroy an aggressive or dangerous bear. Two park black bears have died due to poor food storage by visitors.
Black bears and other wildlife have lived in Olympic's wilderness for thousands of years and are an essential part of the wilderness community. Many times we are intruding on their territory or feeding areas and should be sensitive to their need for wild, undisturbed space. Human visitors should Leave No Trace and should not impact or harm wildlife during their visit to the wilderness community.
The survival of bears may be put in jeopardy if humans are disturbing or occupying feeding areas during critical feeding times. Try to avoid lowland grassy areas during the spring and early summer. These areas often provide the first good food source for bears when they wake from hibernation.
Bears, raccoons, and other wildlife may become a nuisance by stealing food, damaging equipment, or acting aggressively if food is not stored properly.
Nearly 40,000 people backpack in Olympic National Park every year. It only takes one careless camper to damage a small part of the wilderness community.
YOU are responsible for the protection of the Olympic wilderness and its community.


Last updated: September 2, 2021