Second Beach Trail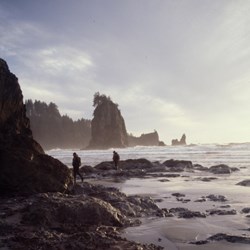 Notices
Description
Trail Conditions
Camping
Special Concerns
Safety
Map
Notices:
All food, garbage, and scented items must be stored—overnight and when unattended—in park-approved

bear canisters

along the entire Olympic National Park Wilderness Coast.

Pets, use of weapons, and wheeled devices are prohibited on coastal beaches and trails.
Trail Description
Ecosystem type: Coastal forest and ocean beach
Trail tread types: Well maintained
General elevation trend: Flat
River crossings: None
Unique features: Ocean views, sea stacks, opportunities to view bald eagles and seals. Bird life is common on sea stacks. Whale migration occurs in March/April and October.
Level of difficulty: Easy
Distance: 0.7 mile
Elevation change: 80' gain and 100' loss on way in
Best Season: April through October
Camping
Group Size Restrictions: Groups are limited to no more than 12 people. Associated groups of more than 12 must camp and travel at least 1 mile apart and may not combine at any time into a group of more than 12.
Campsites: A few forested sites are available but mostly beach camping. Camping space can be scarce in summer.
Toilet Facilities: A pit toilet is located where the trail meets the beach.
Water Source: Two streams - Most coastal water sources have a tea-stained appearance. The light tan color originates from tannin leached from leaves. Cryptosporidium and giardia exist in coastal lakes, streams, and rivers. Always filter or boil water. Iodine is ineffective against cryptosporidium.
Stock: Prohibited on all park beaches and beach trails.
Special Concerns
Leave No Trace: Practice Leave No Trace guidelines during your stay to protect vegetation and other resources. Camp in established sites or on sand to prevent damage to vegetation.
Campfires: To protect coastal forests, please build campfires on the beach only and burn only driftwood.
Safety
Never try to round Teahwhit Head or Quateata Head. They are impassible, even at the lowest tide.
Beach logs may not be stable. Use extreme caution when walking on logs.
Raccoons or bears may raid your camp if your food, garbage, and scented items are not properly stored in bear canisters. Keep a clean camp.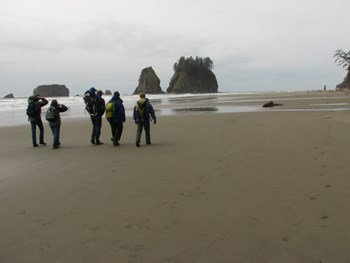 Last updated: October 21, 2022