Third Beach Trail - Olympic Wilderness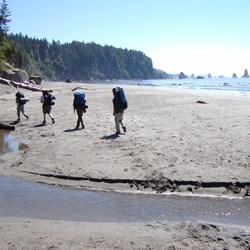 Notices
Description
Trail Conditions
Camping
Special Concerns
Safety
Map
Photos
Notices:
Parking is very limited at the Third Beach Trailhead. Please carpool or shuttle if possible.

All food, garbage, and scented items must be stored

—overnight and when unattended—

in park-approved

bear canisters

along the entire Olympic National Park Wilderness Coast.

Wilderness Camping Permits are required for overnight camping at Third Beach and elsewhere on the coast. Visit our Wilderness Backpacking Reservations page to learn how to obtain a permit.
Pets, use of weapons, and wheeled devices are prohibited on coastal beaches and trails.
Description
Ecosystem type: Coastal forest and ocean beach
Trail tread types: Well-maintained
General elevation trend: Flat
River crossings: None
Unique features: Ocean views, sea stacks, excellent opportunities to view bald eagles and seals. Bird life is common on sea stacks. Whale migration occurs in March/April and October.
Level of difficulty: Easy
Distance: 1.4 miles
Elevation change: 240' elevation loss on the way in
Best Season: Year-round
---
Trail Guide
Hiking the Olympic Coast is unique in that the routes for the most part follow the natural land features found along the shore. Overland trails aid hikers in navigating sections of the coast that are not feasible or safe to hike at shore level. Certain sections of coastal routes are also only passable at mid-to-low tides; these sections should be identified and planned out prior to a trip. Be advised that during certain tidal cycles the Diamond Rock tidal restrictions approximately 1.5 miles north of Oily City will not become passable for entire days on end. The terrain along the coast is variable and a number of conditions under foot will be encountered including but not limited to - fine sand beaches, pebbly/rocky beaches, slipper moss/algae covered boulders, driftwood logs, rocky headlands, rope & ladder assisted overland trails, forested and brushy overland trails and sections of well-maintained trails.

Third Beach Trailhead ⇒ Third Beach
~1.4 miles
The trail begins by meandering through coastal forest until reaching the 200ft decent down to the beach. Driftwood logs often have to be negotiated in order to reach the sand. Distant views of Giants Graveyard offer a striking backdrop to the south. Neither Teawhit Head or Taylor Point can be rounded at shore level. A privy is located up a short side trail on the south side of the creek.
For more information hiking past Third Beach visit the South Coast Beach Route page.
---
Camping
Group Size Restrictions: Groups are limited to no more than 12 people. Associated groups of more than 12 must camp and travel at least 1 mile apart and may not combine at any time into a group of more than 12.
Campsites: There are a few campsites off the beach in the forest but most camping is on the beach above high tide. During summer, camping space can be scarce!
Toilet Facilities: Pit toilet where the trail meets the beach.
Water Source: Most coastal water sources have a tea-stained appearance. The light tan color originates from tannin leached from leaves. Cryptosporidium and giardia exist in coastal lakes, streams, and rivers. Always filter or boil water. Iodine is ineffective against cryptosporidium.
Stock: Prohibited on all park beaches and beach trails.
Special Concerns
Leave No Trace: Practice Leave No Trace guidelines during your stay to protect vegetation and other park resources. Camp in established sites or on sand to prevent damage to vegetation.
Campfires: To protect coastal forests, please burn only driftwood.
Safety
Never try to round hazardous headlands at high tide. Always carry a tide chart and topographic map to avoid getting trapped by a high tide.
Beach logs may not be stable. Use extreme caution when walking on logs.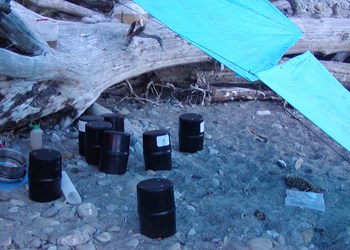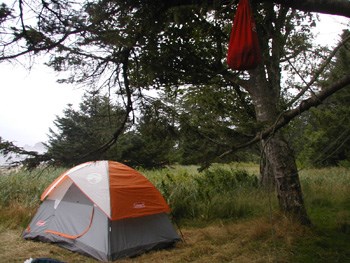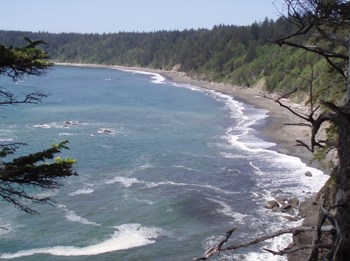 Last updated: October 21, 2022