Caring for The Daniel J. Evans Wilderness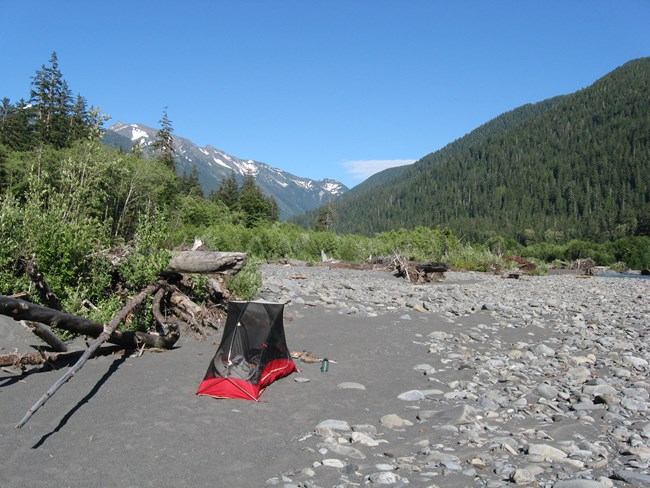 Every year, there were nearly 50,000 overnight visitors to The Daniel J. Evans Wilderness and countless day visitors. If we treat this wild place with respect, we can preserve its natural state and grandeur for future generations.
Many visitors do not realize the impacts their actions can have on the character of the wilderness, on wildlife, and on other visitors. Please help take care of your wilderness by practicing Leave No Trace camping and using proper food storage techniques to protect park wildlife.
Here are some ways you can help keep Olympic wild:
Be careful where you walk and where you put your gear. Subalpine and alpine vegetation is very fragile. Some plants like heather and huckleberry are especially delicate and slow growing. Just one step on these plants can break off 50 to 100 years of growth. If one person camps on a meadow for even one night, it flattens down the plants enough that a subsequent backpacker may think that is a good spot to camp. This then leads to additional impacts on the plants as well as soil compaction, which prevents plant roots from growing. The damage is cumulative and it may take decades for plants to recover. Always camp on durable surfaces like pre-existing bare ground, gravel, sand, snow, or forest duff.

Human Waste Disposal: Ick! No one wants to camp near someone else's "you know what" or worse... drink it. All too often, people don't bother to use the toilet or go far enough from campsites and water sources to "do their thing". Then the next folks there have to smell it or unexpectedly discover it near their campsite. Sometimes this happens within 100 feet of a toilet! Always ask the ranger where toilets are and use them. Where there aren't toilets, always go at least 200 feet (70 steps) from campsites and water sources. When urinating, go on rocks or on the trail to prevent deer or goats from pulling up plants to get at the salts in urine. For solid waste, bring a trowel and bury waste 8 inches deep and cover it when you are done.
Please,

DON'T BE A "SURFACE POOPER"!
Check the

Wilderness Trail & Campsite map

for a list of toilet locations. Note to users!: because we do not have enough staff to patrol all camp areas every day, toilet seats may not get cleaned on a regular basis. Be prepared to "hover" or clean the seat before using it. We clean them as frequently as we can.
Last updated: August 18, 2017