Tides and Your Safety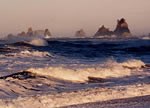 Don't get trapped by a rising tide!
Always carry -- and know how to use -- a tide table, topographic map and a watch whenever hiking along Olympic's coast!
Several points along the coast are only passable at lower tides. Always carry a tide chart, available at visitor centers and coastal ranger stations. DO NOT GUESS! Know when the tides will occur and plan your hike according.
Strong winds or storms can significantly elevate tides and create hazardous conditions. Be attentive to your surroundings and never underestimate the power of the Pacific Ocean.
When hiking the coast, you will need a topographic map that shows you the headlands that are only passable at lower tides. This map along with your tide table are essential to safely enjoying this rugged wilderness.


Last updated: February 13, 2022