North Coast Route - Olympic Wilderness
Notices:
As of March 15, in alignment with the reopening of the Makah Reservation by the Makah Tribe, the coastal wilderness area north of Cape Alava (including Shi Shi Beach) has reopened.

Cannonball Island (Tskawahyah Island) is part of the Ozette Indian Reservation and is always closed to the public

All food, garbage, and scented items must be stored—overnight and when unattended—in a

park-approved bear canister

along the entire Olympic National Park Wilderness Coast.
Fires are always prohibited between the headland at Wedding Rocks and the headland north of Yellow Banks including the South Sand Point and Sand Point campsites
Permits are limited year round for camping from Yellow Banks to Point of the Arches (the Ozette area). It is recommended to book early for trips between May and the end of September. For the latest information on how to obtain a Wilderness permit click here.
Wilderness Camping Permits are required for all overnight hikes
Have a copy of your permit visible on your backpack or in an accessible pocket to share with a Park Ranger
Use privies where available. If ¼ of a mile away from a privy, dig a cathole 6-8 in deep & 200 ft (about 70 paces) from water sources, campsites, & trails.

Pit toilets are available at Ellen Creek, Cedar Creek, Norwegian Memorial, Chilean Memorial, South Sand Point, Sand Point, Cape Alava, South Ozette River, North Ozette River, and Shi Shi Beach

Pets are not permitted on park trails, meadows, beaches or in any undeveloped area of the park. For more information: Pets in Olympic National Park
Local search and rescue resources are limited and may not always be available. Plan within your abilities to help reduce the need for emergency responses
Most coastal water sources have a tea-stained appearance that comes from the tannins leached from leaves. Cryptosporidium and giardia exist in coastal streams and rivers. Always filter or boil water as Iodine is not an effective water treatment for coastal streams. Some streams may contain saltwater at high tide.
Borrowing Bear Canisters
Port Angeles WIC: 9 AM – 5 PM
Quinault WIC: 8 AM - 4 PM, Memorial Day- End of September
Hoodsport WIC: Thursday-Monday 8 AM - 4 PM, Memorial Day- Labor Day
Returns: 24 hours a day at the drop boxes at each location

Certain sections of this route are physically impassable at higher tides
Carry a tide chart and topographic map on your trip and reference them before you head out
The Custom Correct North Olympic Coast Map has tidal restrictions marked. These maps can be found at the Olympic National Park Visitor Center in Port Angeles, online from Discover Your Northwest, or at local outdoor gear shops.
Notable tidal restrictions on the North Coast:

| | |
| --- | --- |
| 2.4 miles north of Rialto Beach Trailhead | 5' |
| 4.3 miles north of the Rialto Beach Trailhead, at Cape Johnson | 4' |
| 5.1 miles north of the Rialto Beach Trailhead | 5.5' |
| 7.9 miles south of the Ozette Ranger Station Trailhead | 6' |
| 4.9 miles south of the Ozette Ranger Station Trailhead | 5' |

Check the Marine Forecast to avoid hazardous swells and waves; rolling beach logs can be fatal.

Camp in established campsites or on the beach above the high tide line

Water availability: Later into the summer Wedding Rocks, Sand Point and South Sand Point water sources typically dry up; parties should carry in the water they will need while staying at these locations during this time
Fires: Check to see if there is a fire ban in place. To protect coastal forests, burn only driftwood and build fires on the beach, not in forested campsites. Wood can become scarce later into the summer and campfires may not be possible

Description
Ecosystem type: Coastal forest, rocky cliffs, and ocean beach
Trail tread types: Maintained
General elevation trend: Flat with steep overland trails
River crossings: The Ozette River should be forded at Low tide. It may be impassable in winter and during periods of heavy rain. Other coastal creeks may be difficult to cross during periods of heavy rain. Log jams may be very slippery and hazardous.
Unique features: Ocean views, eagle watching, seastacks, arches
Level of difficulty: Easy to strenuous sections
Distance: 20 miles from Ozette Trailhead to Rialto Beach—allow 3-4 days. 15 miles from Shi Shi Beach Trailhead to Ozette Trailhead—allow 2 days.
Elevation change: Sea level to 200 feet
Best Season: April through October
Stock: Prohibited on all park beaches and beach trails.
Group Size Restrictions: Maximum group size is 12 people. Associated groups of more than 12 must camp and travel at least 1 mile apart and may not combine at any time into a group of more than 12.
Campsites: Primary destinations are Ellen Creek, Chilean Memorial, Cedar Creek, Norwegian Memorial, Yellow Banks, South Sand Point, Sand Point, Wedding Rocks, Cape Alava, South side Ozette River, North side Ozette River, and Shi Shi Beach.
North Coast Descriptions
Special Concerns
Leave No Trace: Practice Leave No Trace principles during your stay to protect vegetation and other wilderness resources. Camp in preexisting sites or on sand to prevent damage to vegetation.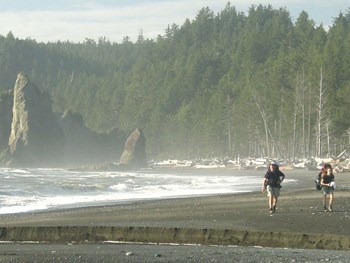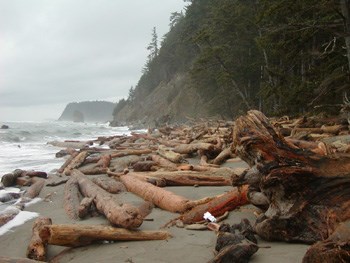 Last updated: April 4, 2022