Hiking The Wilderness Coast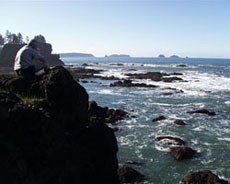 Olympic National Park protects over 73 miles of the some of the most primitive natural coastline in the 48 contiguous United States. The views of ocean, cliffs, headlands, islands and seastacks, coupled with the dramatic changing sea, provide a unique wilderness experience. Most of the coast can only be accessed by foot. Rialto Beach and Kalaloch beaches are accessible by road.
Wilderness Camping Permits are required for all overnight hikes on the Olympic Wilderness Coast year-round.

Where to get a permit:

*All backpacking permits are currently available through Recreation.gov*

Further assistance can be found at the following ranger stations if needed:
Wilderness Information Center in Port Angeles
South Shore Lake Quinault Ranger Station
Permits are limited and reservations are required for all areas between Point of the Arches and Yellow Banks.
Coastal Camping
Camping is permitted along the wilderness coast, except between the Quillayute River and Ellen Creek. Along the Kalaloch strip south of the Hoh River, camping is only allowed in developed frontcountry campgrounds.
Permits are limited for camping between Yellow Banks and Point of the Arches
Only a limited number of traditional forested campsites are located adjacent to the beach.
Many visitors choose to camp on the beach itself, which can be done in some areas above the high tide line. These sites offer less shelter from wind, sun, and precipitation than the forested sites, but reduce resource damage.
Building driftwood shelters or furniture is discouraged, as it diminishes the coast's wilderness character.
On the coast, all food, garbage and scented items must be stored in bear canisters. See Wilderness Food Storage for more information.
Water Purification
We recommend boiling water, using a water filter, or using other treatment that kills or filters giardia and cryptosporidium. Iodine tablets do not kill cryptosporidium.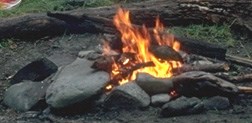 Campfires
Wood-gathering in forests adjacent to the beach has extensively impacted trees and other vegetation in many coastal camp areas. Cut stumps, cut or broken lower branches of trees, compacted soil, and trampled plants are evidence of this impact. To allow for the recovery of heavily-impacted coastal areas, only gather wood from the beach.
Always build your fires on the beach and keep them at least ten feet from beach logs and below the high tide line. Remove any evidence of the fire before you leave. Leave No Trace
Because of tree and vegetation damage from campers campfires are not permitted north of Yellow Banks to the headland at Wedding Rocks. This includes the Sand Point area.
General Information

Pets, vehicles, bicycles, wheeled devices and stock animals are not permitted on park beaches or coastal trails.
When traveling to Cape Alava or Sand Point from the Ozette trailhead, you walk on three miles of boardwalk, which can be extremely slick. It is important to take your time and walk carefully. Soft-soled shoes, such as tennis shoes or lightweight hikers, grip the boardwalk better than stiff hiking boots with lug soles.
Hiking on the wilderness coast includes both beach hiking and hiking on trails over forested headlands. On the beach, the hiking surface varies from soft to hard sand, gravel, cobble stones, boulders, and large drift logs. Algae-covered rocks and wet logs can be slippery and unstable, often tipping or rolling. Hard lug-soled boots do not give traction on slick rocks. Wear lightweight hiking boots with flexible soles. It is best to stay low, take short steps, and keep your hands free for balancing.
The variable hiking surfaces of the beach, combined with headland trails and tides, usually limit even strong hikers to between five and ten miles per day.
Avoid walking on or picking up tidepool animals. Human handling can be harmful and sometimes fatal to the animal.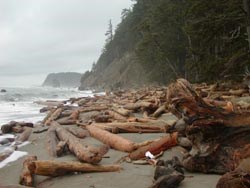 Hike by the Tide!

The tide can trap you! Do not attempt to round headlands without knowledge of the tide heights and times.
Along the ocean, rising water can corner you below cliffs. People have died along the Olympic wilderness coast trying to beat the tide. Some headlands require low tides for passage. Some can NEVER be rounded safely even at the lowest tides, so overland routes must be taken.
Before traveling along the coast, obtain a detailed topographic map. Your map should indicate areas where tides may be a problem, and the tidal height at which headlands become hazardous or impossible to round.
Carry a tide chart.

Tide charts are available at the WIC and some ranger stations. DON'T GUESS! Know when tides occur and carry a watch. Refer to tide charts before setting out on longer coastal hikes. On the same low tide, it may be possible to get around one headland but not the next.
Strong winds or off-coast storms make tides higher than tide charts indicate (see "How to Use a Tide Chart" below), sometimes making normally passable routes impassable. Winter storms can significantly elevate tides and create seriously hazardous conditions. Never underestimate the Pacific Ocean.
Always keep in mind that waves can move beach logs, which can crush and kill. Strong currents, cold water, and hidden rocks make swimming hazardous. Be vigilant for large swells.
How to Use a Tide Chart

Tide charts give the time and height of morning and evening high and low tides in good weather. Look over your map for the route you will follow. Note any locations where you see the words "danger," "caution," or "round at low tide." If your map does not include this type of information, obtain a map with those references. See the map key for definitions of hazards. They will vary between maps. "Danger" usually means that a headland cannot be rounded at any time by walking on the beach. "Caution" usually suggests a low tide height below which it may be safe to round headlands. Check the time and height of the two low tides for the day you will be hiking. Note that occasionally there may be only one low tide per day. The safest time to round headlands is within one to two hours before low tide. Rounding a headland on an incoming tide can be dangerous.
Headland Trails

Headland trails are marked by red and black targets. These trails lead from the beach over many headland cliffs. Headland trails are typically steep and muddy and receive minimal maintenance. Cable ladders or fixed ropes may be on site to assist climbing. Parties should climb one hiker at a time to avoid dislodging rocks onto members below. Be cautious when traveling atop headlands. Thick vegetation can mask the edge of sea cliffs—one wrong step could prove fatal. Bring leather gloves for headland trail ropes.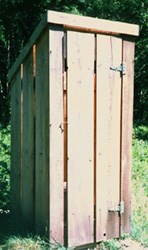 Toilets and Sanitation
Toilets are located at each of the main concentrations of campsites at Cape Alava and Sand Point, and at various other high-use camp areas along the beach. In the absence of a toilet, dig a cat hole 6-8" deep and 200 feet from any campsite or water source in the forest to dispose of human waste.
Beach Combing and Beach Debris

Park regulations permit taking a handful of unoccupied sea shells. All living organisms found on the beach and in tide pools are protected—disturbing or collecting is not permitted. Seal pups seen on the beach are not in need of our help. Picking up a seal pup may lead to abandonment by its mother.
Garbage and plastic, debris cast from ocean vessels, accumulates on coastal beaches. Do not decorate campsites with beach debris as this detracts from the wilderness character of the area. Help keep your wilderness beaches clean by carrying out marine debris.
Do not touch metal cylinders or other containers that have washed up onshore. They may contain hazardous or explosive materials. If you see a suspicious object, note the type of container, any markings and its exact location. Report this information to a ranger.
Subtidal and Offshore Area

The seastacks and islands located off the coastal strip are National Wildlife Refuges and designated wilderness. They are also part of Olympic National Park and the Olympic Coast National Marine Sanctuary. Rocks and islands that cannot be reached by foot at low tide, as well as Cannonball and Ozette Islands at Cape Alava, are off limits to visitors. This protects nesting birds and other wildlife from human disturbance and also protects cultural resources.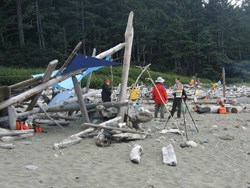 The Coast can be Crowded!
If you are planning a trip to the coast, keep in mind that it is very popular during the spring, summer, and early fall months. It is not uncommon to arrive at a location like Shi Shi Beach or Third Beach and not be able to find a place to put your tent.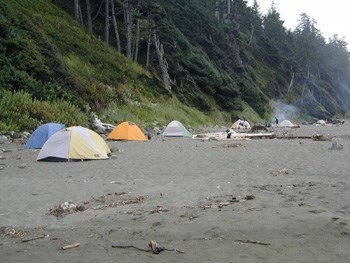 Last updated: September 9, 2021