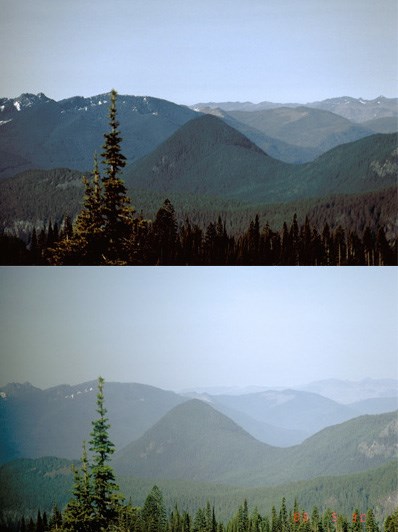 Mount Rainier National Park is designated as a Class I air protection area.
National parks over 6,000 acres, like Mount Rainier, and national wilderness areas over 5,000 acres that were in existence before August 1977 are designated as Class I areas, as defined by an amendment to the Clean Air Act. In addition to Mount Rainier, some of the surrounding U.S. Forest Service wilderness areas are also designated as Class I areas.
Areas designated as Class I receive the highest level of air-quality protection.
Consequently, Mount Rainier
National Park
staff are very involved in the National Park Service's comprehensive air resources management program, designed to assess air pollution impacts and protect air quality related values. Air quality related values include scenic vistas; sensitive natural ecosystem processes, functions, and components; and cultural resources.
The air resources management program at Mount Rainier includes monitoring, research, and regulatory interaction with local, state and federal agencies. Long-term monitoring programs include monitoring for gaseous pollutants such as ozone, visibility impairment, and atmospheric depositions. More information is available on the IMPROVE (Interagency Monitoring of Protected Visual Environments) web site. In addition, there is an ongoing effort to determine the ecological effects of air pollutants on park resources.
The National Park Service (NPS) Air Quality Research Program involves an extensive network of monitoring for pollution, visibility conditions, and biological effects in NPS units. At Mount Rainier the monitoring program has included:
Use of cameras for measuring visibility.
Fine particulate monitors for identifying the causes and sources of visibility impairment.
Ozone monitors for establishing baseline conditions, assisting ozone effects research, measuring precipitation chemistry, and evaluating new pollution sources.