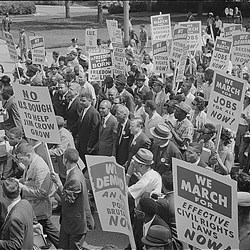 THE STRIDE TOWARDS FREEDOM
A greater nation… A finer world.
The Martin Luther King, Jr. Memorial honors a man of conscience; the freedom movement of which he was a beacon; and his message of freedom, equality, justice and love. It is the first on the National Mall devoted, not to a United States President or war hero, but a citizen activist for civil rights and peace. Dr. King, an African-American, brings "the image of America… the melting pot of the world" to the National Mall, but his message was universal. His non-violent philosophy pushed insistently towards the goal of the American Experiment - universal freedom and equality. His principled rhetoric illuminated the Nation's journey. With his life under constant threat, his last public talk left us this inspiration: "I may not get there with you. But I want you to know tonight, that we, as a people, will get to the promised land."