Voting Rights Act of 1965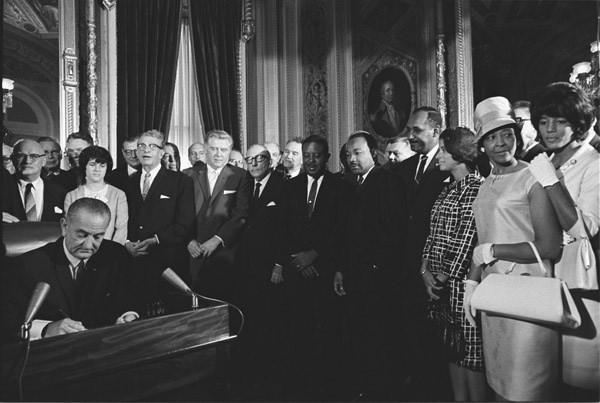 On August 6, 1965, President Lyndon B. Johnson passed the Voting Rights Act. The Voting Rights Act of 1965 expanded the 14th and 15th amendments by banning racial discrimination in voting practices. The act was a response to the barriers that prevented African Americans from voting for nearly a century. 
Background:  
On March 30, 1870 the 15th amendment to the U.S. Constitution was passed. It stated that a citizen's right to vote could not be taken away based on their race. Following the Compromise of 1877, the infamous Jim Crow Laws were introduced. These laws were barriers at the state and local level that prevented African Americans from voting. White supremacists used intimidation, literacy tests, and poll taxes to scare away African American voters. In 1964, the Civil Rights Act was signed into law on July 2. This law focused on segregation and employment discrimination. It failed to fully address voting issues faced by African Americans. On June 23, 1964, the 24th amendement to the constitution was passed. This amendment addressed fair voting and barred poll taxes. It was now illegal to make anyone pay to have the right to vote. Despite these new laws, only 2 percent of African Americans were registered to vote.  In March 1965, Martin Luther King Jr. led marches in Selma, Alabama to dramatize the voting issue. Selma had a record of using violence to prevent African Americans from voting.  Shortly after the marches,  President Johnson sent a voting rights bill to Congress to remove race-based restrictions.  This bill was quickly adopted by Congress and signed into law. The Voting Rights Act of 1965 made discriminatory voting practices illegal. It is considered to be one of the most far-reaching pieces of Civil Rights legislation.
More on the Voting Rights Act and Civil Rights
Theme Study, Civil Rights in America: Racial Voting Rights
In 1999 the U.S. Congress directed the National Park Service to conduct a multi-state study of civil right sites to determine the national significance of the sites and the appropriateness of including them in the National Park System.
Theme Study, Civil Rights Framework
Completed in January 2002 (rev. 2008), Civil Rights in America: A Framework for Identifying Significant Sites, represents the first chapter in a larger study on the history of civil rights that will help the National Park Service evaluate proposals fro new units in the park system.
Teaching with Historic Places, The Selma to Montomery Voting Rights March: Shaking the Conscience of the Nation
Learn how people in Selma, Alabama and national civil rights organizations worked together to end the unconstitutional denial of voting rights to African Americans in the South.
Historic Trail, Selma to Montgomery National Historic Trail
Listen to the stories behind the landmark Voting Rights Act of 1965.
Subject Site, Civil Rights in America
To live freely and participate in society is a right many take for granted. Achieving and maintaining those civil rights have been a struggle for different groups throughout U.S. history. Civil rights mean more than the protests of the 1950s and 1960s and reach beyond racial and ethnic groups.
National Historical Park, Lyndon B. Johnson 
The Lyndon B. Johnson National Historical Park tells the story of our 36th President beginning with his ancestors until his final resting place on his beloved LBJ Ranch. This entire "circle of life" gives the visitor a unique perspective into one of America's most noteworthy citizens by providing the most complete picture of any American president.
Last updated: September 7, 2016