Explore Spring
Introduction
Below are a few suggested springtime activities. Also check our Calendar for upcoming park and partner programs. Contact the Mississippi River Visitor Center at (651) 293-0200 for more ideas.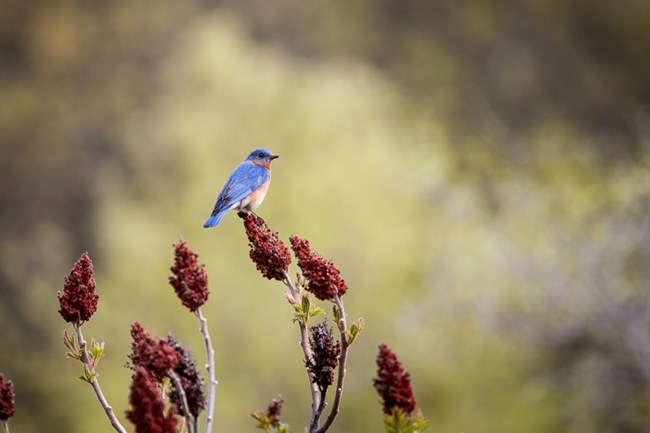 Suggestions
Go for a Hike or Bike a Trail
The Mississippi National River and Recreation Area contains many miles of foot and bike paths along its 72-mile length. Browse our
biking
and
walks and hiking
webpages to find some of our favorite places for these activities in the park.
Become a Junior Ranger
The Mississippi National River and Recreation Area has a thriving Junior Ranger program with many activities throughout the year for our younger visitors. Stop by Mississippi River Visitor Center (Saint Paul) for the Junior Ranger booklet.
Go Birding
Birding is a popular activity along the river, one of the great migratory flyways in North America. Some of our favorite birding spots include Coon Rapids Dam Regional Park (east and west), Fort Snelling State Park, Grey Cloud Dunes Scientific and Natural Area, and Coldwater Spring.
Find Wildflowers
Woodland flowers bloom from very early spring until just after the trees leaf out. By later spring, the prairies are beginning to flourish as spring transitions into summer. Our favorite wildflower hikes are in Crosby Farm Regional Park (woodland), Grey Cloud Dunes Scientific and Natural Area (prairie), Coon Rapids Regional Park (woodland and prairie), and Hastings River Flats Park (prairie).
Find a Geocache
Geocaching is an outdoor game where participants use GPS receivers to find hidden caches. A typical cache is a small container with a logbook and possible trinket. Within the Mississippi National River and Recreation Area there are many geocaches to be found and many interesting places to explore. Find out more on our geocaching webpage.
Catch a Fish
This is a great time to break out the fishing tackle, clean and organize the tackle box and head to the water. Need advice? Talk to one of our rangers or search our website for public programs. Find fishing regulations and licensing requirements on the Minnesota Department of Natural Resources website.
Last updated: April 29, 2022