Mississippi River Visitor Center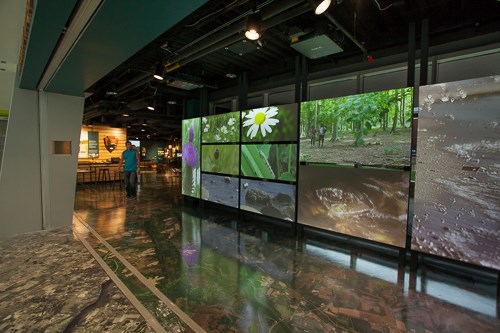 Introduction
Located in downtown St. Paul, just off the lobby of the Science Museum of Minnesota, the Mississippi River Visitor Center serves as a gateway to adventure along the mighty Mississippi. The visitor center has free admission, but the Science Museum of Minnesota charges an adimission fee to visit their exbibit areas and the theater. A second visitor center, the St. Anthony Falls Visitor Center, serves the Minneapolis area during the summer months.
Activities at the MRVC
There is a wide variety of programming at the Visitor Center, including videos about the Mississippi National River and Recreation and other parks within the National Park system, interactive exhibits, reading nook, and Junior Ranger program. Exhibits explain Mississippi River culture, biology, and history. National Park passes may be obtained here. Please call for availability.
Visitors may also seek advice about the many recreational opportunities within the park. Hiking, biking, canoeing and boating, fishing, watching wildlife and birding, or skiing and snowshoeing are all popular activities.
This is also a good place to learn about the park's scheduled programming. Popular activities include Bike with a Ranger, Fish with a Ranger, and other programs. Check our Calendar of Events regularly for upcoming events.
Please note that we have transferred selected merchandise to the Explore Store just across the lobby of the Science Museum of Minnesota and discontinued sales of other items at the Visitor Center. We do not sell the following National Parks and Federal Recreation Lands passes at this time: Annual, Lifetime Senior, and Annual Senior. These passes are available to purchase online at the United States Geological Survey.
Family-Friendly, Hiking & Walks, History & Culture, Museum, and NPS Passport Program.
Hours, Directions, and Contact Information
See Operating Hours and Seasons for more information.

651-293-0200

Walk-up address: 120 Kellogg Blvd West, St. Paul, MN 55102

Parking address: 198 N Chestnut St, St Paul, MN 55102

GPS (walk-up to front of museum): 44.942918, -93.098497

GPS (museum parking): 44.942524, -93.100299

The Mississippi River Visitor Center is located in the lobby of the Science Museum of Minnesota in downtown St. Paul, Minnesota. Parking is available at the Museum's parking garage on Chestnut Street and MetroTransit has bus stops on many different routes converging in downtown St. Paul within a few blocks of the Visitor Center.
Nearby Sites
Bruce Vento Nature Sanctuary, Lilydale Regional Park, Harriet Island, Indian Mounds Regional Park, Science Museum of Minnesota
Last updated: March 4, 2021