Bicycling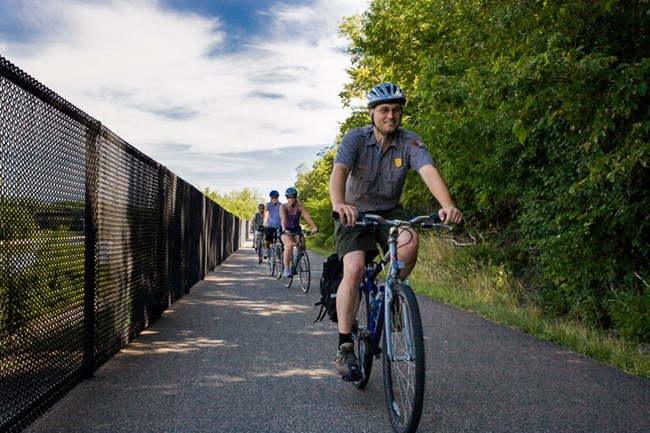 Introduction
The Twin Cities and surrounding communities are known for their bike-friendly trail systems. Paved paths are often dedicated bike routes, although some will be shared with pedestrians. In other places paths may be on roadways. The following suggestions are suggested spots to get on a path, but paths can be accessed from many other places as well.
Be sure to obtain a copy of the Mississippi River Companion as a planning guide. If you don't have a bike, or are traveling without one, Nice Ride rentals are an option in warmer months.
If you want to take a guided ride with a ranger, check out our Bike with a Ranger program page to learn more.
Places to Ride
Mississippi River Trail
Get on your bike and ride a portion of the 3,000 mile long Mississippi River Trail, or the entire length of the trail if you are feeling particularly adventurous, as it meanders along the river from the headwaters to the Gulf of Mexico.
Coon Rapids Dam
Egret Boulevard, Coon Rapids, MN 55433
The Coon Rapids Dam Regional Park (east and west) contains miles upon miles of paved, limestone aggregate, and natural surfaced trails. Enjoy the trail system year-round! Paved trails are designed for bicycling, rollerblading, jogging, and hiking. A ribbon of maintained paved trailway connects Coon Rapids Dam Regional Park in Brooklyn Park to Elm Creek Park Reserve in Maple Grove (North Hennepin Trail Corridor is 5.7 miles).
Crosby Farm Regional Park
2595 Crosby Farm Rd. Saint Paul, MN 55116
Crosby Farm offers separated, paved paths fand joiint paths for pedestrians and bikers. Located near the confluence of the Minnesota and Mississippi River, the park offers a four miles of path on the Mississippi River bottoms.
Fort Snelling State Park
101 Snelling Lake Road, St. Paul, MN 55111
Fort Snelling State Park offers 18 miles of cross-country skiing trails, 18 miles of hiking trails, 5 miles of biking trails, golf and canoe rentals, picnicking, fishing, boating, and swimming. There is also the nearby Fort Snelling Golf Course.
Hidden Falls Regional Park
Mississippi River Blvd St Paul, MN 55116
Beginning seven miles north of the confluence of the Mississippi and Minnesota River, offers paved biking and hiking trails, picnicking facilities and great opportunities a multitude of birds.
Minnehaha Falls Regional Park
4825 Minnehaha Ave. S Minneapolis, MN 55417
Minnehaha Falls offers paved trails throughout the park and a bike rental site where you can bike throughout the 193-acre park.
North Mississippi Regional Park
4900 Mississippi Court, Minneapolis, MN 55430
North Mississippi offers bicycle/walking trail extends along the entire length of the park. Bridges on both end connect to east bank trails. The park also has a picnic area and shelters, a wading pool and areas that are being restored to native prairie.
City of Hastings Trail System
415 Lock & Dam Rd. Hastings, MN 55033
Trails run past historic sites, the Vermillion River waterfall and along the Mississippi River (Hastings River Flats Park) where riders may view prairie flowers, wildlife, and river traffic locking through Lock and Dam 2. There are restaurants in town and along the trails adjacent to the Mississippi River.
Last updated: April 13, 2021