Hastings River Flats Park
Hastings Parks and Recreation
415 Lock & Dam Rd. Hastings, MN 55033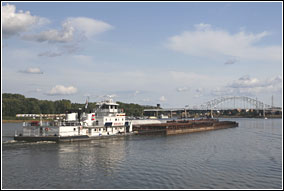 Overview
The 215 acre Hastings River Flats Park is the largest natural area set aside within the Hastings park system. While the park is managed by the City of Hastings, parts of the park are owned by the Army Corp of Engineers, Flint Hills Resources, as well as the City of Hastings.
The Mississippi River forms the eastern boundary of the park while Lake Rebecca forms the west boundary. Lock and Dam #2 lies on the north edge of the park, making this location a great place to watch river traffic as it locks through the dam. Piers permit access to the river and good views up and down the river.
Prairie restorations blanket much of the park lending the striking color of wildflowers to the landscape.
Activities: Very good views of the Mississippi River await the visitor as well as opportunities for fishing, walking and biking. The trails tie into the larger Hastings area trail system (download a trail map) and offer many miles of biking or walking opportunities. Prairie wildflower viewing in spring, summer, and fall. Watch for bald eagles and waterfowl along the river and downstream from Lock and Dam #2.
Hours: 6 a.m. to 10 p.m., unless otherwise posted.
Contact Information: Call the City of Hastings Parks and Recreation at (651) 480-6176.
Last updated: April 6, 2016