Crosby Farm Regional Park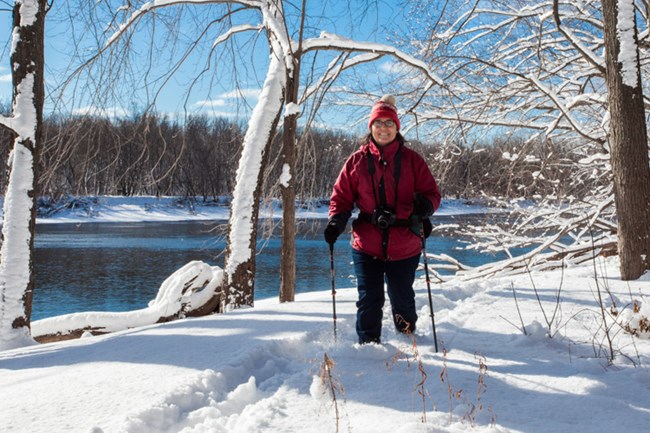 Introduction
The size of Crosby Farm Regional Park, its diversity of life, many recreational opportunities, tranquil settings, and easy access makes this a popular park to escape the bustle of a frenzied city life. Mostly floodplain forest, Crosby Farm is a place to wander its many paths and bike trails to enjoy the river and forests and is a destination for birders, especially during spring and fall migration.
History
Thomas Crosby obtained the original 160 acre farm in 1858 and farmed it until his death in 1886. Crosby's farm was the largest and longest running farm in the West End/Highland park area. Cattle, dairy cows, horses, pigs, and chickens were raised on the farm, along with crops including potatoes and apples.
The farm continued to be farmed by a succession of other families until the early 1960s, when it was obtained by the Saint Paul Port Authority and leased to the City of Saint Paul as a park.
Crosby Farm Regional Park is the largest natural park in the Saint Paul system of parks and it is an important component in a string of parks that protects the biodiversity of the Mississippi River corridor through the Twin Cities. The park protects mostly floodplain forest and adjacent steep, wooded slopes cloaked mostly in oak forest, a scattering of wetlands and small lakes (Crosby Lake and Upper Lake), and the Mississippi River shoreline. When the Mississippi River floods fish and other aquatic animals gain access to these small lakes, which act as nurseries for their offspring.
The park contains 6.7 miles of paved trails, many of which run along the river's shoreline through wooded bottomlands. Crosby Farm Regional Park is connected to Fort Snelling State Park and other parks in the vicinity by an extensive trail system.
Activities
Bicycling and walking trails, picnicking and picnic shelter, water fountains, grills, horseshoes, fire pit, boat launch, fishing, cross country ski trails. Birdwatching is very good, especially during the spring and fall migrations. The north end of the park includes a bicycle repair kiosk. In high water conditions some trails may be inaccessible.
Biking, Birds & Wildlife, Fishing & Hunting, Winter Recreation, Hiking & Walks, Boating & Canoeing, Picnicking
Hours, Directions, and Contact Information
The southern unit is open from sunrise to 9:00 p.m.The northern unit is open from sunrise to 10 p.m.
2595 Crosby Farm Rd., Saint Paul, MN 55116
North entrance location: GPS:44.895750, -93.178185
North entrance location: GPS: 44.909349, -93.145883
Contact St. Paul Parks and Recreation at 651-266-6400 for more information or to apply for picnic shelter permits.
Last updated: February 28, 2020