Grey Cloud Dunes Scientific and Natural Area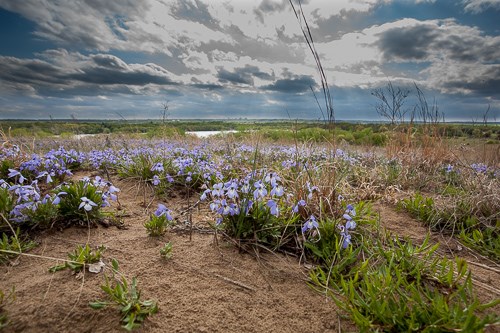 Introduction
Visitors to Grey Cloud Dunes Scientific and Natural Area will find a peaceful place away from the hustle and bustle of the cities. Hiking, photography, and nature study are options for the inquisitive in an area of dry prairie on two crests with the first at 40-60 feet above the river and a second cresting at about 110 feet above the river. Gently rolling dunes cover both. Blowouts are common.
Distinct plant communities are present throughout the area, and plants include little bluestem, penstemon, prairie dropseed, sand reed grass, gramma grass, and silky prairie clover plants. Tree species consist of elm, silver maple, cottonwood, and box elder. Blue racers and prairie skinks are also present as are white-tail deer, coyotes, foxes and other common mammalian species.
Activities
Observant visitors will find species that are otherwise rare in the Twin Cities area, such as grassland-loving birds. There are no established trails, although there are some informal trails to wander. Access to the river is made by crossing ethe railroad tracks through a tunnel. Remember to tread lightly.

Birdwatching is a favorite pasttime here. Each spring the Mississippi National River and Recreation Area hosts a "Big Watch" for birds at Grey Cloud Dunes Scientific and Natural Area.

Minnesota Scientific and Natural Areas protect rare, fragile, communities of plants and animals, as well are unusual geology. Tread lightly. Read and understand the regulations that govern human impacts to help protect these unique areas.
Hours, Directions, and Contact Information
There are two parking lots:
Parking lot (southeast): 7501 110th St S, Cottage Grove, MN 55016, GPS: 44.790083, -92.955202
Parking lot (northwest): 10299 Hadley Ave S, Cottage Grove, MN 55016,
GPS: 44.800846, -92.964508
Contact the Scientific and Natural Areas, DNR Central Region at 651-259-5800
Last updated: February 28, 2020