Mississippi River Trail (MRT)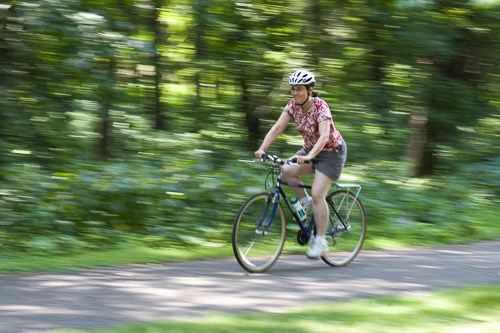 Imagine exploring the Mississippi River on a bicycle all the way from the Headwaters in Lake Itasca State Park through ten states to the Gulf of Mexico. Discover places you have never been. Rediscover places you thought you knew.
In Minnesota, the MRT becomes a nationally significant state resource by knitting together 800 miles of existing roads and trails into a signed route. Bicyclists ride under forest canopies, past farms, through cities big and small, along a river both wild and working. Minnesota's MRT will be a preferred bicycling destination for local users and tourist from around the world.
Cyclists comfortable with and knowledgeable about sharing the road with vehicles will be most comfortable with the MRT. But there are many segments that are off-road and appropriate for families and less experienced cyclists. Much of the trail within the Mississippi National River and Recreation Area is on separated off-road trails.
The MRT was established between 1996 and 2000 south of St. Louis as an economic development strategy for the Delta Region. In 2000, the MRT was designated as one of only 16 National Millennium Trails. Millennium Trails honor the past and imagine the future. The trails preserve and commemorate major events and aspects of America's history and culture.
For the most part, the MRT follows the shoulders of low-volume paved roads, and makes every effort to provide the safest and best bicycling experience along the length of the Mississippi River.
Minnesota's segment of the MRT will link resources that include 10 state parks, two state trails and many regional trails, numerous historic sites, the University of Minnesota Minneapolis and four State University campuses, Upper Mississippi National Wildlife Refuge, Chippewa National Forest, Mississippi National River and Recreation Area, Science Museum of Minnesota, as well as scenic overlooks, travel information centers, rest stops, historic and geological markers, scenic easements, boat landings, fishing piers, bridges, highways, streetscapes, locks and dams, and local parks.
Learn more about the trails through the Mississippi National River and Recreation Area by reviewing the Mississippi River Companion.
Last updated: November 22, 2019