North Mississippi Regional Park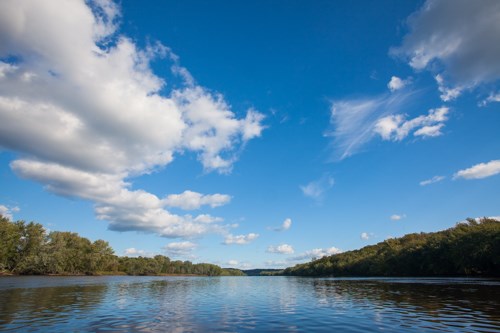 Introduction
The Carl W. Kroening Interpretive Center located at North Mississippi River Regional Park opened March 22, 2002. It is named to honor Carl W. Kroening, a former teacher from the area and Minnesota State legislator. North Mississippi Regional Park is located between I-94 and the west bank of the Mississippi River in North Minneapolis.
Designed as a green building, the visitor center takes advantage of natural lighting, cabinets made from shells of sunflower seeds, wheat, and recycled woods and plastics. The building's shape and the many windows are placed such that the Center can take full advantage of the light from outside, lowering the use of electricity.
Exhibits telling the story of the Mississippi River and the impact it had on the surrounding community are displayed at the center. Interpretive programs are offered year round with activities focusing on the Mississippi River.
Activities
A bicycle/walking trail extends along the entire length of the park. Bridges on both end connect to east bank trails. The park also has a picnic area and shelters, a wading pool and areas that are being restored to native prairie. A heron rookery once occupied an island just downstream from the visitor center, but it was devastated by a tornado that also hit north Minneapolis in May of 2011. The surviving herons moved the rookery downstream to other islands near Marshall Terrace Park while others moved upstream to an existing rookery at Coon Rapids Dam Regional Park.
Bicycling, Walks and Hikes, Watchable Wildlife, Visitor Center, NPS Passport Site, Museum, Boating and Canoeing
Hours, Directions, and Contact Information
6 am-midnight in developed areas, 6 am-10 pm in undeveloped areas . The interpretive center is open year-round 9 a.m.-5 p.m. Monday through Saturday and Noon-5 p.m. on Sundays.

Carl W. Kroening Interpretive Center: 5116 North Mississippi Drive, Minneapolis, MN 55412, GPS: 45.043330, -93.283069

Boat Landing: 563 Soo Avenue North, Minneapolis, MN 55412, GPS: 45.031051, -93.284179

Contact the Three Rivers Park District, which provides programming at the interpretive center, at (763) 694-7693. The Minneapolis Parks and Recreation Board operates the park and may be contacted at (612) 230-6400.
Nearby Sites
Last updated: November 15, 2017