North Mississippi Regional Park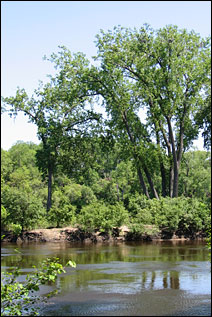 Overview
The Carl W. Kroening Interpretive Center located at North Mississippi River Regional Park opened March 22, 2002. It is named to honor Carl W. Kroening, a former teacher from the area and Minnesota State legislator. North Mississippi Regional Park is located between I-94 and the west bank of the Mississippi River in North Minneapolis.
Designed as a green building, the visitor center takes advantage of natural lighting, cabinets made from shells of sunflower seeds, wheat, and recycled woods and plastics. The building's shape and the many windows are placed such that the Center can take full advantage of the light from outside, lowering the use of electricity.
Exhibits telling the story of the Mississippi River and the impact it had on the surrounding community are displayed at the center. Interpretive programs are offered year round with activities focusing on the Mississippi River.
Activities: A bicycle/walking trail extends along the entire length of the park. Bridges on both end connect to east bank trails. The park also has a picnic area and shelters, a wading pool and areas that are being restored to native prairie. A heron rookery can be seen on a mid-river island in the southern portion of the park.
Hours: The park is open from 6 a.m. to 10 p.m., unless otherwise posted. The interpretive center is open year-round 9 a.m.-5 p.m. Monday through Saturday and Noon-5 p.m. on Sundays. Please call for current hours.
Contact Information: Three Rivers Park District operates the center and can be reached at (763) 694-7693. The Minneapolis Parks and Recreation Board can also be contacted at (612) 230-6400.