Mississippi Gateway Regional Park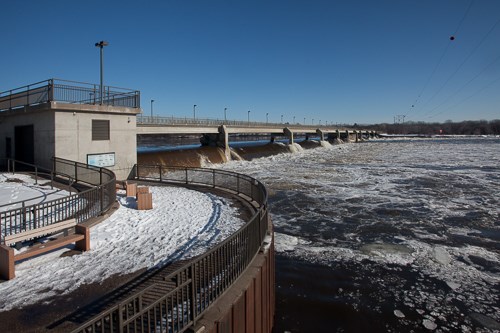 Introduction
The Mississippi River defines the east boundary of this unique park where there are many opportunities to see our nation's greatest river up close. In addition to being a popular fishing and picnicking destination, the west Visitor Center provides interpretive programs and displays of the area's natural history. There is spectacular scenery and abundant wildlife viewing from the 12-foot-wide walkway across the dam, more than two miles of trails in the park, and miles of adjoining regional trail.
History
The Coon Rapids dam was built in 1913 by the Northern Mississippi Power Company. It took 1,000 men just a little over 1 year to complete the entire dam system. During construction, a small town grew up on the Anoka County side of the river, complete with barracks, hospitals, fire stations and even dance halls.
Nestled in the woods above the river floodplain, the West Visitor Center in Brooklyn Park focuses on the natural history of the Mississippi River. The park provides safe and easy access to the river for investigating water quality. Hands-on programs cover the physical, chemical, and biological health of the Mississippi River.
Activities
There are extensive trails for hiking, bicycling, skiing and snowshoeing. Some of the best bird watching in the metro area can be found in this park along bicycle and hiking trails. This is also an Mississippi National River and Recreation Area passport stamp location. The park also hosts a Paddle Share station for kayak rental.
Hours, Directions, and Contact Information
10360 West River Road, Brooklyn Park, MN 55444

GPS: 45.141005, -93.314207

Call (763) 694-7790 for more information.

See the Three Rivers Mississippi Gateway Regional Park page for more information.
Last updated: March 10, 2021