Mississippi River Companion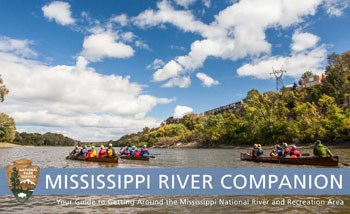 The Essential Guide to the River
Recreational opportunities abound within the Mississippi National River and Recreation Area. Whether you are biking or walking along the river's shores, fishing in a floodplain lake, or boating its waters the new Mississippi River Companion is an excellent resource for finding rental bikes and mass transit options, biking and walking trails, boat landings, and many other recreational opportunities along one of the world's great rivers.
Maps in the Companion cover a 72 mile stretch of the Mississippi and Minnesota Rivers from roughly Ramsey in the north Metro area, through Minneapolis/St. Paul, to just south of Hastings, Minnesota. The map sections below start in the northern stretches and run south through the Twin Cities.
Visit the Mississippi River Visitor Center in the lobby of the Science Museum of Minnesota to get the full copy of the Mississippi River Companion.
Be sure to have your copy on hand whenever visiting this great river. You will find it to be an invaluable aid and faithful companion.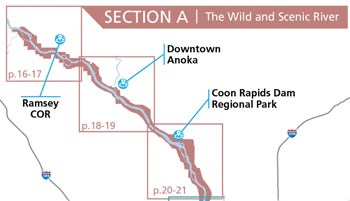 Section A: The Wild and Scenic River
North of the Twin Cities the Mississippi River is designated as a state wild and scenic river. The river begins to slow among undeveloped islands as it approaches the Coon Rapids Dam. Scenic views are still offered though the nature of the river slowly changes from wild to residential as one approaches Interstate 694. Moving further south along the river brings one into more suburban stretches of the river, including neighborhoods and some industry.
Page 16: Ramsey and Dayton, Crow River/Mississippi River confluence
Page 17: Foster and Cloquet Islands, Mississippi West Regional Park
Page 18: Anoka and Champlin, Mississippi River Community Park, Peninsula Point Park
Page 19: Champlin and Coon Rapids
Page 20: Coon Rapids and Brooklyn Park, Coon Rapids Regional Park
Page 21: Brooklyn Park and Fridley, Banfil Island, River Park

Section B: The River of the Falls/The Urban River
Discover the birthplace of Minneapolis at St. Anthony Falls and the Stone Arch Bridge along with parks detailing the historic nature of this section of the river. Below the Falls the Mississippi carves a deep gorge with foot and bike trails paralleling the river on the bluff tops. Other trails take the hiker through parks, such as Minnehaha Regional Park, home to a 53-foot tall falls made famous in Longfellow's poem, "The Song of Hiawatha."
Page 28: Brooklyn Center and Fridley, Manomin County Park, Dunham Island, Islands of Peace Regional Park, I-694
Page 29: Fridley, Columbia Heights and Minneapolis, Anoka County Riverfront Regional Park, North Mississippi Regional Park
Page 30: Minneapolis, Camden Bridge, Marshall Terrace Park
Page 31: Minneapolis and St. Paul, St. Anthony Falls, Nicollet Island, historic Milling District, numerous riverside parks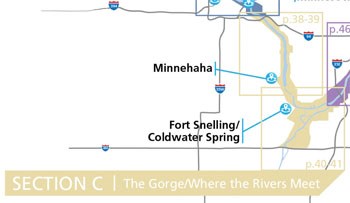 Section C: The Gorge/Where the Rivers Meet
The river continues south through the Mississippi River Gorge eventually reaching the confluence with the Minnesota River. Th confluence of these two great rivers is of special importance to the Dakota. Numerous historic locations dot this stretch of the river.

Page 38: Minneapolis and St. Paul, Meeker Lock and Dam (ruins), Mississippi Gorge Regional Park, Shadow Falls Park Preserve

Page 39: Minneapolis and St. Paul, Minnehaha Falls Regional Park, Ford Dam (Lock and Dam 1), Hidden Falls Regional Park

Page 40: Minneapolis and St. Paul, Coldwater Spring (NPS), Historic Fort Snelling, Fort Snelling State Park, Crosby Farm Regional Park

Page 41: Bloomington, Eagan and St. Paul, Fort Snelling State Park, Minnesota River/Mississippi River confluence, Minnesota Valley National Wildlife Refuge

Section D: The Working River
Experience peaceful trails within sight of downtown St. Paul, but also watch tow boats pushing barges. St. Paul was home to Lambert's Landing, once one of the busiest steamboat ports in the country. Venture away from the river in Battle Creek or wander through ancient burial mounds at Indian Mounds Regional Park.
Page 46: St. Paul, Lilydale Regional Park, Harriet Island, Bruce Vento Nature Sanctuary, Indian Mounds Regional Park, Science Museum of Minnesota and the Mississippi River Visitor Center (NPS)

Page 47: St. Paul, Mendota Heights and Lilydale, Crosby Farm Regional Park, I-35, Lilydale Regional Park

Page 48: St. Paul and Maplewood, Indian Mounds Regional Park, Holmen Field (airport), Battle Creek Regional Park

Page 49: South Saint Paul and Woodbury, Kaposia Landing, Pig's Eye Lake Scientific and Natural Area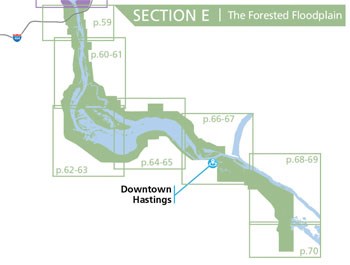 Section E: The Forested Floodplain
South St. Paul's levee trail showcases nature and industry coexisting much like it has for years. Trains, blue herons, business parks. The river widens below South St. Paul and the bluffs are higher and there are numerous backwaters and channels to explore by canoe or kayak. The river begins to lose its urban trappings and becomes wilder again.
Page 59: Newport, Newport Island, I-494

Page 60: Inver Grove Heights and St. Paul Park, Lions Levee Park, Riverfront Park

Page 61: Inver Grove Heights and Cottage Grove, River Lake, Upper Grey Cloud Island, Mooers Lake

Page 62: Mooers Lake, Pine Bend Bluff Scientific and Natural Area, Lower Grey Cloud Island, Grey Cloud Dunes Scientific and Natural Area

Page 63: Spring Lake, Spring Lake Park Preserve

Page 64: Cottage Grove, Grey Cloud Dunes Scientific and Natural Area

Page 65: Nininger, Spring Lake, Spring Lake Park Preserve

Page 66: Hastings (MN) and Prescott (WI)

Page 67:Hastings (MN) and Prescott (WI), St. Croix River/Mississippi River confluence, Lock and Dam 2, Lake Rebecca, Conely Lake, Prescott Island

Page 68: Prescott (WI), Vermillion River

Page 69: Vermillion River, Mud Hen Lake

Page 70: Vermillion River, Sharp Muskrat Lake
Last updated: August 27, 2021