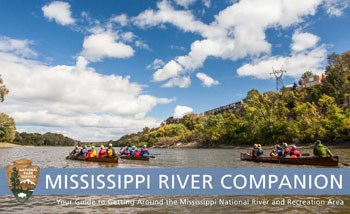 The Essential Guide to the River
Recreational opportunities abound within the Mississippi National River and Recreation Area. Whether you are biking or walking along the river's shores, fishing in a floodplain lake, or boating its waters the new Mississippi River Companion is an excellent resource for finding rental bikes and mass transit options, biking and walking trails, boat landings, and many other recreational opportunities along one of the world's great rivers.
Maps in the Companion cover a 72 mile stretch of the Mississippi and Minnesota Rivers from roughly Ramsey in the north Metro area, through Minneapolis/St. Paul, to just south of Hastings, Minnesota. The map sections below start in the northern stretches and run south through the Twin Cities.
Download the entire set of maps (PDF, 4.2mb) or use the links below to download individual sections. These online documents do not include the historical narrative, suggestions and hints on using trails, or where to see wildlife. Visit the Mississippi River Visitor Center in the lobby of the Science Museum of Minnesota to get the full copy of the Mississippi River Companion.
Be sure to have your copy on hand whenever visiting this great river. You will find it to be an invaluable aid and faithful companion.