Minnehaha Falls Regional Park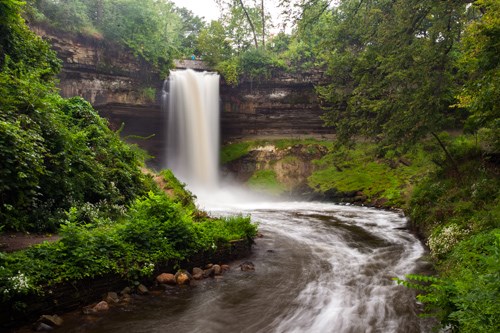 Introduction
This park takes its name after the beautiful stream and its spectacular falls that plunges 53 feet into a gorge before running out to the Mississippi River. Trails lead in all directions, including down the gorge to favorite river shorelines.
History
The New England poet, Henry Wadsworth Longfellow, gave this Minneapolis waterfall national fame in the Song of Hiawatha, although he never saw the 53-foot falls he wrote of in 1853.
The Longfellow House Hospitality Center, which sits on the northwest end of Minnehaha Regional Park introduces the Grand Rounds National Scenic Byway, a 50-mile outdoor recreation loop in the Minneapolis area.
Other attractions at Minnehaha include the John H. Stevens House, the Princess Depot, and the Minnehaha Falls Off-leash Dog Park.
Activities
Descend into the gorge below the falls via a staircase to get a great view of the falls from below. Park benches in the upper reaches of the gorge provide a cool and shady spot to watch the falls on hot summer days. For the more adventurous, take the trail down the gorge past lovely pools and photogenic stone bridges to a sandy beach at the confluence of Minnehaha Creek and the Mississippi River. This beach is a favorite of both the sun-loving and anglers that pursue their quarry in the Mississippi River.

Picnicking is also a favorite past-time in the area above the gorge with numerous tables, grills, and pavilions available for renting for gatherings. (Call 612-230-6400 with questions.) There is also the Sea Salt Eatery for those that would rather have someone else prepare a meal.

The park has many other amenities including a wading pool for kids and a disc golf course.
Hours, Directions, and Contact Information
Hours: Please call for more information.
4801 S Minnehaha Drive, Minneapolis, MN 55417
GPS: 44.916121, -93.211945
Contact Information: Call the Minneapolis Parks & Recreation Board at (612) 230-6400.
Nearby Sites
Longfellow House Hospitality Center, John H. Stevens House, , Mississippi Gorge Regional Park, Lock and Dam No. 1, Historic Fort Snelling, Fort Snelling State Park, Coldwater Spring
Last updated: February 28, 2020