News Release
Prescribed Fires Planned Mammoth Cave National Park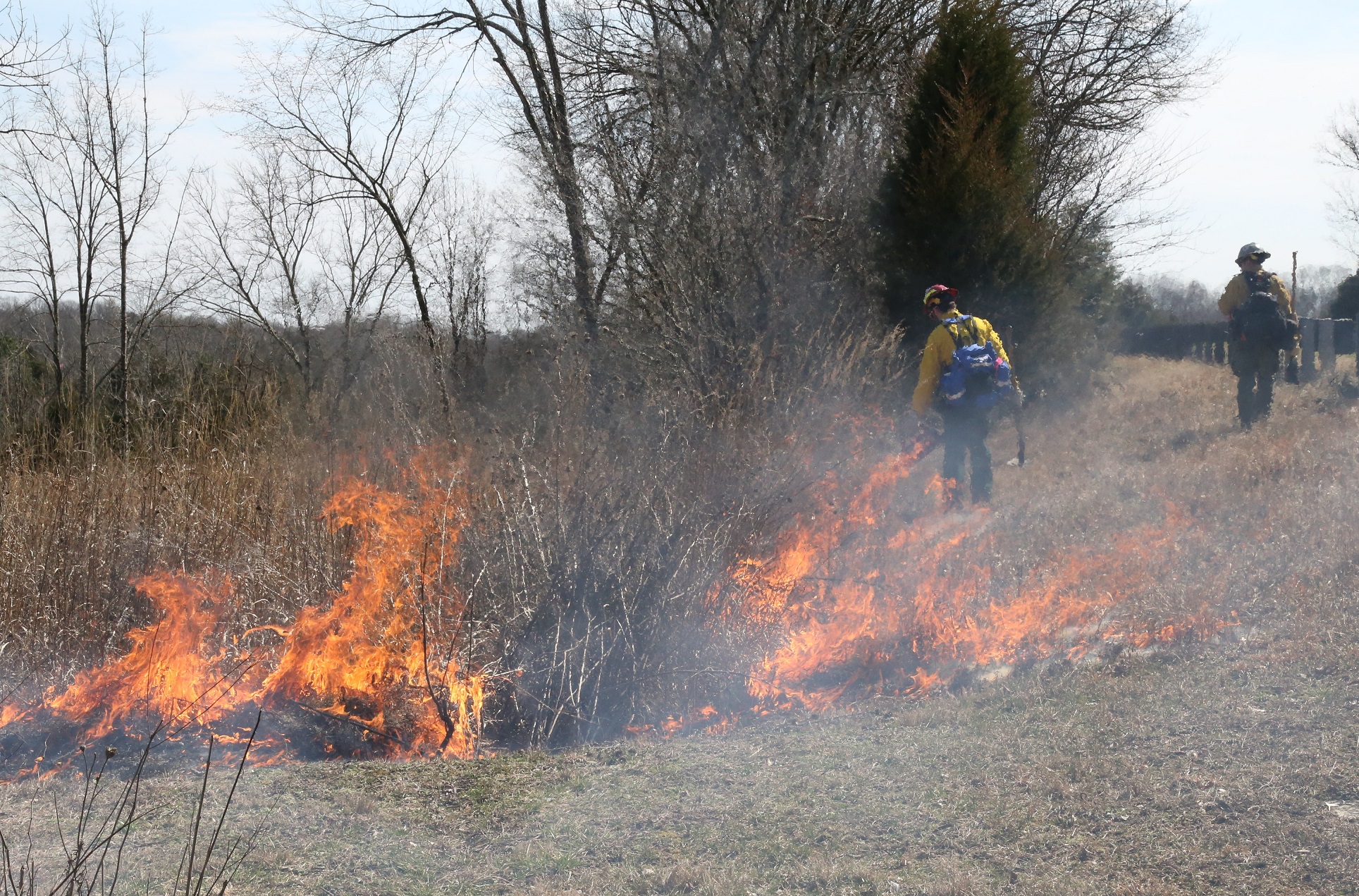 News Release Date:
April 2, 2021
Contact: Molly Schroer, 270-758-2192
MAMMOTH CAVE, KY. – National Park Service fire managers will conduct two prescribed burns at Mammoth Cave National Park sometime between Saturday, April 3 and Friday, April 9. The 260-acre Parkway Barrens Prescribed Fire and the almost 100-acre Chaumont-Wondering Woods Prescribed Fire will reduce the spread of exotic plants, promote the regrowth of native species and reduce hazardous forest fuels that have accumulated in the area. 
The Parkway Barrens burn will take place on the westside of the Mammoth Cave Parkway (KY-255) from the Park City entrance to near the intersection with Mammoth Cave Road (KY-70). The Chaumont-Wondering Woods burn will take place in an area north of Mammoth Cave Road (KY-70) from Cave City. No roads, trails, or park facilities will be closed during either burn, but traffic control measures may be in place to manage travel along the Mammoth Cave Parkway during the fire activities. Nearby communities and areas directly outside of the park should expect to see some short-term smoke impacts during the burns.
In 2019, Mammoth Cave National Park updated its Fire Management Plan which provides the framework and guidance on how and when to use fire as a tool to manage ecological processes within the park. Prescribed fires, such as the Parkway Barrens and Chaumont-Wondering Woods burns, reduce the spread of exotic plants like privet hedge and Bradford pear, and encourage native species such as Post oaks, native grasses, and various wildflowers to grow in the eastern tall grass prairie vegetation that are found within this section of the park. These burns also reduce hazardous forest fuels such as branches twigs and logs which help to protect human life and property from more intense wildfires that could feed off excess fuels.  
The plans for the Parkway Barrens and Chaumont-Wondering Woods prescribed fires contain a set of parameters which define the acceptable weather and fuel conditions under which the fire can be initiated. Prior to implementing the burn, fire managers will evaluate current conditions and will only ignite the fire if all the prescribed conditions are within those parameters that provide for the greatest safety and best smoke management.  
Trained wildland firefighters from the National Park Service's Mississippi River Fire Management Zone, Cumberland Gap National Historic Park, The Nature Conservancy, and Mammoth Cave National Park will manage the prescribed fire. 
For more information about Mammoth Cave National Park's Wildland Fire program, please visit our
Wildland Fire website
.   
Last updated: April 2, 2021