News Release
Mammoth Cave National Park Presents Teddy Abrams and the Louisville Orchestra with Special Guest Yo-Yo Ma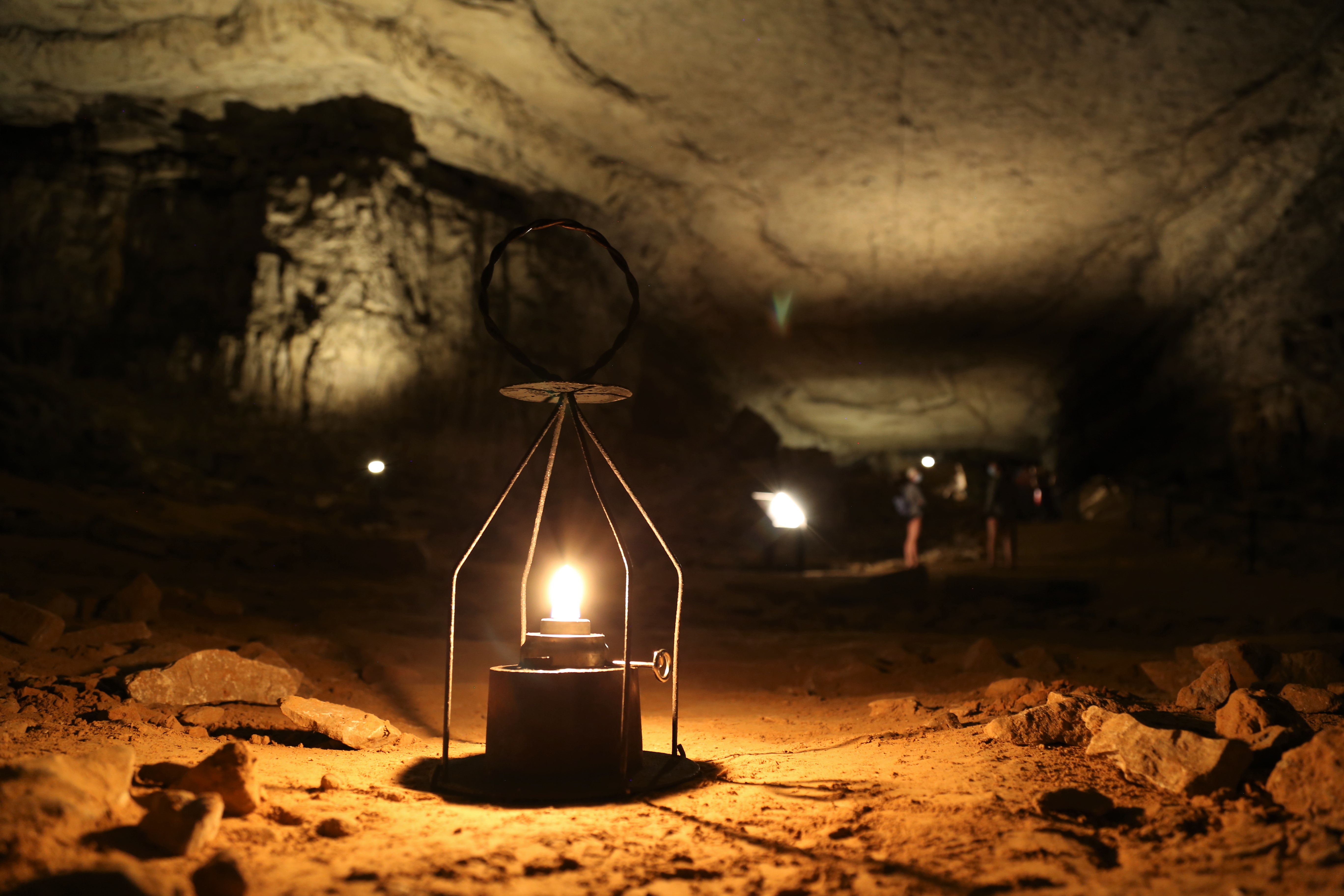 News Release Date:
January 18, 2023
Contact: Molly Schroer, 270-758-2192
Mammoth Cave National Park and will host two special musical performances by the Louisville Orchestra featuring famed cellist, Yo-Yo Ma, inside Mammoth Cave on Saturday, April 29, 2023 at 11 am and 3 pm CDT. The performances will be led by the Musical Director of the Louisville Orchestra, Teddy Abrams, and celebrate the history and culture of Mammoth Cave and how natural environments can provide artistic inspiration. Tickets for the event will be distributed by a lottery process through Recreation.gov beginning Monday, January 30.
"We are thrilled to offer this amazing opportunity to experience the sounds of Yo-Yo Ma and the Louisville Orchestra inside Mammoth Cave," said Park Superintendent Barclay Trimble. "Music is universally loved and recognized as a way to connect and bring people together. Mammoth Cave has been a source of artistic inspiration for thousands of years and now through a composition created by Teddy Abrams and a historic performance by Yo-Yo Ma, we can add another fantastic musical moment to the cave's history."
The music performed during this special event is being created especially for Mammoth Cave by Teddy Abrams. Abrams spent the last year exploring Mammoth Cave National Park and immersing himself into the cave's geology and human history to gain inspiration from the sights and sounds of the park. He composed his work with featured performer Yo-Yo Ma in mind.
"Visitors have always been drawn to Mammoth Cave to experience its ancient stillness and expansiveness," explained Abrams. "It's no surprise that this otherworldly treasure has inspired art in all forms, some of which can still be seen in the cave. Performing music in a cave where untold generations of people before us have created their own music connects us in a vital way to our past."
The musical performances will take place inside Mammoth Cave in a large open room known as Rafinesque Hall and may not be like what is typically experienced in a concert hall. The audience will be asked to participate and move around the performance space at various points during the piece. The cave area is a natural environment, with low lighting and a temperature of around 54ºF (12ºC). There are no seating options, and the performance time is estimated at 45 min – 1 hour. Audience members must walk 0.75 miles (1.2 km), round trip, to reach the performance area. The access trail includes a steep outdoor hillside to and from the cave's natural entrance with a total of 130 stairs. Inside the cave, the trail will travel along broad walkways in some of the largest rooms inside Mammoth Cave. The trail is mostly level, but some hilly and uneven areas exist.
Due to the expected popularity of the event, tickets are being distributed via a lottery system through Recreation.gov. The lottery system will provide an equitable opportunity for all interested visitors to attend this limited, yet high-demand event. The lottery will be open from 9 am CST, Monday, January 30 to 9 am Monday, February 6 at Recreation.gov. Only one application per email address is accepted, and each application may request up to 4 tickets. The performance is open to all ages, but youths under the age of 16 years, must be accompanied by an adult 18 years or older. All lottery applicants will be charged a $1.00 application fee, but there is no fee for tickets to the actual event.
For more information about this special musical event and for ticket information visit Mammoth Cave Presents Teddy Abrams and the Louisville Orchestra with Yo-You Ma.
Mammoth Cave National Park
Mammoth Cave National Park encompasses 52,830 acres in south central Kentucky, commemorating the diverse geological, biological and historical features associated with the longest cave in the world. Learn more about the park at www.nps.gov/maca, and on Facebook, Instagram, and Twitter.

Yo-Yo Ma
Cellist Yo-Yo Ma's life and career are testament to his enduring belief in culture's power to generate trust and understanding. Whether performing new or familiar works from the cello repertoire, collaborating with communities and institutions to explore culture's role in society, or engaging unexpected musical forms, Yo-Yo strives to foster connections that stimulate the imagination and reinforce our humanity.

Yo-Yo Ma was born in 1955 to Chinese parents living in Paris, where he began studying the cello with his father at age four. When he was seven, he moved with his family to New York City, where he continued his cello studies at the Juilliard School before pursuing a liberal arts education at Harvard.

Yo-Yo has recorded more than 100 albums, is the winner of 19 Grammy Awards, and has performed for nine American presidents, most recently on the occasion of President Biden's inauguration. He has received numerous awards, including the National Medal of the Arts, the Presidential Medal of Freedom, and the Birgit Nilsson Prize. He has been a UN Messenger of Peace since 2006 and was recognized as one of TIME magazine's 100 Most Influential People of 2020.

The Louisville Orchestra
Established in 1937 through the combined efforts of Louisville mayor Charles Farnsley and conductor Robert Whitney, the Louisville Orchestra is a cornerstone of the Louisville arts community. With the launch of First Edition Recordings in 1947, it became the first American orchestra to own a recording label. Six years later it received a Rockefeller grant of $500,000 to commission, record, and premiere music by living composers, thereby earning a place on the international circuit. In 2001, the Louisville Orchestra received the Leonard Bernstein Award for Excellence in Educational Programming, presented annually to a North American orchestra. Continuing its commitment to new music, the Louisville Orchestra has earned 19 ASCAP awards for Adventurous Programming of Contemporary Music and was also awarded large grants from the Aaron Copland Fund for Music and the National Endowment for the Arts, both for the purpose of producing, manufacturing and marketing its historic First Edition Recordings collections. Over the years, the orchestra has performed for prestigious events at the White House, Kennedy Center, Carnegie Hall, and on tour in Mexico City, and their last two albums for the Decca Gold label, All In (2017) and The Order of Nature (2019) – the latter launched with an appearance on The Tonight Show Starring Jimmy Fallon – both topped the Billboard Classical and Crossover charts. The feature-length, Gramophone Award-winning documentary Music Makes a City (2010) chronicles the Louisville Orchestra's founding years, and in spring 2018, Teddy Abrams and the orchestra were profiled on the popular television program CBS Sunday Morning.
Last updated: January 27, 2023