For Kids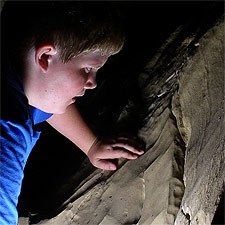 Mammoth Cave National Park brings out the kid in most people – that curious, wondering side that grown-ups sometimes forget. With kids, it comes naturally.
"Where does that hole go?"
"Eww, what is that thing? ... Can I touch it?"
The park offers several activities for families, and for kids to do by themselves.
---
Trog Tour (for children 8-12)
No Parents Allowed! Twelve children voyage overland and underground with two rangers for a kids'-eye view of the world's longest known cave. This tour is offered seasonally. Please check our activity schedules here to see our latest tour offerings.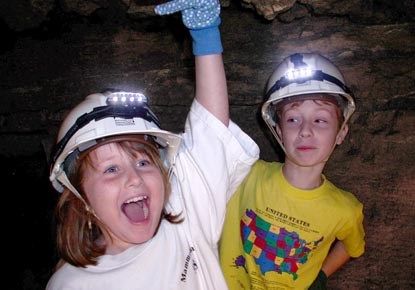 Introduction to Caving (for children 10 and up, and parents)
Families can join in the exploration together on Introduction to Caving, and hike, climb, and even crawl through parts of Mammoth Cave that most tours never visit. Please check our activity schedules here to see our latest tour offerings.
Nature Track for Kids
Ranger-led programs draw kids together for fun games with a little something extra – a sense of discovery about the place each of us holds in our environment. (Seasonally, refer to the activity schedules. 45 min.)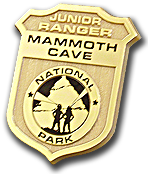 Junior Ranger Program
Children can earn a Junior Ranger Badge by completing activities in the park's Junior Ranger Adventure Journal! The booklet is filled with activities designed for children to complete during their visit to Mammoth Cave National Park, therefore, badges can only be picked up at the visitor center information desk and will not be mailed when the book is completed without a park visit. The journal can be downloaded free at the link below. Hardcopies of the Junior Ranger Adventure Journal may also be purchased at the Eastern National store located inside the visitor center.

Junior Ranger Adventure Journal

Kids can also check out and become part of the new Junior Ranger World Heritage Program at the following link: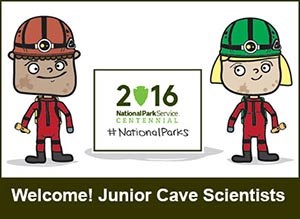 Junior Cave Scientist Program
Most guided tours teach guests about the history of that particular cave and the surrounding area, as well as its geology, the positive impacts of bats and the importance of cave conservation. There's a lot more to learn about the scientific research that's taking place in caves around the world. Universities are partnering with privately owned caves to learn how unique bacteria can play a role in cancer treatment and the development of new antibiotics. Researchers also collect broken formations to track historical weather trends dating back hundreds of thousands of years and take water samples to identify changes in mineral content.
The National Park Service offers a Junior Cave Scientist Program to encourage kids' learning. A free activity booklet is available for download at:
Junior Cave Scientist Program Book & Details


Last updated: January 12, 2021