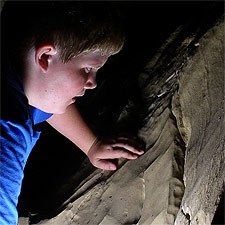 Mammoth Cave National Park brings out the kid in most people – that curious, wondering side that grown-ups sometimes forget. With kids, it comes naturally.
"Where does that hole go?"
"Eww, what is that thing? ... Can I touch it?"
The park offers several activities for families, and for kids to do by themselves.
---
Trog Tour (for children 8-12)
No Parents Allowed! Twelve children voyage overland and underground with two rangers for a kids'-eye view of the world's longest known cave. This tour is offered seasonally. Please check our activity schedules here to see our latest tour offerings.