Mammals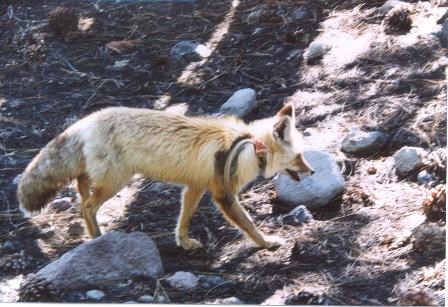 Black Bear Safety
Mountain Lion Safety
American Pika
Sierra Nevada red fox
---
Lassen Volcanic National Park is home to approximately 57 species of mammals ranging is size from the tiny shrew to the North American black bear. These species represent six orders of mammals, Insectivores, Chiroptera (bats), Carnivores, Rodents, Lagomorphs, and hoofed animals. Five species of shrew and two species of mole comprise the Insectivores. Eight species of bats represent the Chiroptera order. The carnivores are represented by 16 species. Rodents have a total of 23 species, and there is one species of hoofed animal which is the mule deer.
The Order Rodentia includes many common genera. Mice, chipmunks, squirrels, and gophers are its best known members. The order also includes lesser known taxa like voles. Mice (8 species) and their allies, chipmunks (3 species), and squirrels (6 species) constitute more than half of the rodent species in the park. Most of the remaining genera are represented by only a single species like marmots, aplodontia, and porcupines.
Carnivores are perhaps the most widely recognized group of mammals in Lassen Volcanic National Park. Its members include the American black bear, bobcat, mountain lion, raccoon, coyote, fox, weasel, and skunk. Lesser known species like the American marten and ringtail are also present. Although grizzly bears once roamed the area, they were extirpated from California when the last individual was shot in the early 1920's.
There are no Federally listed mammals within Lassen Volcanic National Park and the Sierra Nevada red fox is the only mammal species that is listed as Threatened by the State of California. The Sierra Nevada snowshoe hare, Sierra Nevada mountain beaver, and the American badger are all considered a species of concern by the State of California.
There is currently a research project being conducted by the Museum of Vertebrate Zoology (MVZ) at University of California, Berkeley to resurvey areas that were originally surveyed for mammals, birds, amphibians and reptiles in the mid to late 1920's by Joseph Grinnell of the MVZ. This re-survey project will lend important information regarding habitat and species variation over the past 90 years.
A study was conducted by a Graduate Student from University of California at Berkeley on the ecology of the Sierra Nevada red fox after this species was detected near the park in 1996. The Lassen region is one of the few areas in the Sierra Nevada and Cascade mountain ranges where this species occurs.
Last updated: October 27, 2018