Pika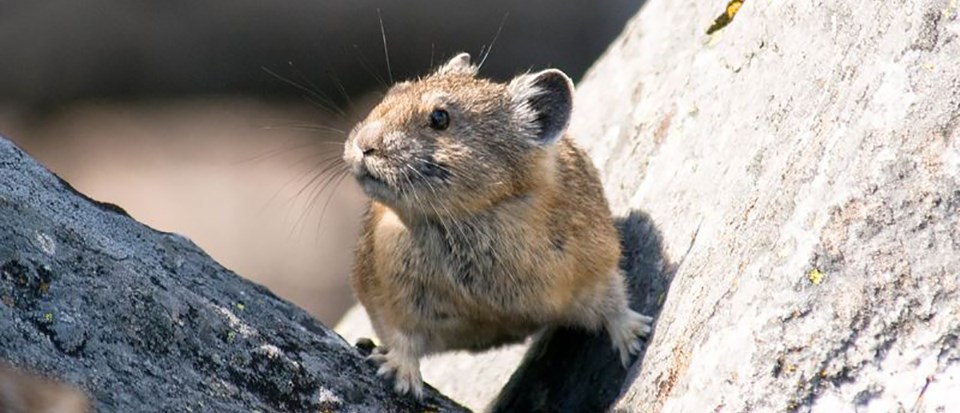 Pikas (
Ochonta princeps
) are hamster-sized mammals related to the rabbit family. Also known as conies or rock rabbits, these cuddly-looking characters have small, oval bodies that are only around six inches long and weigh six ounces. Pika have moderately large ears for their bodies that are round in shape and a very short tail that is usually covered by a coat of thick brown-gray peppered fur. They have sharp curved claws and padded toes to scamper around alpine rocks. Excellent hearing and vision keep them very aware of danger in their surroundings.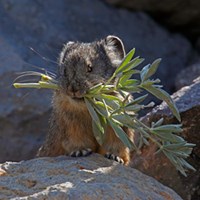 High Elevation Inhabitants
Pika around found only in the highest areas of the park including the Bumpass Hell, Lassen Peak, and Lake Helen areas. These rock dwelling creatures make dens among rocks to rear young, store grasses, and protect against predators. Pika also live in colonies for protection and will alert the group to predators by sending out a warning call. Hikers will often hear the high-pitch squeak of this territorial critter well before they are seen (if at all). Active throughout Lassen's snowy winters, pika use the sun to dry small haypiles of grass before storing it as food.
Adopt a Pika
Offered in partnership with the Lassen Association, the Adopt a Pika program helps scientists track pika populations and impacts, like our changing climate, that may affect them. Your symbolic adoption of an American pika in Lassen Volcanic National Park provides funding for:
Field scientists to complete annual surveys and conduct climate change related research

Remote camera equipment to provide information about pika behavior and create an annual haypile timelapse
Your $25 donation includes:
Personalized adoption certificate

American pika fact sheet

Life-sized pika stuffed animal
To learn more or Adopt a Pika visit the Lassen Assocation bookstores in the Kohm Yah-mah-nee Visitor Center and Loomis Museum (summer only), visit lassenassociation.org, or call (530) 595-4464.
Pikas in Peril
The American pika is considered an indicator species for detecting ecological effects of climate change. Research suggests that pikas are being lost from lower elevations in some areas in response to increased warming. Ongoing monitoring will help to track pika populations and identify factors that may help contribute to their persistence at Lassen Volcanic. Learn more about
pika monitoring in the park
.
Last updated: December 2, 2022