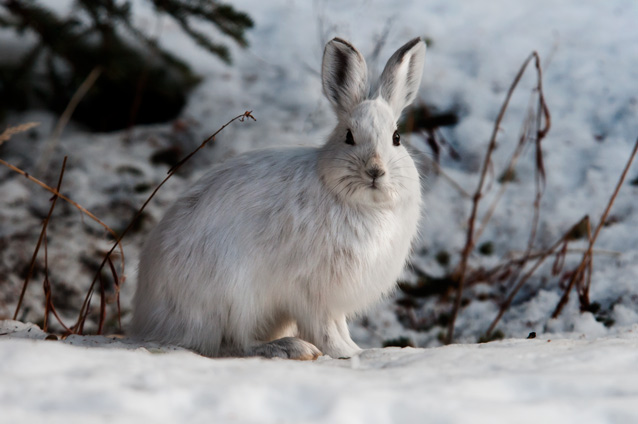 Snowshoe hares live in the boreal forests of North America and are active year-round. They gain their curious name from their very large hind feet that are lined with stiff hairs that form a snowshoe, supporting their weight on the surface of the snow.

They blend in well with their surroundings because of their seasonal variation in fur color, from brown in summer to almost pure white in winter. The gradual shedding of the coat and replacement of the guard hairs occurs two times per year and is triggered by changes in day-length. In national parks across interior Alaska, they inhabit spruce forests as well as shrubby habitats in riparian areas. In many areas of the boreal forest, snowshoe hares are the dominant herbivore.

Snowshoe hare populations cycle in 8 to 11 year periods, and densities may fluctuate 5 to 25-fold during a cycle. The causes of the cyclic fluctuations of snowshoe hares are debated among scientists. Scientists have proposed many hypotheses to explain the changes in population size that lead to these cycles. These hypotheses usually center on food limitation, patterns of predation, and links between food supply and predation. Recent studies in Kluane National Park and Reserve, Yukon, Canada suggest that cyclic fluctuations of snowshoe hares probably result from an interaction between predation and food supplies.