Webcams
Manzanita Lake webcam

This is the view looking southeast from the northwest shore of Manzanita Lake. Lassen Peak rises in the distance.

Attention: 8/23/19 - The image is not current, we are working on resolving the issue.

Please note the temperature displayed on the image is incorrect. We are working to resolve the issue.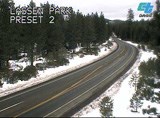 Northwest Entrance webcam
Highway 44 at the junction of Highway 89 (Lassen Park Highway) near the Northwest Entrance and Manzanita Lake Area. Webcam courtesy of CalTrans.
Last updated: August 23, 2019