Northwest Gateway Forest Restoration

Project Photo Gallery | Fire Management | Wildland Fire in the Park

The Northwest Gateway project is a multi-year forest restoration project in the Manzanita Lake and Lost Creek Areas of the park. The treatment strategy involves a two-step process of 1) one-time entry of mechanical equipment, and 2) prescribed fire to maintain areas without further use of mechanical equipment (three to five years after mechanical treatment).
Restoration Goals
The overall goal of this treatment strategy is to re-establish a fire adapted forest landscape by restoring a more resilient, diverse forest structure. Specifically, the treatment will maintain a multi-aged forest with significant old-growth elements, promote a more varied stand structure and stand species diversity, and restore and protect wildlife habitat.
A Century of Fire Exclusion
One hundred years of fire exclusion in the northwest corner of Lassen Volcanic National Park has resulted in overly dense and unhealthy forest areas. In the absence of surface fires, young white fir have formed dense thickets crowding out old growth pines, aspen stands, and understory shrub and grass vegetation. Lassen Volcanic will implement a mechanical treatment strategy to remove unhealthy fuel loads. The process will reduce old growth mortality rates, promote a more varied stand structure, and restore and protect wildlife habitat.
Restoring Fuel Load Levels through Mechanical Treatment
The first step in this forest restoration process involves one-time entry with mechanized equipment to reduce live understory and ladder fuels. Prescriptions for each unit focus on areas near old-growth pine, aspen groves, and healthy pine stands. Successful fuel removal reduces the possibility of high-intensity wildfire and prepares the forest for a return to historic and natural fire activity.
Maintaining a Healthy Forest Structure with Prescribed Fire
Once natural fuel load levels are restored through mechanical treatment, fire is reintroduced onto the landscape through prescribed fire application. This second step is completed approximately three to five years after mechanical treatment. Historically, fire burned regularly in this area every 5 to 20 years, naturally maintaining density and forest health. Prescribed fire applications in similar conditions without prior mechanical treatment have resulted in high-intensity fire behavior. The combination of both treatments restores healthy forest structure and supports the use of prescribed fire to maintain areas without further use of mechanical equipment.
Project Accomplishments and Next Steps
Mechanical treatment in 2014 successfully restored natural fuel loads to areas closest to the Manzanita Lake Area (units 1-7). Contractors completed significant restoration activities including removing tread marks and creating erosion control systems.

In October 2018, firefighters completed a low-intensity prescribed burn to restore fire to unit 4 (shown as burn area C below). The park plans to complete prescribed burns in units 5 through 7 and then 1 and 2 as conditions permit. The reintroduction of fire to treated areas has been delayed largely due to dry conditions and resulting longer fire seasons, which limit the window for prescribed burn application. The park expects to complete mechanical treatment on units 8 through 18 by 2023. Prescription fire application will follow 3 to 5 years after mechanical treatment.

The application of mechanical treatment and related restoration activities in a National Park is limited in part to high costs. Lassen Volcanic is working to establish a cooperative agreement that would provide mechanical treatment services in the park in exchange for both the saleable timber and biomass (small materials) removed in the process. The biomass would be used for cogeneration at a facility in nearby Burney. The facility generates electricity through a heat engine fueled by biomass.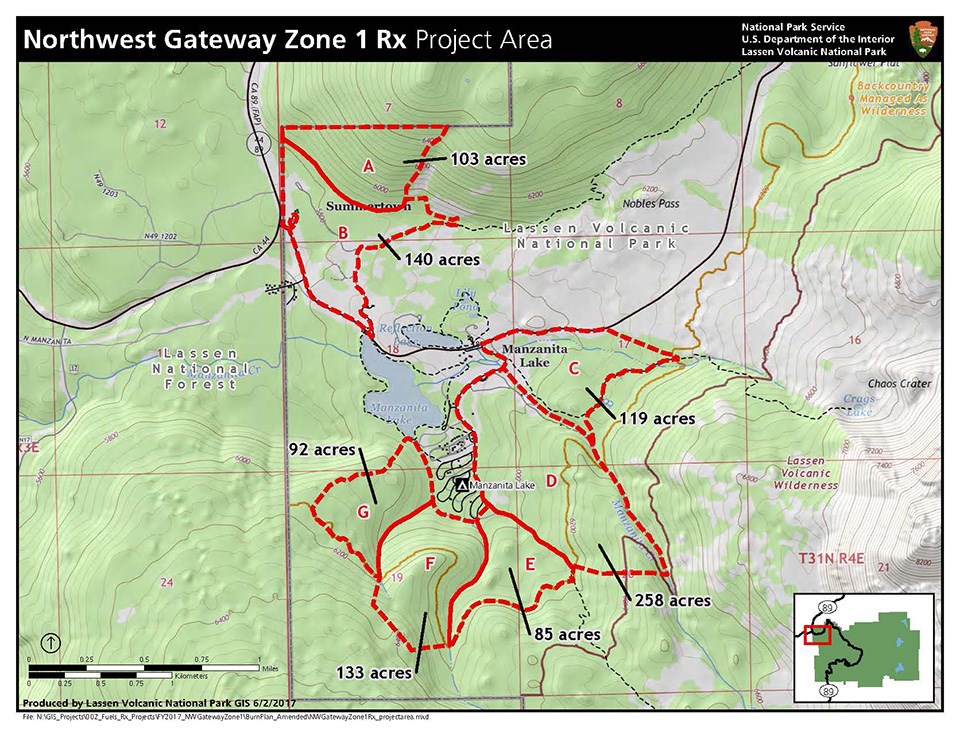 Last updated: October 17, 2019