Date:
April 23, 2013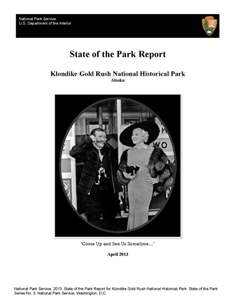 Skagway, Alaska - Scientists, technicians and Klondike Gold Rush National Historical Park managers have taken a long look at natural, cultural and historic resources in their care and summarized their findings in a first-of-its kind "State of the Park" report.
"The report gives us a good overview of the condition of the priority resources at the park," said Superintendent Mike Tranel. "It lets us see the entire park at a moment in time. It's important because this is a complex park and our stewardship responsibilities are diverse and challenging. For example, we offer educational programs, preserve historic buildings, and manage theChilkoot Trail in cooperation with Parks Canada. We will use this information to set park priorities for improvement and report on our progress to the American people."
The Klondike Gold Rush National Historical Park (NHP) "State of the Park" report offers a "snapshot" of the status and trends in the condition of the park's most important resources and values. It summarizes and communicates complex scientific, scholarly, and park operations information, highlights the stewardship efforts of park staff to maintain or improve the condition of park resources, and identifies the key issues and challenges the park faces. The report is available online at www.nps.gov/stateoftheparks/. Copies are also available at the park administrative office and at the Skagway library.
The report for Klondike Gold Rush shows an overall positive trend for continuing to provide visitors a glimpse into Skagway's colorful gold rush past. It recognizes consistent high levels of visitor satisfaction since 2001, recorded through annual surveys, and it acknowledges the very successful junior ranger programs. Through these programs the National Park Service is able to connect with thousands of children each summer, using the restored Pantheon Building as a base since 2011. The report also highlights recent progress in restoring historic structures such as the Jeff "Soapy" Smith Parlor and the YMCA/Meyer buildings.
Some concerns identified in the report include whether the National Park Service can continue to provide adequate numbers of the popular Ranger-led tours of Skagway's historic district and a presence at the Dyea Townsite. Tours have been reduced in 2012 and 2013 because of budget constraints, and more programs are needed to match growth in tourism.  
Klondike Gold Rush NHP is one of seven national parks presenting state-of-the-park reports this month. The others: Big Hole National Battlefield (Mont.), Cabrillo National Monument (Calif.), Mississippi National River and Recreation Area (Minn.), Organ Pipe Cactus National Monument (Ariz.), Salem Maritime National Historic Site (Boston,) and Saugus Iron Works National Historical Site (Boston) . The reports are online at www.nps.gov/stateoftheparks/and on each park's website.
More "State of the Park" reports are underway, including one for Denali National Park and Preserve, and they will be available upon completion. The report series is part of "Park Pulse," an action goal in A Call to Action: Preparing for a Second Century of Stewardship and Engagement, the National Park Service priorities for its second century. By the National Park Service Centennial in 2016, up to 50 parks will complete these in-depth assessments of key resources and values and will communicate their findings to the American people.
For more information about A Call to Action, Preparing for a Second Century ofStewardship and Engagement, visitwww.nps.gov/calltoaction.
About the National Park Service- More than 20,000 National Park Service employees care for America's 401 national parks and work with communities across the nation to help preserve local history and create close-to-home recreational opportunities. Learn more at www.nps.gov.