Camping & Landing Beaches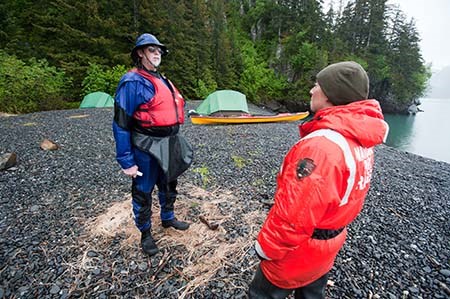 Throughout Kenai Fjords are many beautiful coves that are only accessible by kayak or water taxi. Due to glacial weathering, erosion, and rough seas, there are sharp cliffs and finding safe landing beaches can be challenging. We recommend carrying a chart and/or map of the area (some are available in park bookstores). Consulting online satellite maps, such as Google Earth, before your trip, can also help provide a more current view of potential landings and beaches.
When choosing a landing or camping site, use clues such as driftwood accumulation, beach steepness and cobble size to judge what the wave action is likely to be in storm conditions. Look for vegetation clues that indicate levels of seawater intrusion (more or older vegetation equals less intrusion). Make sure you will be able to launch from the beach in the morning if the wind or weather changes overnight. Avoid landing on beaches within two miles of a tidewater glacier.
Camping in these remote backcountry areas of the park can be an amazing experience. It is up to all of us to help maintain these pristine areas for future visitors and the wildlife who live here. Please practice Leave No Trace principles during your time in the coastal backcountry and acquaint yourself with the regulations for our coastal areas, specifically regarding proper food storage and human waste disposal.
If you'd prefer a roof over your head, consider staying in one of the two reservable Public Use Cabins (PUC) in Aialik Bay. Aialik PUC is located in Abra Cove and has a view of Aialik Glacier. Holgate PUC is located in Holgate Arm with views of Holgate Glacier.
Descriptions of the Camping & Landing Beaches
Below you can find an alphabetical listing of some of the camping and landing beaches in the park. Be sure to consult a map or chart to verify their locations. Each description contains information about food storage, landing, and potential closures. Some of these sites may be on private property owned by the Port Graham Village Corporation, in which case, a permit from the Corporation may be necessary.
Please note, for locations notated with an asterik (*), these are local names, and not recognized by the US Geological Survey's Board on Geographic Names.


Last updated: June 14, 2019