Holgate Public Use Cabin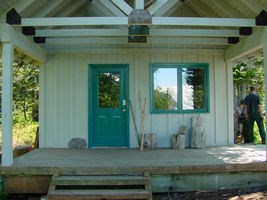 Holgate Cabin is located on the northeasterly shore of Holgate Arm in Aialik Bay. It is approximately a 2-4 hour boat trip or 35-minute flight from Seward.
The cabin sits on a small bluff above a cobble beach. There are spectacular views of Holgate Glacier from the cabin's front porch and you may be treated to sounds of the glacier calving. There is good berry picking in the open spruce forest that surrounds the cabin. Bears, attracted by the berries, are commonly seen on the beach and mountain goats can often be spotted on Holgate Head. The entrance to this bay is a shallow shelf that attracts large numbers of seabirds and an occasional Humpback Whale.
This beach is a good launch point for visiting Pedersen Lagoon and Quicksand Cove.
Notes:
The beach is steep and can be challenging to land on, especially when strong winds sweep down off the glacier or when a lot of icebergs are present.
Be sure to stay at least ½ mile from the glacier when traveling by boat or kayak since waves from calving or large icebergs can upset your kayak or skiff.
The south end of this beach is a very popular camping area (equipped with a food storage locker), so it's likely you'll be sharing the beach with campers.
Fresh water can sometimes be found near the trail to the beach, but may not be available later in the season, so it is a good idea to bring extra water with you.
The boggy ground at Holgate Cabin is great habitat for insects. Don't forget your head nets!


Last updated: December 29, 2017