Kayak and Boat Safety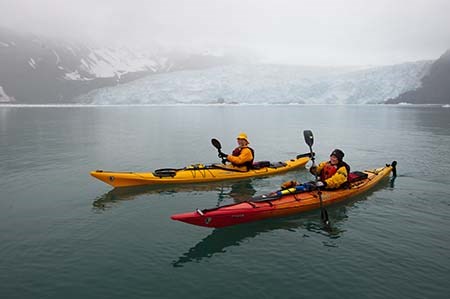 The waters around Kenai Fjords and Resurrection Bay create a kayaking paradise and provide a unique experience for both new and experienced paddlers. Imagine seeing whales, otters, sea lions and other wildlife from the cockpit of a kayak, or feeling the water move under you after a tidewater glacier calves chunks of ice into the sea.
For all their beauty, these waters are not for beginners. The fjords are exposed to the Gulf of Alaska, with only a few protected coves. Landings often involve surf, particularly when afternoon breezes kick up from the south. Wind and rainfall can be excessive, and summer storms often push an ocean swell of three feet or more into the fjords. Inexperienced paddlers should consider traveling with a guide.
Safety Considerations
Have a Trip Plan
Create a float plan and leave it behind with responsible person, so they know where you are going and when you expect to return. Let them know how long overdue you can be before they should start to worry. Prepare for the unexpected and think about contingencies when planning a trip.
Self-Rescue
Make sure you're proficient at self rescue techniques and carry a survival kit including extra warm layers, food, water, and emergency fire starter to help prevent hypothermia. Know the skill level of yourself and your partners, know your limits, and paddle within them.
Gear
Basic sea kayaking equipment should include – sea kayak (with appropriate bulk heads or sea sock for floatation) and paddle, extra paddle, PFD, spray skirt, paddle float, bilge pump, sponge, tow rope, navigation equipment, first aid kit, repair kit, hypothermia kit, synthetic clothing, rain gear, sun protection, shelter (tent and tarp for quick shelter), sleeping bag and pad, cooking equipment, food and plan for proper food storage, water purification, wag bags for human waste, and bear spray.
Everyone must have a U.S. Coast Guard approved personal flotation device(PFD). Wear it! It is extremely difficult to put on in the water, and your life may depend on it.
Communication
Carry a marine VHF radio - cell phone coverage is not available in much of the park. In case of emergency, park rangers and/or the Coast Guard can be reached on Marine Channel 16. During the summer, in Aialik Bay, there is regular tour boat traffic, who also monitor Channel 16 or 72. A satellite phone, satellite texting device, or personal locator beacon (PLB) can often be useful for communicating during extended trips. Flares and air horns (useful to scare away bears and to alert other boats to your presence in the fog), can be used to signal other boats, aircraft, or party members.
Tides
Tides can affect the navigability of certain waters. The difference between high and low tides in Kenai Fjords can be as much as 15 feet.
Have a current tide book with you and know how to read and use it.

Pederson, and other local lagoons, can be very tricky and dangerous and should only be entered around the high tide.

Be sure to ask for local advice about these potentially dangerous locations.

When making camp, be sure to store your gear well above the high tide line and tie off your boat.
Weather
Canoeists and kayakers should be familiar with area weather patterns and consult the marine forecast before embarking. Most marine radios will also provide local weather forecasts, allowing you to stay informed as conditions change.
Ocean storms can sweep through the Kenai Fjords any time of year. Good rain gear and extra food supplies are a must since weather may delay a charter pick-up for days. You may have to wait out storms for several days. A properly prepared party can usually wait out bad weather and thus may be a few days overdue with no cause for alarm.
Be prepared to adjust your schedule due to the weather and allow for weather days during your preparation.
Don't make your schedule too tight; allow extra time for delays and always have a backup plan.
Better to get home late than to risk paddling through potentially deadly seas.
When in doubt, stay on the beach.
Landing Your Kayak
Avoid landing on beaches within two miles of a tidewater glacier. Sudden waves from calving ice can slam the shore with surprising power, sweeping away kayaks and gear stored well above the apparent high tide line.
When choosing a landing/camping site, use clues such as driftwood accumulation, beach steepness and cobble size to judge what the wave action is likely to be in storm conditions. Make sure you will be able to launch from the beach in the morning if the wind or weather changes overnight.
Wildlife Safety
One of the joys of traveling by kayak is getting a water's eye perspective of the amazing wildlife, including whales, sea lions, seals and more. For the safety of yourself and the wildlife, it is important to maintain appropriate distances at all times. As a general rule, remain at least 100 yards (100 meters) away from marine mammals. All marine mammals are protected by the Marine Mammal Protection Act of 1972 (MMPA), facilitated by the National Oceanic and Atmospheric Administration (NOAA). For more specifics, consult NOAA's Codes for Conduct.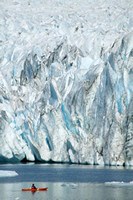 Local Hazards
Alaska and the Kenai Fjords coast is a beautiful place to visit and explore. Visitors who are unfamiliar with the area may find a number of unfamiliar risks. Glaciers, strong tides and currents, and long stretches of rocky shorelines can create a variety of new challenges.
Glacier Safety
Paddling near glaciers can create a number of risks which many paddlers may not be familiar with. Tidewater glaciers can calve at anytime, creating potentially large waves which could swamp a kayak or crash on nearby beaches. Even paddling in a glacial lagoon (such as Bear Glacier or Pedersen) can see waves from calving, iceberg hazards, or glacial lake outburst floods. Learn more about these and other geohazards within the park.
Calving Glacier and Iceberg Safety Tips
When kayaking near tidewater glaciers or in glacial lagoons, stay at least one-half mile away from the glacier terminus. Even at that distance, falling ice can cause large waves.

Try to stay in deep water where waves pass under you rather than breaking.
Maintain awareness when landing on beaches near tidewater or lake-terminating tidewater glaciers. Sudden waves from calving ice at the terminus can hit the shore with surprising power. Plan to land or camp at least 2 miles from the glacier. Even kayaks and gear stored well above the high tide line can be swept away.
Remain twice the height or width away from the icebergs.
Don't attempt to paddle between 2 large icebergs.
Tides and Currents
Use caution when entering Northwestern Lagoon, James Lagoon, McCarty Lagoon, and Bear Glacier Lagoon. Tidal currents can create standing waves, boils and confusing eddies. It is best to enter these lagoons at high, slack tide.
Pedersen Lagoon should only be entered at high slack tide. Approach the mouth of the lagoon from the east, not the south, as there is a submerged bar that causes breaking waves immediately south of the entrance. Be sure to sit well offshore and analyze conditions thoroughly before entering.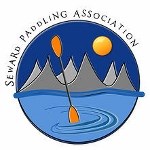 Other Resources
Seward Paddling Association
The Seward Paddling Association provides local information, resources, and encourages everyone to learn how to minimize risk in the local waters.
American Canoe Association
The American Canoe Association (ACA) is a national nonprofit organization serving the broader paddling public by providing education, stewardship, events, safety tips, and much more.


Last updated: November 1, 2023