Aialik Public Use Cabin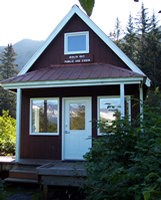 The Aialik Bay Cabin is located on a five-acre lease on Port Graham Native Corporation land at the upper end of Aialik Bay. The cabin is approximately a 2-4 hour boat trip or a 30-minute flight from Seward. If you wish to access Port Graham lands outside of the leased area, you must get a permit in advance by contacting Port Graham Corporation at (907) 284-2212.
The cabin is on a long cobble beach with great views of Aialik Glacier. It's surrounded by salmon berries and alders and backs up to a spruce forest where you can find plenty of blueberries. The beach is one of the few where you can explore Aialik Bay on foot. At low tide you can walk for over a mile, exploring tide pools and watching wildlife. Keep an eye out for bald eagles, sea birds, otters and harbor seals. Black bears also frequent this area so it is essential to keep all food, garbage and other scented items secured in the cabin at all times.
The Aialik Bay Cabin is an ideal launch point for visiting Aialik Glacier and Abra Cove. You can also access Pedersen Glacier and Lagoon from here but it requires crossing Aialik Bay.
Some years there is a late run of pink salmon up into the small lagoon behind the cabin. The lagoon is a good protected area to explore by kayak and there is a nice 'ghost forest' associated with the wetland.
Notes:
There are many uncharted rocks offshore - use caution approaching the beach in small motor crafts.
Fresh water can be difficult to find, especially during dry periods. Be sure to bring some with you.
Insects can be bothersome, especially in July and August. Head nets are recommended!


Last updated: December 29, 2017