Current Conditions
Kenai Fjords National Park is open year-round; however, the road to Exit Glacier is closed to cars for the winter months and much of the spring. Snow at higher elevations on the Harding Icefield trail can persist into mid-summer. It is always a good idea to check on current conditions before setting out.

This site is updated regularly to reflect the latest conditions, as is the Recorded Information Line at 907-422-0573. If needed, contact the park headquarters directly at (907) 422-0500, during normal business hours.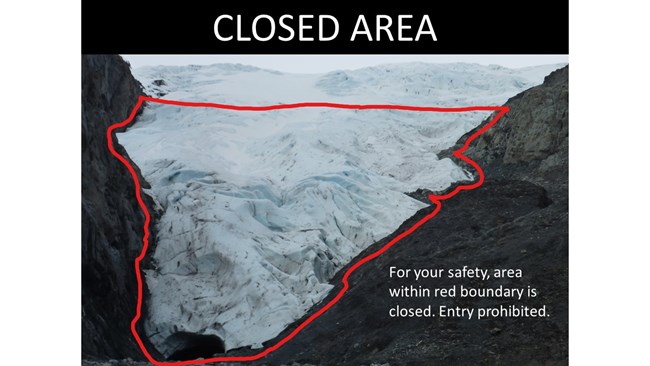 Note:
An ice fall hazard zone has been identified at the toe and sides of Exit Glacier, due to tall blocks and slabs of ice, as well as ice caves. For your safety, entry into this zone is prohibited. Please do not continue past ice fall hazard zone signs.
Harding Icefield Trail (and winter route):
The trail is
OPEN
.
Winter conditions are expected. Be prepared for ice, slippery conditions, unclear trail locations, and deep snow.

Rockfall danger is a possiblity, especially above Top of the Cliffs. Watch for rockfalls as you hike up the trail.
Other Hazards: On snow covered sections weak snow bridges are forming in low areas, and sudden falls (2-3ft) to ground level are possible. Trail below snow is in parts muddy/wet/slippery.
Trails are open to foot traffic only, no bikes or pets.
This is a long and strenuous hike and proper preparation

is important. Trail and weather conditions can change over the course of a day. Be prepared, and make sure to have food and water, extra clothes, sturdy footwear, and rain gear.

Hikers should be prepared for a wide range of conditions, including wet, mud, rain/snow and rockfall.
If visiting the area, please give the bears space.
BE BEAR AWARE
*Carry bear spray
*Talk loudly
*Hike in groups
*Do not surprise a bear
NO DOGS
*Dogs may add to the mother bear's stress
*Dogs are prohibited on trails at all times
IF YOU SEE A BEAR
*Back away
*Give it lots of space
*Don't get between a sow and cubs
*Plan to wait if there is a bear near the trail - You are no longer in a hurry!
Alaska 511:
Alaska's Department of Transportation website will continuously update the driving conditions on the state's highways. The Seward Highway (AK-9) is the only road that provides access to Kenai Fjords National Park.
Last updated: March 4, 2021