Current Conditions
Kenai Peninsula and Burrough, which includes Kenai Fjords ational Park, is in
LOW
community level transmission. Therefore, wearing a mask in federal buildings at Kenai Fjords National Park is not required and our Visitor Centers weill be in doorway operations.
In areas CDC identifies as high COVID-19 community level, masks are required for everyone in all NPS buildings, regardless of vaccination status. In most low and medium COVID-19 community level areas, masks are optional, but visitors should follow signs and instructions from park staff and volunteers. Visitors and employees are always welcome to wear a mask if it makes them more comfortable.
Mask requirements vary by park based on
CDC's COVID-19 Community Level tool
. Additional details are available at
www.nps.gov/coronavirus
.
Facility Updates
Both our
Visitor Center
by the Seward Small boat Harbor and Exit Glacer Nature Center will are now closed for the season
Park Information and Current Conditions
Kenai Fjords National Park is open year-round; however, the road to Exit Glacier is closed to cars for the winter months and much of the spring. Snow at higher elevations on the Harding Icefield trail can persist into mid-summer. It is always a good idea to check on current conditions before setting out.

This site is updated regularly to reflect the latest conditions, as is the Recorded Information Line at 907-422-0573. If needed, contact the park headquarters directly at (907) 422-0500, during normal business hours.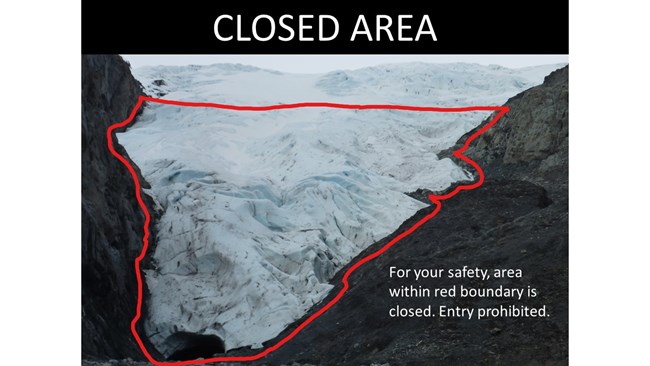 Note:
An ice fall hazard zone has been identified at the toe and sides of Exit Glacier, due to tall blocks and slabs of ice, as well as ice caves. For your safety, entry into this zone is prohibited. Please do not continue past ice fall hazard zone signs.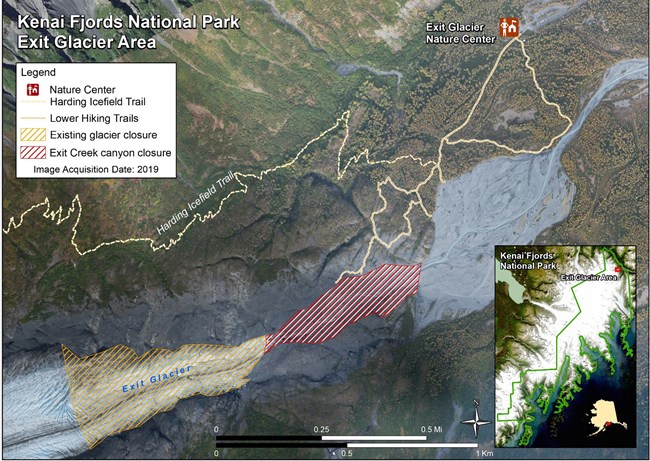 Note: A closure is in place from the toe of Exit Glacier to the end of the canyon where Exit Creek opens into the Outwash Plain. The canyon is susceptible to unpredictable glacier outburst flooding events which can produce sudden surges of water combined with large ice chunks, rock, and other debris.

Because glacier outbursts are caused by the hydrology within the glacier, not prevailing weather conditions, a glacier outburst can happen at any time. Visitors accessing the Outwash Plain should be aware that water levels may rise quickly. Outburst flood waters often carry large amounts of ice, rock, and other debris. The entire Outwash Plain is susceptible to flooding. Please be aware of your surroundings and seek high ground immediately if water levels begin to rise.
Trail Conditions
The Harding Icefield Trail trail is open
Current Harding Icefield Trail Conditions (Updated 6/7/2023).
Avalanche Danger for the Harding Icefield Trail, signs are posted at trail registry, Marmot Meadows and Bottom of the Cliffs.
Start of trail up to Marmot Meadows 30% Snow Coverage

The trail is muddy, slushy and slippery

Marmot Meadows Top of the Cliffs (mi 2.4) 50% Snow Coverage

Ice glazed trail surface
Ice spikes and trekking poles are highly recommended

Top of the Cliffs to End of the Trail 100% Snow Coverage

Snow on the trail with icy sections along it.

Trekking Poles are recommended if hiking the HIT.
Trails are open to foot traffic only. No bikes or pets.
Avalanche Danger, only those with avalanche knowledge and training should venture past avalanche danger signs posted on the HIT trail.
Travel above the Top of the cliffs is not recommended without a transceiver, shovel, probe and training.
This is a long and strenuous hike and proper preparation is important. Trail and weather conditions can change over the course of a day. Be prepared, and make sure to have food and water, extra clothes, sturdy footwear, and rain gear.
Hikers should be prepared for a wide range of conditions, including wet, mud, rain/snow and rockfall.
Trail Safety
BE BEAR AWARE
*Carry bear spray
*Talk loudly
*Hike in groups
*Do not surprise a bear
NO DOGS
*Dogs are prohibited on trails at all times
*Dogs may add to the stress of bears or other wildlife
IF YOU SEE A BEAR
*Back away
*Give it lots of space
*Don't get between a sow and cubs
*Plan to wait if there is a bear near the trail - You are no longer in a hurry!
Alaska 511:
Alaska's Department of Transportation website will continuously update the driving conditions on the state's highways. The Seward Highway (AK-9) is the only road that provides access to Kenai Fjords National Park.
Last updated: June 7, 2023