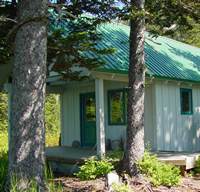 Two rustic public use cabins, Aialik and Holgate, are available on the Kenai Fjords coast during the summer months (generally from Memorial Day weekend through Labor Day weekend).
Transportation: Visitors must arrange their own transportation. Coastal cabins are accessible by float plane, water taxi, private vessel, or charter boat. Kayakers with advanced skills can reach the cabins from Seward or Homer; however, most kayakers are dropped off by boat since the seas around Cape Aialik are subject to extremely strong currents.
Reservations: Reservations are required.
Online at

www.recreation.gov

.

Search for Kenai Fjords National Park Cabins.
By phone at 1-877-444-6777

Call center hours:

March 1 - October 31, 10:00 am to 12:00 am (EST)
November 1 - February 28, 10:00 am to 10:00 pm (EST)

Reservations for the 2017 season will open at 12:01am Eastern Time on January 18th. We apologize for any inconvenience due to the system glitch that resulted in this change from the originally scheduled date.

A fair number of

cancelations

occur in April and May, so if your preferred dates are booked it may be worthwhile to check back in late spring and try again.
Cost: $75 per night.
Stay Limit: Due to the high demand for these cabins, stays are limited to three nights per cabin, per group, for the season. Individuals in the same party may not make sequential reservations in order to exceed stay limits. Occupancy begins and ends at noon.