Hiking in the Backcountry
Glacial Travel
Along the coast, especially in Northwestern Fiord, some glaciers can be accessed on foot. It's not always easy to recognize when you are on a glacier since the edges and terminus are often covered with a layer of rock and debris. This veneer of gravel over ice can be extremely slippery so watch your footing! Beware of areas where if you did fall you could slide into a crevasse or Moulin (meltwater hole). Crampons and ice axes are strongly recommended for any glacial travel.
Stream Crossings
There are no bridges in Kenai Fjords backcountry. Use extreme caution when crossing glacial streams. Glacial silt makes it difficult to judge the water's depth and there may be blocks of ice and other floating debris out of sight below the surface.
Take care to find the safest location to cross. Check out downstream areas in advance for any hazards should you get swept off your feet. Pack to keep gear dry in case of an accidental swim. Loosen pack straps prior to crossing and be prepared to jettison your pack if necessary.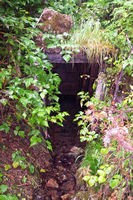 Abandoned Mine Sites
Several abandoned mines are scattered throughout the park. Use extreme caution in areas around mine sites. Watch out for sharp rusted pieces of old mining equipment. Abandoned chemicals such as cyanide, arsenic, mercury and other deadly toxins may also be present in leaky and deteriorating containers. Don't drink the water in areas near mine sites – filtering or treating it will not remove arsenic, mercury or other heavy metals that may be present.
Never enter an adit, mine shaft or tunnel! They are extremely unstable and cave-ins and falling debris are a real danger. Darkness and debris in old mines can make it difficult to identify hazards such as rotted boards, hidden holes and deep shafts. Lethal concentrations of dangerous gasses can accumulate in underground passages and oxygen deficient air can cause rapid suffocation.
Last updated: April 12, 2019