Visiting in Summer

Preparation
A summer visit to the desert requires extra preparations and considerations before even leaving the house!
Plan your park activities ahead of time. Tell someone where you are going and when you will be back; there is no cell service.
Check the weather forecast. Stay flexible and be ready to change plans if there is an excessive heat warning or a large storm in the forecast.
Check the air quality index (AQI) and limit outdoor activity if it's over 100. The air quality is much worse in the summer than the winter.
Bring extra water and snacks for the entire day. We recommend that you bring four liters of water per person, with additional water for cooling off. Water is not available inside the main parts of the park.
Bring and wear sunglasses, long sleeves, loose-fitting clothing, a hat, and sunscreen—the already high UV index increases due to the light color of the sand and stone in the park.
Arrange for pet sitting. Do not bring your pet in summer. Do not leave your pet in the car or tied to an object—it can be deadly for them.
Our bees are very active in the summer, so if you have a bee allergy, consider changing your visit to the winter season.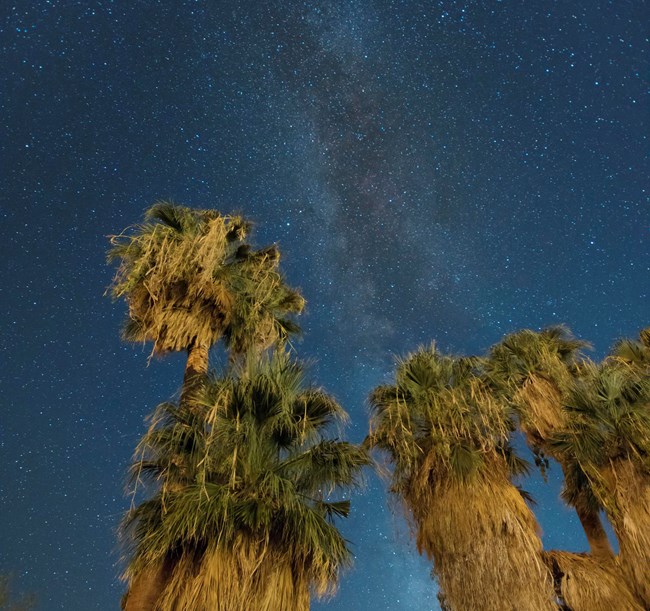 Summer Activities
Visitor Centers: Our visitor centers all have a small section of unique exhibits where you can learn about the park and cool off!
Drive: Take a driving tour on the park's paved roads with the air conditioning on when it is hot. Save unknown dirt roads for the cooler winter season. It might be deadly if your car breaks down or gets stuck on a dirt road in the summer.
Stargaze: The Milky Way Core is visible and beautiful in the summer.

Visit Quail Springs, Hidden Valley, Echo T, Ryan Mountain, roadside pullouts, and backpacking boards at night to enjoy stargazing.
Pinto Basin Road has the least traffic and the darkest skies.
Registered campers can enjoy these views from their campground.
Learn more about viewing the night sky on our Stargazing page.

Short Hikes: Explore short trails such as the Bajada Nature Trail, Barker Dam Nature Trail, Cholla Cactus Garden, Hidden Valley Nature Trail, Keys View, Cap Rock, or Oasis of Mara. Hike these short trails early in the morning or late in the evening.

Avoid trails longer than two miles, including Boy Scout Trail, Fortynine Palms Trail, Lost Palms Oasis Trail, Ryan Mountain Trail, Panorama Loop, and Warren Peak.
Read the Hiking page for more information about hiking and trails.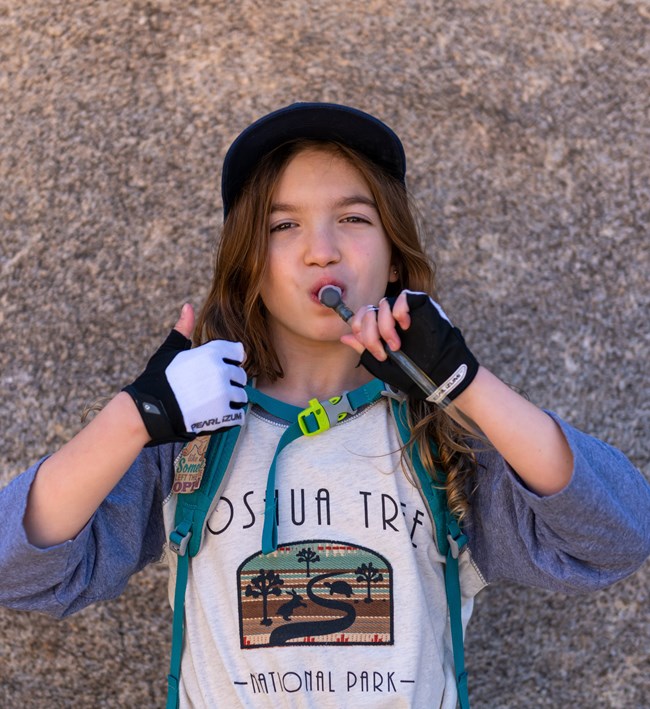 Summer Heat
The heat adds increased risk to any summer activity in the park: driving, hiking, sightseeing, camping, climbing, photography, and more.
Drink water when thirsty and rest and eat salty snacks often. Heat evaporates sweat quickly, and you may not realize how much you are sweating until you are dehydrated.
Hike in the morning before 9 am and in the evening after 5 pm. Even short hikes can feel strenuous in the heat.
There is limited shade in the park. If you find shade, rest, hydrate, and eat salty and nutrient-dense snacks.
Bring extra water on your hike to help keep yourself cool; consider applying a wet bandana around your neck to drip down onto the rest of your body.
Know the signs of heat exhaustion and heat strokes. This includes irritability, an unusually pale or flushed face, nausea, vomiting, headache, cramps, weak and rapid pulse, high body temperature, confusion, poor judgment, unconsciousness, or seizures.
Treat any signs of heat exhaustion or heat stroke immediately. Drink electrolytes, eat high-energy foods with fats and sugars, rest in the shade, cool the body by getting wet, and get medical attention.
Emergency phones are at Cottonwood Visitor Center, Indian Cove Ranger Station, and Intersection Rock.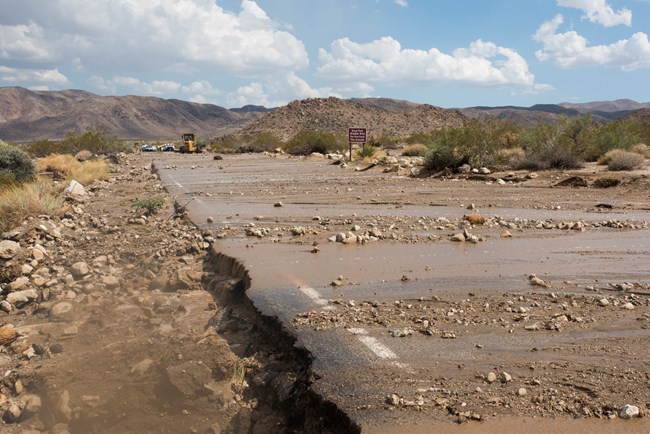 Flooding
Flash floods in the park are most common from July to October. Stay flexible and consider changing your plans if there is a chance of storms.
Flash floods are unpredictable and can be fatal. You cannot outrun them.
Turn around, don't drown! Do not attempt to cross or enter moving water.
Rushing water is incredibly powerful. A few inches of rapidly moving water can move a car or knock you off your feet. A mere 6" of fast-moving water can knock over an adult.
Flash floods happen quickly. Head for higher ground immediately.
Be patient; flooding is dangerous but may subside within a matter of hours.
Don't camp during a storm. Campsites may flood during extreme rain events.
Read more about flooding on our Floods page.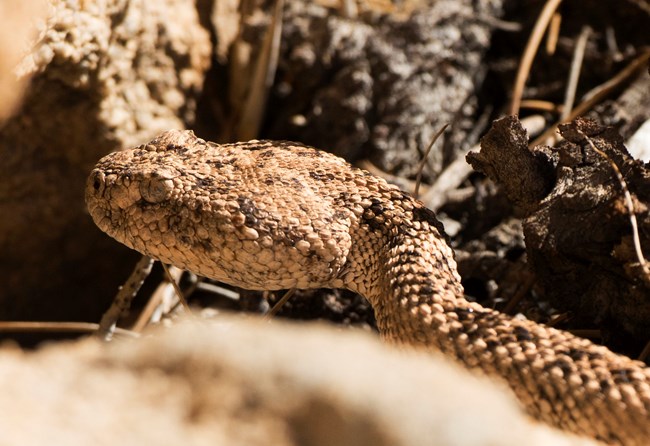 Wildlife in the Summer
The heat affects the park's wildlife, including rattlesnakes and bees, which are both highly active in the summer.
Look under your car before driving out of a parking space. Animals may use your car for shade. As gently as possible, encourage the animal to leave that shady spot.
Stay on trails and watch where you walk to avoid stepping on rattlesnakes. Take great care to avoid placing hands and feet in any nooks or cracks, whether around vegetation or in rocks.
Bees look for water in the summer and are attracted to any moisture source, including your sweat, do not swat at them; they might sting you. If camping, keep water sources in your car, even closed water bottles.
Areas that typically have a high concentration of bees include campgrounds (particularly Jumbo Rocks), Keys View, and the Cholla Cactus Garden. Use caution when exiting your vehicle in these areas.
Campfires and Wildfires
The park is susceptible to wildfires, and most Joshua trees do not survive fire.
Keep campfires small, and in campsite fire rings, use extra caution when windy.
Check for fire restrictions on the park website or at a visitor center.
No fireworks; do not smoke near vegetation, and dispose of extinguished cigarette butts in a garbage bin.
Make sure nothing is hanging beneath your vehicle and dragging on the pavement like tow chains.
Read more about fire in the park on our Wildfire page.
Last updated: August 14, 2023