Fire Regime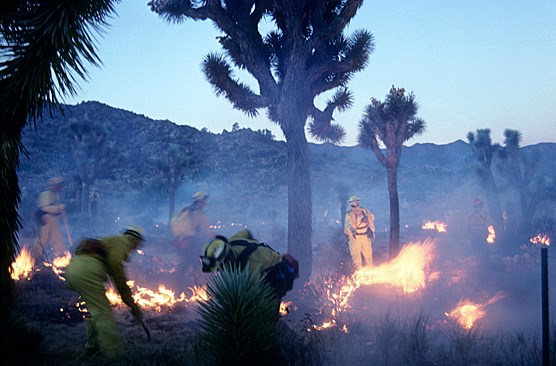 As devastating as it may appear, fire is a natural process, and Joshua Tree National Park has seen centuries of lightning-caused fires. Historically, fires in this area of the Mojave Desert were limited in extent because shrubs and trees are widely spaced in deserts and grasses are not abundant. However, human activities may be contributing to increased frequency and severity of fires.
The park maintains records of fires dating back to 1945. Most of these fires occurred between May 18 and September 20 when desert vegetation was very dry. Seventy-four percent of the fires were ignited by lightning. The remaining twenty-six percent were human caused.
The number and intensity of lightning fires has increased over the past 50 years. Before 1965, most lightning fires burned less than 0.25 acres. After 1965, more large fires and more frequent fires have been recorded. In 1979, the Quail Mountain fire burned 6,000 acres; in 1995 the Covington fire burned 5,158 acres; and in 1999, the Juniper Complex fire, the largest fire in Joshua Tree's history, burned 13,894 acres of slow-growing California junipers, pinyon pines, and Joshua trees.
Though most fires in the park are started by natural causes, fires now spread faster and burn more intensely because of the introduction of non-native plant species. Many of these invasive plants are fast-growing annuals that fill in the areas between shrubs. When they dry out in the heat of summer, these non-natives serve as a fuel source that allows fires to spread.
Desert plants do not need fire to reproduce, and many are highly susceptible to fire. These plants do grow back, but recovery after a fire is slow. Joshua trees frequently resprout after a fire, but because they are very susceptible to drought and rodents eating their bark, the young trees often die. Even small shrubs like blackbrush may require fifty years to return to pre-fire densities. Also, non-native grasses are quick to invade burned areas, crowding out native vegetation.
The key to managing fire in Joshua Tree is in understanding how wildfires affect vegetation and wildlife in a desert environment. Biologists are monitoring the long-term consequences of fire in desert ecosystems, as well as the effectiveness of treatments designed to hasten recovery.
To help preserve and protect wildlife, scenery, and natural processes, each park develops its own Fire Management Plan. At Joshua Tree, our current plan provides for full suppression of all fires, including those naturally caused, until we have a better understanding of fire behavior and fire effects in the park and across the Mojave Desert.
Visit our keyboard shortcuts docs for details
Duration:

3 minutes, 54 seconds
In the Mojave Desert, fires provide an opportunity for invasive plants to take root, which in turn leads to larger and more frequent fires. In Joshua Tree National Park, this cycle has resulted in fires of 5,000, 6,000, and 13,000 acres over the past few decades, and increasing acres of invasive grasses. The Dome Fire, in Mojave National Preserve, burned 43,000 acres and over a million Joshua trees in summer 2020. Will invasives take hold there as well, changing the ecosystem forever?


Last updated: May 9, 2021