Fees & Passes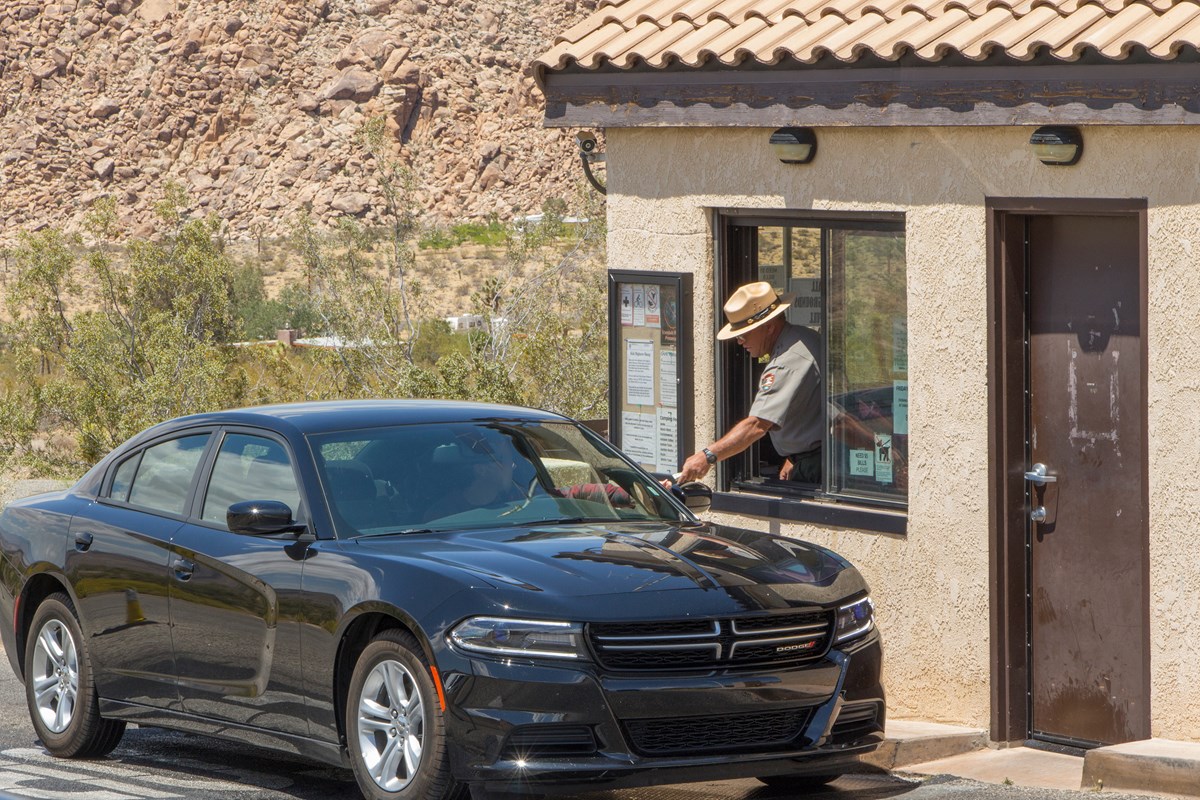 Weekly Passes
Entrance Fee - $30.00
7-day vehicle permit, admitting the passengers of a single, non-commercial vehicle on the day of purchase and for the next six days.
Motorcycle Entrance Fee - $25.00
7-day entrance permit, per motorcycle.
Individual Entrance Fee - $15.00
7-day entrance fee, per person on foot or bike.
Non-commercial Groups - Per Person - $15.00
Per-person fee charged to non-commercial groups entering in a vehicle with a capacity of 16 passengers or more.
Annual and Lifetime Passes
Free Entrance Days
Come celebrate the National Park Service Centennial with us! Entrance to Joshua Tree and all other national park sites will be free on 4 days in 2019
January 21: Birthday of Martin Luther King, Jr.
April 20: First day of National Park Week
August 25: National Park Service Birthday
September 28: National Public Lands Day
November 11: Veterans Day
Other fees, such as
camping
and
Keys Ranch tour
fees, will still be charged on Free Entrance Days.
Commercial Tour Group Fees
1-6 Passenger Capacity $25.00 + $15 per passenger

7-15 Passenger Capacity $50.00

16-25 Passenger Capacity $60.00

26 + Passenger Capacity $150.00
Road-based commercial tour companies must obtain a Road-based Commercial Use Authorization. Travel agencies that organize and book tour groups that will enter the park as part of business operations require a Commercial Use Authorization Permit.
Find out more about Commercial Use Authorizations and permits.
Non-commercial Groups
Groups entering in a vehicle with a capacity of 16 passengers or more will pay an entrance fee of $12 per person on board, with the following exceptions:
Anyone who is 15 years old or younger is exempt from paying any entrance fee.

Passes may be used for entry as defined on the back of the pass.

In many cases the driver will have been hired for transportation only and is exempt from paying the entrance fee.

The total fee charged will not exceed the equivalent commercial fee for that type of vehicle.
Are you planning an educational trip for a school group? Find out if the group is eligible for an
academic fee waiver.
Activity Fees
Camping fees vary by campground.
Ranger-led Keys Ranch Tours require advance reservations and cost $10 per adult.


Last updated: April 15, 2019